Storm Forecast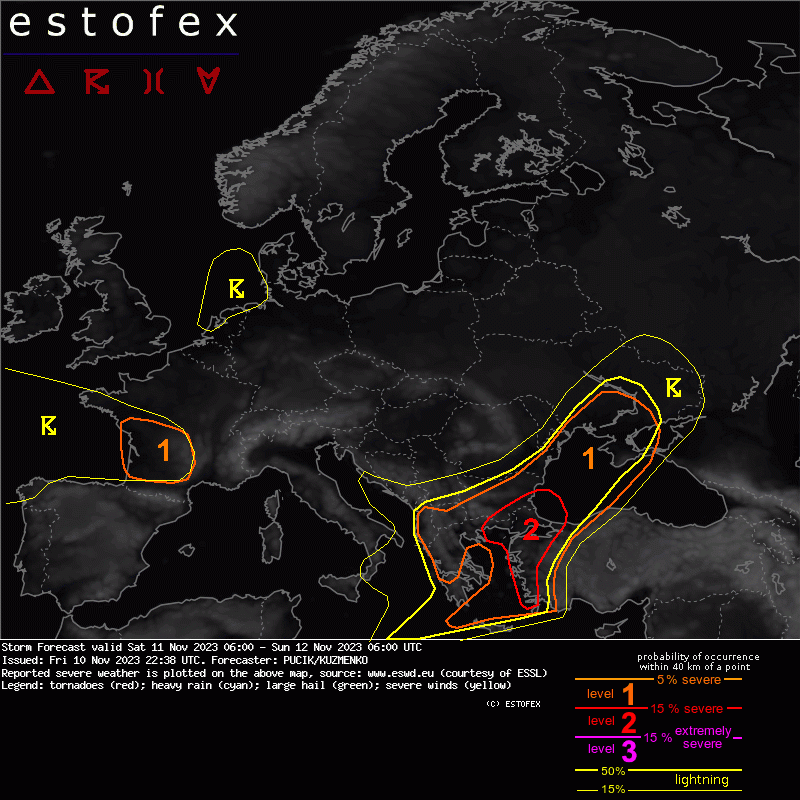 Storm Forecast
Valid: Sat 11 Nov 2023 06:00 to Sun 12 Nov 2023 06:00 UTC
Issued: Fri 10 Nov 2023 22:38
Forecaster: PUCIK/KUZMENKO
A level 2 was issued across NE Greece, SE Bulgaria and NW Turkey mainly for damaging wind gusts, tornadoes and large hail.

A level 2 was issued across W and SW Turkey mainly for heavy rainfall, large to very large hail, severe wind gusts and tornadoes.

A level 1 was issued across Ukraine mainly for heavy rainfall and severe wind gusts.

A level 1 was issued across Albania and W Greece mainly for large hail and heavy rainfall.

A level 1 was issued across France mainly for severe wind gusts and to the lesser degree for tornadoes.

DISCUSSION

... Greece through W Turkey, Bulgaria, Romania towards Ukraine ...


A sharp negatively tilted trough with a jet-stream at the rear of it is forecast to cross the area during the day, providing synoptic-scale lift, especially in the belt from Greece through Bulgaria, Romania and towards the Black Sea and Ukraine. Ahead of the trough, a cyclogenesis is forecast near the surface, strenghtening the low-level flow and also the moisture advection in the warm sector. Mid-tropospheric lapse rates stay rather modest in the warm sector, reaching around 6.5 K/km, resulting in mostly skinny CAPE profiles. Convective initiation will be provided by the orography or the cold front that will quickly cross the area. Scattered to widespread storms are forecast over the area.

0-6 km bulk shear is forecast to exceed 25 m/s and 0-3 km shear 20 m/s, so that well-organised supercells and bow-echoes are expected to develop. Damaging wind gusts are forecast as the low-level flow reaches up to 25 m/s at 850 hPa. Large hail will be likely with supercells, even though the size may be limited to some degree by rather skinny CAPE. The highest likelihood of very large hail will be over W Turkey. A combination of low-cloud base and high values of helicity in the 0-500 m point at the risk of tornadoes, some of which could be strong. The highest tornado risk will be present over NE Greece, NW Turkey and SE Bulgaria.

The storms will be present over Turkey, Greece and possibly Bulgaria already in the morning hours. At this stage, storms may be elevated. Over Albania and W Greece, the highest threat will be only till 9 UTC, with primary threats being heavy rainfall and large hail. The highest severe weather threat over NE Greece and Bulgaria will last till 15 UTC and the storms will spread further NE with the short-wave trough. As the storms reach further inland over Ukraine, they will likely become elevated, but with at least isolated severe wind gust and heavy rainfall threat. Over W Turkey, numerous rounds of storms are forecast throughout the forecast period.

... France ...

Low-topped storms are forecast to spread over the area behind the warm front during the night. Very strong low-level shear and low-level flow is forecast with 1 km flow reaching up to 30 m/s and 0-1 km bulk shear up to 20 m/s. Primary threat will be severe wind gusts. Hodographs for the surface-based storms will be mostly straight with not much streamwise vorticity, but given the intensity of the low-level bulk shear, a tornado can not be ruled out.