Storm Forecast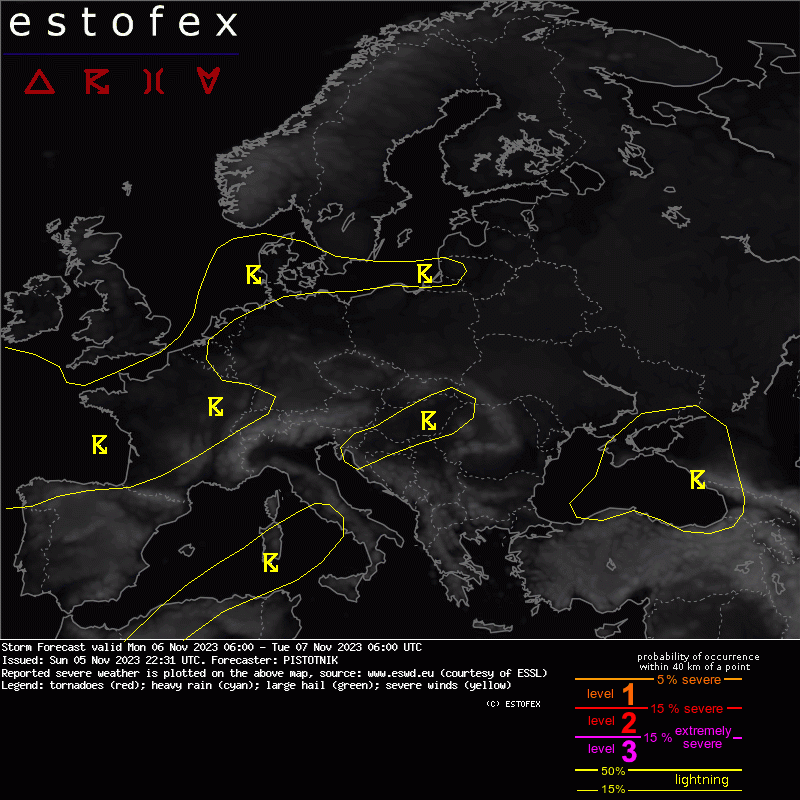 Storm Forecast
Valid: Mon 06 Nov 2023 06:00 to Tue 07 Nov 2023 06:00 UTC
Issued: Sun 05 Nov 2023 22:31
Forecaster: PISTOTNIK
No hazard level areas are issued.

SYNOPSIS

A large low-pressure complex, that has produced a memorable storm cycle over W and central Europe over the past couple of days, further spreads over much of the continent while it slowly weakens and fills. The axis of the jetstream is pushed unusually far south and stretches around 40N across Iberia, Italy and the Balkans. Beneath the jet, the main frontal boundary near the surface runs from the Black Sea across the central Balkans and central Italy to Algeria and makes a slow southward progress. It separates maritime polar air with average temperature levels to the north from extremely warm subtropic air to the south.
Several mid-level troughs are embedded in the westerly flow, the most noteworthy ones crossing (1) SW and W Russia, (2) Germany, BeNeLux, France and Spain, and (3) the central Mediterranean region, respectively. However, their lift touches mostly stable, neutral or at best marginally unstable airmasses. Much lower baroclinicity adds to a further relaxation of the severe weather potential compared to the previous days.

DISCUSSION

... lightning areas ...

Marginal instability is in place across several areas of the forecast domain and is collocated with moderate to strong deep-layer shear near the main frontal boundary towards the south, and moderate to strong low-level shear (mainly governed by surface friction) in the postfrontal airmass further north. While the scattered shower activity can grow deep enough to locally produce a little lightning, its severe weather potential is low. A few marginally severe wind gusts are possible and one or two tornadoes may spin up at coastal covergence zones, most notably in the Netherlands, Belgium and N France in the morning, as well as over the NE Black Sea throughout the forecast period. However, none of these hazards appears high and/or concentrated enough to warrant a level area.