Storm Forecast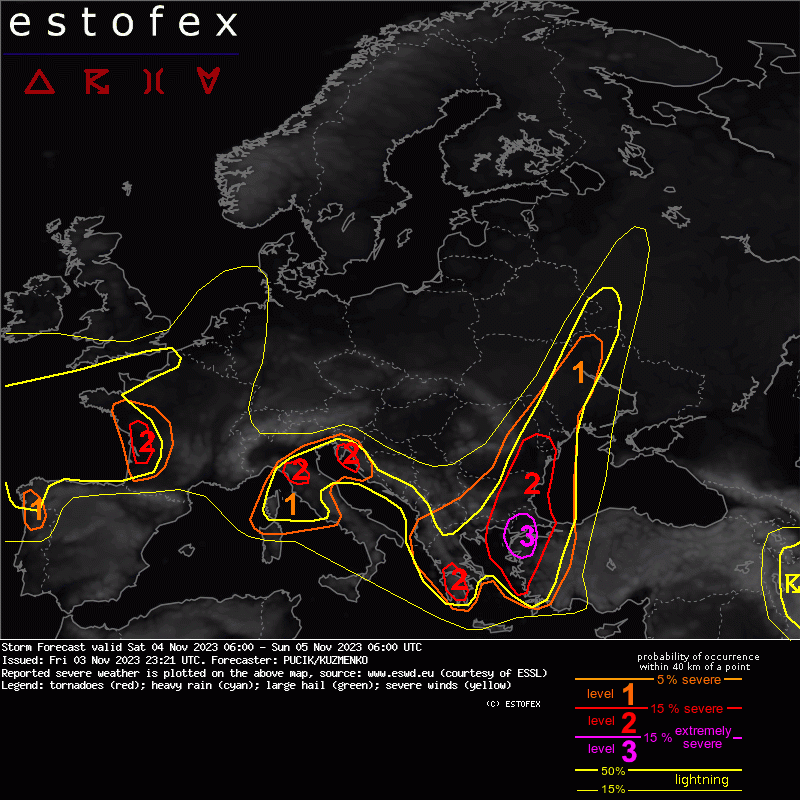 Storm Forecast
Valid: Sat 04 Nov 2023 06:00 to Sun 05 Nov 2023 06:00 UTC
Issued: Fri 03 Nov 2023 23:21
Forecaster: PUCIK/KUZMENKO
A level 3 was issued across NW Turkey for large to very large hail, tornadoes, damaging wind gusts and heavy rainfall.

A level 2 was issued across SW Greece, NE Greece, W Turkey, E Bulgaria and E Romania mainly for damaging wind gusts, large to very large hail and tornadoes.

A level 1 was issued across Moldova and Ukraine mainly for severe wind gusts and large hail.

A level 2 was issued across NW Italy mainly for heavy rainfall, severe wind gusts and tornadoes.

A level 1 was issued for Corsica, W and N Italy, W Slovenia and NW Croatia mainly for heavy rainfall and to the lesser degree for severe wind gusts and tornadoes.

A level 2 was isssued across NW Croatia mainly for heavy rainfall, severe wind gusts and tornadoes.

A level 2 was issued for W France mainly for severe wind gusts and tornadoes.

A level 1 was issued for NW Portugal and NW Spain mainly for heavy rainfall and to the lesser degree for severe wind gusts.

DISCUSSION

... Greece, NW Turkey, Bulgaria, Romania to Moldova and Ukraine ...

*** A potential for high-end severe weather outbreak will exist in a belt from W Turkey through NE Greece, E Bulgaria to E Romania ***

A fast moving-short wave trough is forecast to cross the region during the day. Near the surface, a cold front will be located over NW Greece, N Macedonia, W Bulgaria and central Romania in the morning. A surface low is forecast to develop over Romania, creating a wave in the cold front, which will move NE-ward towards the evening and night hours.

Ahead of the cold front, a plume of steep lapse rates will be advected NE-ward in the warm sector, resulting in high MLCAPE values over the Aegean Sea (> 2000 J/kg) and moderate MLCAPE values further to the north (> 1000 J/kg). Very strong flow at both lower and mid to upper troposphere is forecast along and ahead of the front. Forecast hodographs are very long and curved featuring > 20 m/s of 0-1 and > 30 m/s of 0-3 bulk shear with locally over 300 m2/s2 of SRH in the 0-500 m. Environment will be conducive to intense and long-lived supercells and bow echoes capable of large to very large hail, damaging wind gusts and even significant tornadoes.

Parallel flow to the front, combined with strong forcing, will likely result in a high storm coverage and a formation of one or two squall lines/bow-echoes that race from N Greece and Bulgaria through Romania and further NE. In such setting, widespread damaging wind gusts, including gusts exceeding > 32 m/s would be possible. Lvl 3 was considered also for this area. However, effect of early morning convection and questionable amount of surface heating ahead of the front adds some uncertainty to how much potential for strong downdrafts there will be and also whether the convective systems will be surface based. The highest threat here will start after 9 UTC and end around 15 UTC, as the storms move fast towards Ukraine. Here, the storms will be definitely elevated, but will maintain at least isolated risk of large hail and severe wind gusts in still very strong vertical wind shear.

A level 3 is introduced for NW Turkey, where models unanimously agree on the storms entering an environment extremely conducive to intense storms, both CAPE and shear wise. All hazards will be possible and the main one will likely depend on the exact convective mode. Here, the main threat will begin after 15 UTC and the storms will spread SE, reaching SW Turkey during the night.

... Corsica, Italy, W Slovenia, NW Croatia ...

A fast-moving short-wave is forecast to approach the area during the night along with a frontal boundary. Ahead of the front, strong horizontal moisture transport is forecast towards the coastlines with flow exceeding 25 m/s at 1 km AGL. Heavy rainfall will be the primary threat and once again SE Liguria and Toscany loos like may be the most affected regions. Besides the rain, strength of the low-level flow and low-level shear also points to the possibility of damaging wind gusts and tornadoes, especially if surface-based storms manage to form. The highest threat is forecast between 21 and 03 UTC over Italy and Corsica and after 24 UTC over the NE Adriatic. High-resolution convection allowing models show a squall line moving towards Slovenia and Istria in the early morning hours with threat of heavy rainfall and damaging wind gusts. In case that a supercell develops ahead of the line, tornadoes will be possible, too.

... W France ...

A trough with a very strong windfield is forecast to affect the area beginning at 18 UTC and lasting till the morning. Marginal CAPE is forecast over the region with numerous rounds of showers and weakly elecrified storms. Given the background wind field, exceeding 30 m/s at 500 m AGL especially between 18 and 24 UTC, any storm with a downdraft will be capable of enhancing already severe wind gusts. Some supercells will likely develop during this time and thanks to the high SRH in the lowest 500 m (exceeding 200 m2/s2), they may produce tornadoes. Level 2 is issued for the area with the highest combined wind/tornado risk.

... NW Portugal/ NW Spain ...

Isolated heavy rainfall and severe wind gust events are possible in strongly sheared environment with 1 km flow approaching 25 m/s. Heavy rainfall threat is anticipated given repetitive development of showers and storms over the coastline, but is marginal given weak absolute low-level moisture content and fast storm motion. Severe wind threat will be limited by low potential for strong downdrafts.