Storm Forecast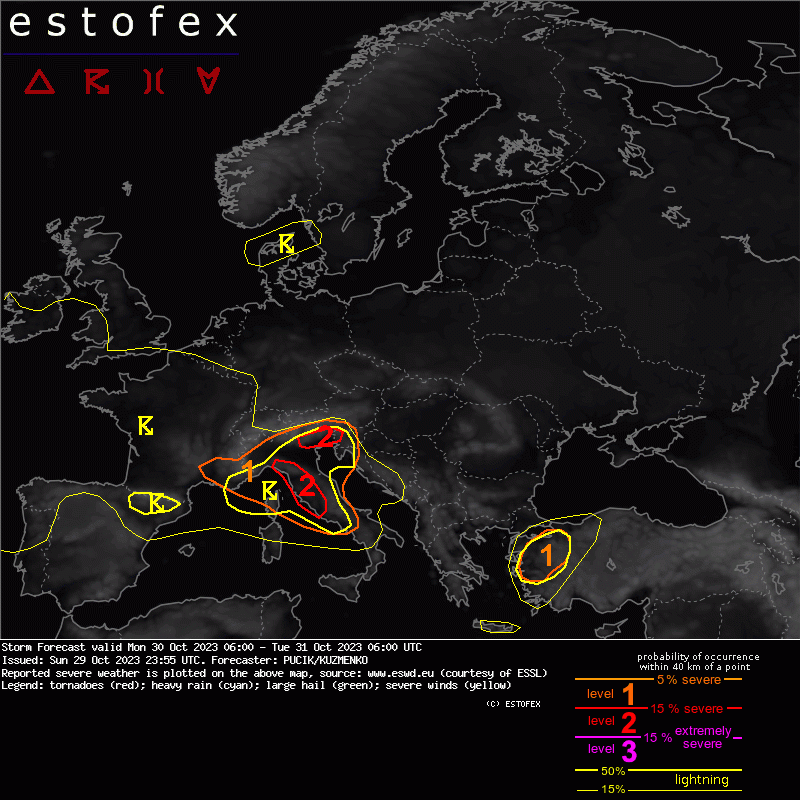 Storm Forecast
Valid: Mon 30 Oct 2023 06:00 to Tue 31 Oct 2023 06:00 UTC
Issued: Sun 29 Oct 2023 23:55
Forecaster: PUCIK/KUZMENKO
A level 2 was issued across NW/W Italy mainly for heavy rainfall, large hail with conditional risks of severe wind gusts and tornadoes (see text)

A level 2 was issued across NE Italy mainly for heavy rainfall with conditional risks of tornadoes along the N Adriatic coastline (see text).

A level 1 was issued across SE mainly for heavy rainfall.

A level 1 was issued across Italy and Istria mainly for heavy rainfall, large hail and to the lesser degree for severe wind gusts or tornadoes.

A level 1 was issued across NW Turkey mainly for large hail.


DISCUSSION

... NW/W Italy coastline ...

Storms are forecast to be present across the N edge of the Lvl 2 in the early morning hours. In the low-level jet reaching 20 m/s in the bottom 500 - 1000 m, impressive large and curved hodographs are forecast along the coastline with very high values of SRH. Once again, the main issue will be if surface-based storms manage to form with relatively stable boundary layer and strong WAA regime with the maximum around 850 hPa level.

Primary threat thus will be heavy rainfall. Especially the northern half of Lvl 2 may see several hours of storms before the cold front moves from the W around 18 UTC and storms start to spread E and S. Besides heavy rainfall, large to very large hail will be possible especially if supercells manage to form. The threat of large hail will increase towards the S of the Lvl 2 area, where the steep mid-tropospheric lapse rates will be present. Tornadoes and severe wind gusts risks are highly conditional, but will be very pronounced with any surface-based storm that develops in the area given the strength of the low-level shear.

... N/NE Italy, W Slovenia, Istria ...

Primarily a heavy rainfall event is forecast to unfold across the area. Model sounding suggest elevated storms in strongly-sheared environment and moist profiles. Combination of upslope flow and widespread lift from warm-air advection regime should result in numerous rounds of showers and storms capable of very heavy rainfall. High resolution models suggest accumulated rainfall amounts of locally over 200 mm, particularly on the southern Alpine flanks. Heavy rain threat will persist till Tuesday morning hours.

Towards 21 UTC, the low-level hodographs are forecast to greatly increase owing to the development of 20 - 25 m/s of low-level jet. At the same time, some models suggest presence of SBCAPE along the coastlines of the Adriatic Sea. Any surface-based storm will bear risks of tornadoes and severe wind gusts in the environment of locally more than 200 m2/s2 of SRH in the bottom 500 m.

... W Turkey ...


Forecast profiles show abundant CAPE below -10 deg C. We expect isolated to scattered storms to form in moderate vertical wind shear with the organisation into multicell clusters. Large hail will be the primary threat given the CAPE profiles. Further south, Inverted-V profiles were simulated, signalling a risk of severe wind gusts. However, here, there is lower probability of convective initiation and thus Lvl 1 only covers the NW part of Turkey.