Storm Forecast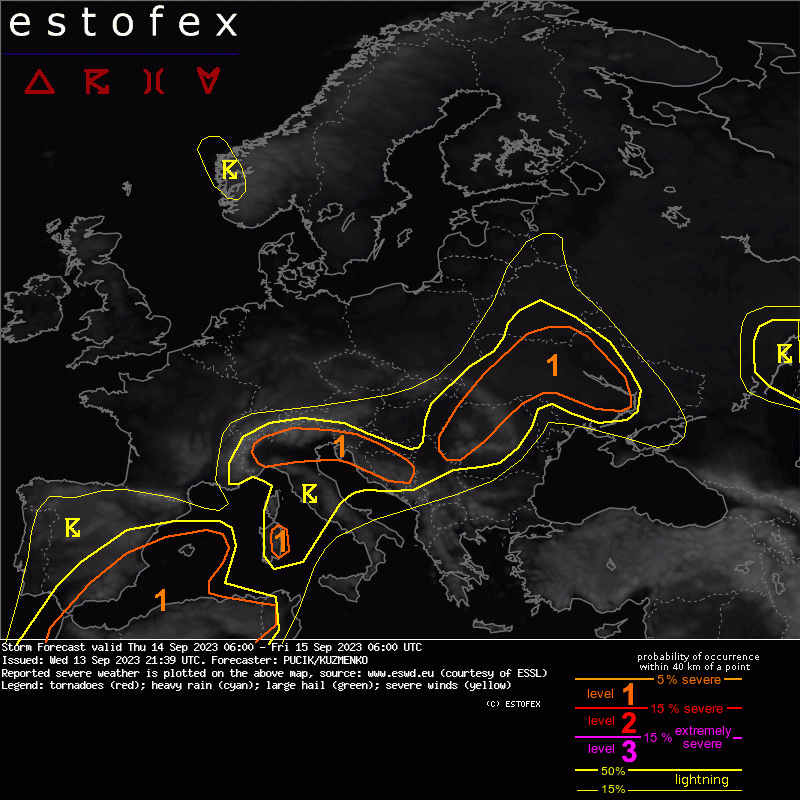 Storm Forecast
Valid: Thu 14 Sep 2023 06:00 to Fri 15 Sep 2023 06:00 UTC
Issued: Wed 13 Sep 2023 21:39
Forecaster: PUCIK/KUZMENKO
A level 1 was issued from Morocco through SE Spain to the Balearic Sea mainly for heavy rainfall, large hail and severe wind gusts.

A level 1 was issued over Algeria mainly for severe wind gusts.

A level 1 was issued over Sardegna mainly for large hail.

A level 1 was issued across N Italy, NW Croatia, Bosnia, Romania and parts of Ukraine mainly for heavy rainfall.

DISCUSSION

W Mediterranean will remain to be an area with the most favorable conditions for severe and well-organised convective storms. Models simulate a boundary separating well mixed airmass with steep lapse rates originating from Sahara with very moist profiles with modest lapse rates to the north. Storms are forecast to develop along this transition zone. The highest coverage is simulated in the late night hours, associated with the approach of the short-wave trough. Heavy rainfall is most likely over inland Spain, where slower storm motions are forecast while large hail and damaging wind gusts are most likely over the sea, where the best CAPE-shear overlap is simulated. Over Africa, Inverted-V profiles are forecast, yielding threat of downbursts with stronger storms. Over Sardegna, well-organised multi or supercells are forecast to develop in strong deep layer shear with threat of large hail.

Further NE, slow-moving and mostly disorganised storms are forecast along the wavy frontal boundary. Moist profiles suggest a localized threat of heavy rainfall. The regions with the highest threat are marked by Lvl 1 areas. Stronger shear is forecast across Ukraine. In the afternoon hours, isolated to scattered surface-based storms will develop in the environment of 15 m/s 0-6 km bulk shear and considerable hodograph curvature. Some of the storms can thus become supercells, capable of isolated large hail or severe wind gusts. In the evening and night, storms are forecast to remain mostly elevated on the cool side of the warm wave of the front here with primary risk being heavy rainfall.