Storm Forecast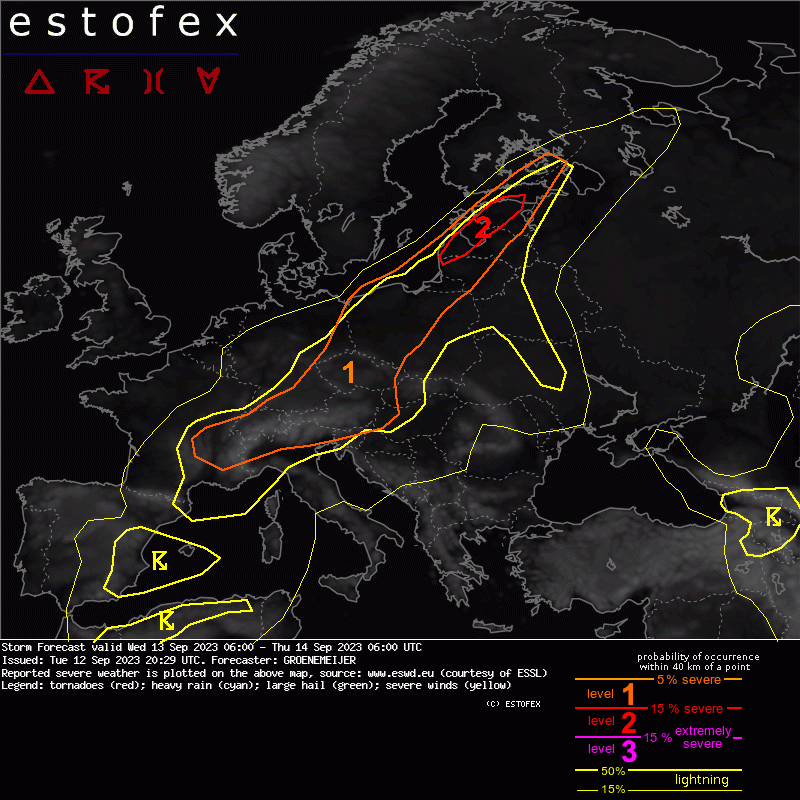 Storm Forecast
Valid: Wed 13 Sep 2023 06:00 to Thu 14 Sep 2023 06:00 UTC
Issued: Tue 12 Sep 2023 20:29
Forecaster: GROENEMEIJER
A level 2 was issued across parts of Latvia and Estonia, mostly for extreme rainfall.

A level 1 was issued around the level 2 area, mostly for extreme rainfall and to a lesser extent for large hail.


DISCUSSION

Level 2 and 1 areas across Europe...

A shortwave trough, initially across the North Sea embedded in a west-southwesterly flow, moves eastward. Ahead of this trough, a tongue of moist, warm air is advected northeastward across Central Europe, the Baltic countries into Northwest Russia.

As far as they have not persisted overnight, widespread storms are expected to form during the late morning and afternoon in the moist air. The highest coverage is expected near a surface cyclone that should form and deepen as it moves from northeastern Poland, reaching Estonia by Thursday morning.

The widespread storms, moist profiles throughout the troposphere, and moderate windshear located in the lowest 3 kilometres, suggest a favourable environment for local flash floods will exist across the entire level 1 area with local hotspots for risk being hard to pinpoint.

In the vicinity of the stationary front along which the surface cyclone moves northeastward, the strongest forcing for upward motion exists with large-scale precipitation amounts upwards of 50 mm forecast. Locally, amounts may exceed this considerably, and a level 2 was issued to indicate the resulting.

Across Western Poland, Czechia, and eastern Austria CAPE may be sufficient to sustain a few thunderstorms with updrafts powerful enough to produce some large hail.