Storm Forecast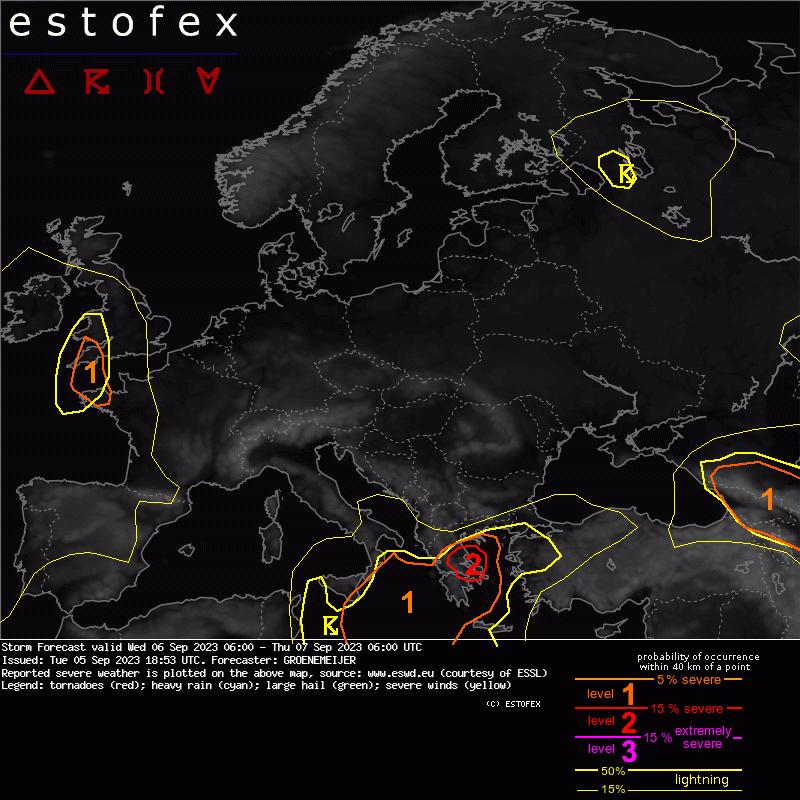 Storm Forecast
Valid: Wed 06 Sep 2023 06:00 to Thu 07 Sep 2023 06:00 UTC
Issued: Tue 05 Sep 2023 18:53
Forecaster: GROENEMEIJER
A level 2 was issued across parts of Greece for exceptionally heavy rainfall, and to a lesser extent for tornadoes.

A level 1 was issued across an area surrounding the level 2 area for the same hazards, and for large hail across the southwestern Aegean Sea and the Peloponnese.

A level 1 was issued around the Caucasus mountains for large hail and heavy precipitation.

A level 1 was issued for Southwest England and western Brittany for large hail and locally heavy precipitation.



DISCUSSION

Greece...

For most of the forecast period, the strong easterly flow across the Aegean Sea and Greece should continue with further thunderstorm development across the East coasts of Thessaly, Evia, and the Sporades, leading to very high accumulations. The storms will continue to spread inland as elevated convection, creating very hazardous conditions there as well. Numerical weather prediction models call for another 150 - 400 mm of additional rain during the forecast period before quasigeostrophic forcing for upward motion weakens.

Because of the strong buoyancy near the surface and the existence of various convergence zones, a number of waterspouts and tornadoes may occur in coastal areas.

Across the southwestern Aegean Sea, steeper lapse rates and moisture are advected northward, while about 15-20 m/s of deep-layer shear should be available. This suggests a few supercells with large hail may be possible there.


England and Brittany...

Ahead of a subtle wave in the southerly flow across the far eastern North Atlantic Ocean, sufficient lift for the initiation of mostly elevated thunderstorms may be present. With modest CAPE and shear values, the severe threat should be limited, but a low risk of marginal flooding or an isolated large hail report will be present, warranting a level 1.


Caucasus...

Abundant and moderate instability will be present south and north of the main Caucasus range, respectively. Isolated and widespread convective storms are predicted to develop. Given the presence of 20-25 m/s of 0-6 km bulk shear, these storms may include a few supercells with large hail. North of the mountain range, upslope flow will likely enhance the heavy rainfall risk.