Storm Forecast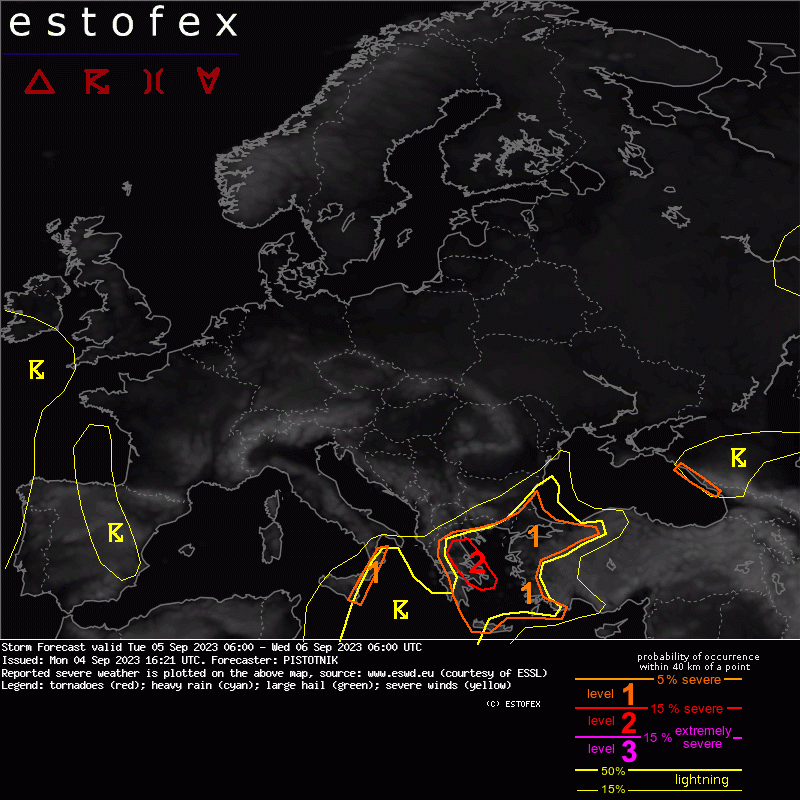 Storm Forecast
Valid: Tue 05 Sep 2023 06:00 to Wed 06 Sep 2023 06:00 UTC
Issued: Mon 04 Sep 2023 16:21
Forecaster: PISTOTNIK
A level 1 and level 2 is issued for Greece, NE Bulgaria and NW Turkey mainly for excessive convective precipitation.

A level 1 and level 2 is issued the east coasts of S Italy mainly for excessive convective precipitation.

A level 1 is issued for the Aegean Sea and W Turkey for excessive convective precipitation, large hail and tornadoes.

SYNOPSIS

An "omega" pattern has established. The blocking anticyclone is placed over central Europe and is bounded by two stationary cut-off lows W of the Bay of Biscay and over the Ionian Sea, and to the north by a strong zonal flow over Scandinavia. Moderately cool continental air flows southward at its eastern flank over E Europe, the Balkans and the central Mediterranean region, whereas hot air is advected northward at its western flank from Algeria towards France, BeNeLux and England.

DISCUSSION

... Greece, SE Bulgaria, W Turkey, Aegean Sea, Ionian Sea, S Italy ...

The only noteworthy thunderstorm activity is expected in the range of the eastern cut-off low, where rather cool mid-level air on top of the very warm and moist maritime boundary layer creates CAPE on the order of 500-1500 J/kg with little to no capping in place. Following foci of convection are expected:

(1) Scattered to widespread thunderstorms will pivot around the center of the surface cyclone over the Ionian Sea, which is predicted to develop a warm core and turn into a subtropic depression. This activity could graze Calabria and Sicily and produce some heavy rain, especially in the second half of the forecast period.

(2) A much higher threat of excessive rain develops on the east side of the Greek mainland, where synoptic lift under returning warm air advection from the SE and persistent easterly onshore and upslope flow of very moist and at least slightly unstable air from the Aegean Sea work hand in hand throughout the forecast period. Enhanced by embedded thunderstorms, rainfall accumulations up to several hundred mm are possible, as it is shown by high-resolution forecast models, and some very dangerous flash floods, mudslides and debris flows are quite likely!
A similar but weaker threat exists along the coasts of SE Bulgaria and NW Turkey, where the moist onshore flow from the Black Sea should relax by afternoon.

(3) At the forward flank of the cut-off low, stronger SW-erly mid-level flow overspreads the CAPE reservoir over the Aegean Sea and W Turkey and creates deep-layer shear around 15 m/s with veering wind profiles. Discrete convection could therefore organize into multi- or even supercells, and large hail and perhaps a few tornadoes (mostly in coastal and offshore areas) are possible in that case. However, clustering tendencies under fairly strong synoptic lift and the complex topography are thought to impede better convective organization to some degree. Highest storm coverage is expected over the N Aegean Sea in the morning and over W Turkey in the afternoon, while stronger capping could keep the coverage lower towards the south.

... Gulf of Fethiye (SW Turkey) and NE coast of Black Sea (SW Russia) ...

In these two regions, forecast models agree on morning convection in coastal areas, probably sparked by nocturnal land breezes running into an already convergent wind field. A handful of non-supercellular tornadoes may occur and are reflected by small level 1 areas.