Storm Forecast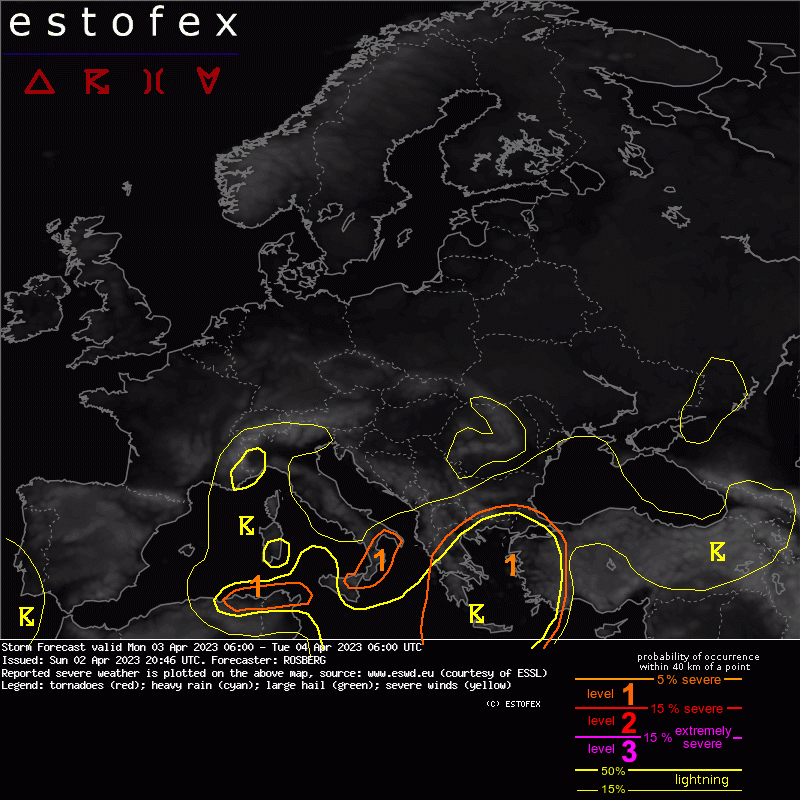 Storm Forecast
Valid: Mon 03 Apr 2023 06:00 to Tue 04 Apr 2023 06:00 UTC
Issued: Sun 02 Apr 2023 20:46
Forecaster: ROSBERG
A level 1 was issued across Greece, southern Bulgaria and western Turkey for large hail, severe wind gusts and to a lesser extent tornadoes.

A level 1 was issued across northern and northeastern Greece, southern Italy, western Turkey and coastal areas of northeastern Algeria and northern Tunisia for excessive convective precipitation.



SYNOPSIS


A large upper level high stretching from the Iberian Peninsula to the British Isles is almost stationary. This upper level high is flanked by an extensive upper level longwave trough that covers large parts of the southern, central and eastern parts of the European continent. Within this upper level trough is an upper level low over the southernmost part of Italy, that is moving towards east and northeast over the Ionian Sea to northern Greece and Albania.

Another upper level low with some cold air aloft is expected to move southeastward just west of the Iberian Peninsula.

At the surface a high pressure is nearly stationary across Scandinavia, giving stable weather conditions over large parts of the northwestern half of Europe. Cold air is being advected all the way from northeastern Europe down over large parts of central and southern Europe, as well as over west-central Mediterranean.

Within this cold airmass some diurnally solar driven convective activity is expected to occur across the Alpine region, the Pyrenees region, Sardinia, Corsica and the Balearic Islands. Also, some solar driven convection might also occur over mountainous areas of Romania, central and eastern Turkey and the Caucasus region. However, due to lack of steep mid-level lapse rates and low EL-heights over these areas only a few lightning strikes are possible, especially over southern France, northwestern Italy, southern Sardinia and Turkey.

Showers and perhaps a storm, associated with the upper level low just west of the Iberian Peninsula, will remain mostly offshore from Portugal and Spain.

The main feature across Europe that will generate significant DMC is a surface low over the Ionian Sea that will move slowly eastward to just south of Greece. The associated frontal zones will affect southeastern Europe and western Turkey.



DISCUSSION


Greece, the Aegean Sea region and western Turkey

Ahead of the surface low, warm air is moving up across easternmost Greece, the Aegean Sea and western Turkey from the south with dewpoints up to 12-15 degrees Celsius. The warm air is proceeded by a warm front that is moving northeastward across northeastern Greece, eastern Bulgaria, western Black Sea and northwestern Turkey. As the upper level low approaches from the west, some upper level forcing is spreading over the area. The combination of the warm and quite moist air at low levels and 7,5-8 K/km mid-level lapse rates over the area will yield up to 300-800 J/Kg MLCAPE.

The shear profile within the warm sector and near the warm front is really impressive. 0-6 km and 0-3 km bulk shear are very strong with in general 25-35 m/s and 15-25 m/s respectively, as the mid-level jet ahead of the upper low passes the area from the west. Also, the south- and southeasterly flow in the warm sector generates long curved hodographs with 0-1 km SRH of 150-300 m2/s2, locally higher, and over 10 m/s 0-1 km bulk shear. These shear values indicate the potential for deep convection to evolve into intense multicells and supercells with tornado pontential. West of this warm sector, a cold front over westernmost Greece and Albania, stretching down to the east-central Mediterranean, is expected to move eastward across eastern Greece, the Aegean Sea and into western Turkey during the forecast period. The cold front is followed by colder air that will move in over the area from the west.

Monday morning rain and showers will occur along the warm front and the cold front across Greece, southern Albania and northwestern Turkey. Some thunderstorms are also expected to occur, being triggered by the frontal lift along the fronts. Despite the quite impressive lapse rates in the warm sector, probably originating as an elevated mixed layer from North Africa, there is a capping inversion and dry air at low- and midlevels. Within the warm airmass there also tends to be a surface inversion in some places over the relatively cold sea. These conditions will limit widespread formation of deep convection.

As the day progresses additional storms are expected to form along the cold front as it moves eastward. However, storms will struggle to form extensively due to the inversions and dry air mentioned above. Also, some elevated storms might develop in connection with the northeast moving warm front across southeastern Bulgaria and the western part of the Black Sea.

Despite the very favorable shear conditions, the inversions, dry air and the partly elevated nature of the storms will limit the overall tornado threat and wind gust potential. However, large hail will still be possible with any cells forming in the strong shear environment. These limiting factors only warrant a level 1 for the area. However, it should be noted that in any area, where storms could be surface based with better low-level moisture and low LCLs, very strong and destructive wind gusts and significant and potentially strong tornadoes would be possible given the favorable low-level shear.

As the cold front is passing Greece, Albania, north Macedonia and southern Bulgaria training cells and precipitation along the front could create some flooding concerns, especially over northern and northeastern Greece, where forecast soundings are more moist. The 12 UTC run of the ECMWF model depicts some 50-80 mm across this area in the forecast period, with a flash flood potential. In higher elevation parts of this precipitation might fall as snow.

In the evening and the night to Tuesday, the cold front continues into western Turkey. However, due to areas with dry low- and midlevel air and stable boundary layers, thunderstorm activity will be somewhat limited and with lower wind- and tornado potential. Training cells along the cold front combined with orography however indicates a flash flood potential.

Behind the cold front colder air is moving in across the area from west. Shower and thunderstorm potential will be more extensive as the low-level inversions and dry air will be non-existent in the colder airmass, especially across the sea south of Greece during monday evening. The cold air aloft, in connection with the upper low, will create some 200-500 J/kg MLCAPE. The relatively low EL-heights in the colder airmass and lower DLS of around 10-15 m/s will contribute with less deep and vigorous convection, and thus no severe weather is expected. However, some storm organization is possible in some places with gusty winds, small hail and heavy rain occurring in stronger cells.
Also, within areas of surface convergence where surface winds will be weak, a waterspout or two cannot be ruled out as some low-level CAPE and low LCLs will be present in the colder airmass.


Southern Italy, northern Tunisia and northeastern Algeria

The associated occluded front around the surface low will affect southern Italy and the southern part of the Adriatic Sea with rain and showers. Lack of steep mid-level lapse rates will prevent any extensive deep convective features in this front, but a few lightnings strikes could be possible. Due to the fact that the occluded front will affect the area for quite some time, there is a risk for local flash flooding across southern Italy and Sicily.

Further west along the coasts of northern Algeria and Tunisia numerous showers and storms are possible. Here a surface trough near the coast combined with onshore northerly flow with orographic lift will trigger more widespread convection. Low EL-heights will prevent widespread thunderstorm activity, but the repeatedly onshore moving cells will create a risk for flash flooding.
There is also a risk for waterspouts in areas of weaker surface winds along the coast, where low-level CAPE and surface convergence are occurring.