Storm Forecast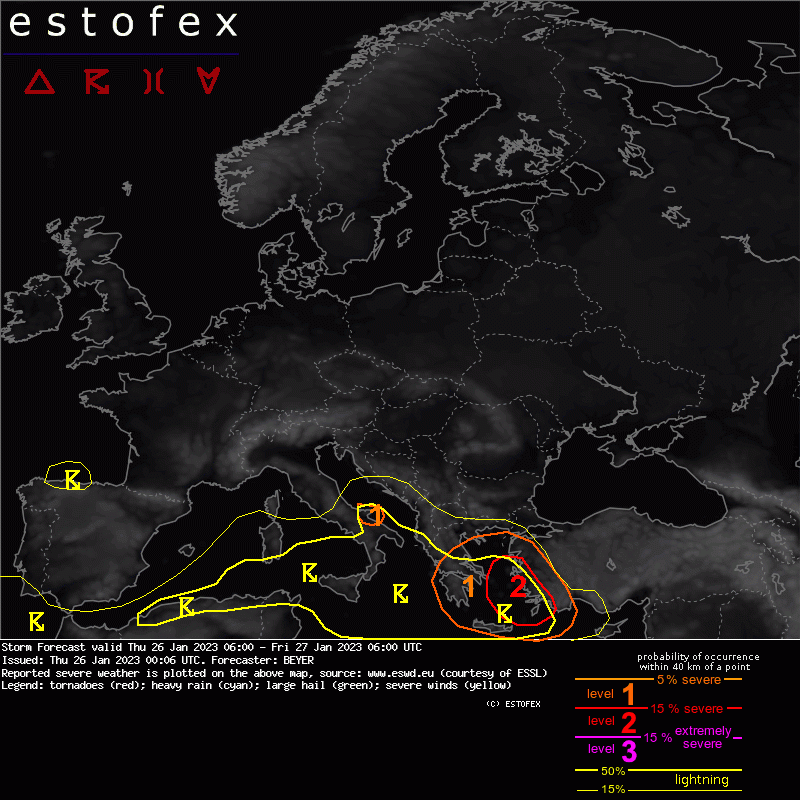 Storm Forecast
Valid: Thu 26 Jan 2023 06:00 to Fri 27 Jan 2023 06:00 UTC
Issued: Thu 26 Jan 2023 00:06
Forecaster: BEYER
A level 2 was issued for the Islands in the Aegean Sea and the W/SW coastline of Turkey mainly for severe wind gusts, large hail, excessive precipitation, and tornadoes.

A level 1 was issued surrounding the LVL2 area including the mainland of Greece and Crete mainly for severe wind gusts and heavy precipitation and to a lesser extent large hail

A level 1 was issued for a small part of Italy (Foggia) mainly for excessive precipitation.

SYNOPSIS

A strengthening UL low is situated over S Italy and is slowly moving eastward during the period of the outlook. It is accompanied by a strengthening UL jet at its S flank.
Greece and the Aegean Sea are situated on the diffluent forward flank of that UL low. Models indicate strong signals of synoptic scale lift that is also supported by the left exit region of the UL jet.

At the surface, a rather shallow and broad low pressure area can be found that extends from S Italy into the Aegean Sea. Several local minima can be found. One of them is deepening and moving into the N Aegean sea. Its cold front crosses the Aegean Sea in the afternoon and evening hours. It will reach the coastline of Turkey during the night and move further inland during the morning hours.

The rest of the Mediterranean Sea is influenced by the UL trough and cold airmasses in the mid-troposphere. Thus, unstable air masses are present over most of the Mediterranean.

DISCUSSION

...Greece, the Aegean Sea, and W/SW Turkey...

On the diffluent forward flank of the UL flow, a convergent and strong low to mid-level low is present over the Aegean Sea. Forecasts give 50 to 60 kn of 925 hPa winds. Unusual warm and moist airmasses are advected northward and can overlap with steep mid-level lapse rates. As a result 400 to 800 J/kg of MLCAPE are present, mainly over C and S Aegean Sea.

This moderate CAPE values can overlap with strong DLS (0-6 km 20 to 25 m/s, 0-3 km: 15 to 20 m/s). As mentioned in the synopsis part a surface low is strengthening over the N Aegean Sea and its cold front is moving from W to E. Prefrontal strong WAA is present and results in large clockwise-turning LL wind profiles.

As a result, a dangerous HSLC situation is developing during the day.

It is expected that overnight convection is already present in the morning hours over mainland of Greece. LL convergent flow and a rather parallel component of the storm motion enhance the threat of training storms that in combination with orography may lead to locally excessive rainfall.

Until noon the coldfront starts to better organize when it enters the Aegean Sea. With the strengthening southward mid-level flow and the west-to-east moving cold front, convection is expected to rather quickly organize into a line.
LAM models forecast embedded supercells in that line that can be anticipated by patches of strong updraft helicity.

With those storms, severe wind gusts and large hail can be expected. Since LL shear has values of 10 m/s (locally above) and LCLs are around 1000 m and below there is also an enhanced probability of tornadoes that may even become strong!

During the night hours, the cold front and linear organized convective line with embedded supercells will arrive on the coastline of Turkey. Especially severe wind gusts remain a big threat as also indicated by LAMs. But still, large hail and tornadoes with embedded supercells are possible. What's more, in combination with the orography of Turkey and the linear movement of the convective elements with respect to the cold front, excessive precipitation is another significant threat.

During Friday the severe weather situation will persist and extend eastward.

... Italy (Foggia)...

In an unstable environment, convection is expected in most parts of the Central Mediterranean Sea. With a center of the low pressure area situated over S Italy, moist airmasses from the Ionian Sea are advected inland with an easterly flow. Additional convergent effects due to the spit of land in that area are forecasted to lead to repeated and persistent convective precipitation. All available LAM models indicate heavy precipitation for the mentioned region.

Besides that, a general threat of waterspouts is present over S Italy. Steep LL lapse rates (due to the cold airmasses) are forecasted. In combination with weak LL and mid-level winds (in the center of the UL low) that enhances the possibility for waterspouts along local convergence lines and sea breeze fronts.