Storm Forecast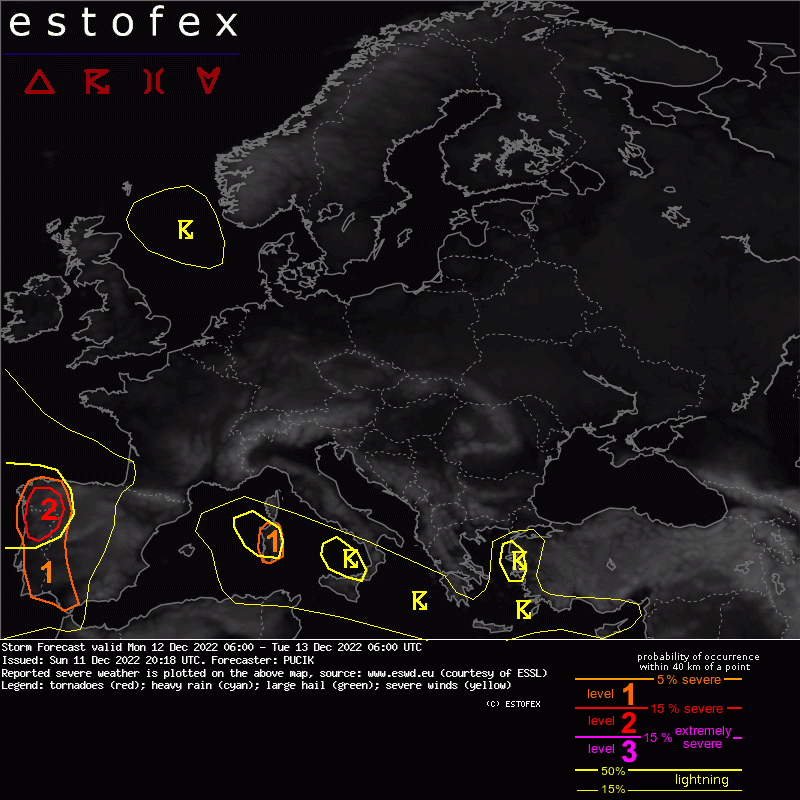 Storm Forecast
Valid: Mon 12 Dec 2022 06:00 to Tue 13 Dec 2022 06:00 UTC
Issued: Sun 11 Dec 2022 20:18
Forecaster: PUCIK
A level 2 was issued across NW Spain and N Portugal mainly for severe wind gusts, tornadoes and heavy rainfall.

A level 1 was issued across S Portugal, SW and W Spain mainly for severe wind gusts, tornadoes and heavy rainfall.

A level 1 was issued across Sardegna mainly for severe wind gusts and tornadoes.

SYNOPSIS and DISCUSSION

An active pattern is forecast across much of Europe. The synoptic-scale will be dominated by a deep cyclone with three separate centers over Norway, the Atlantic, and the Baltics. The southern and eastern flanks of the cyclone are under strong mid to upper tropospheric flow with a number of short-wave troughs circulating around the cyclone. Concerning the convective storms, a short-wave trough that will first cross NW Iberia and then travel towards Sardegna/Corsica and Italy is of particular interest. Another trough, much deeper, will move across SE Europe and influence convective storm evolution over the Aegean Sea.

... W Iberia ...

The highest likelihood of severe weather is forecast over NW Spain and N Portugal. In the early morning hours, a large stratiform rain shield will cross the region, associated with a warm front, followed by an advection of moist airmass inland. Skinny CAPE profiles with MLCAPE values up to 500 J/kg are simulated along the coastline, decreasing inland. Very strong low-level shear is forecast as 1 km AGL flow will vary between 20 and 30 m/s. Any convective storm may pose a risk of severe wind gusts. As the 0-1 km shear will exceed 15 m/s and LCLs will be low, the tornado threat will be enhanced as well. The degree of tornado threat will depend on how much the CAPE can overlap with more strongly curved hodographs that will be available especially early into the forecast period. Some models show a combination of SRH > 200 m2/s2 in the 0-1 km layer and non-zero surface-based CAPE. The largest threat of tornadoes and severe wind gusts will exist between 06 and 12 UTC. Further storms will be possible during the whole day, suggesting a heavy rainfall threat where multiple storms move over the sample place.

Over S Portugal and SW Spain, the severe weather risk will be lower, but the same threats can be expected. Furthermore, the timing of the risk will be later than further north. Storm activity may persist until Tuesday morning.

... Sardegna ...

Severe weather risk will arrive late over Sardegna, in the time frame of 00 - 06 UTC on Tuesday. A similar environment to Portugal is anticipated with marginal CAPE and very strong low-level shear. Stronger storms may be capable of severe wind gusts or tornadoes.

... NE Aegean ...

A level 1 was considered over this region with the evening to overnight storms forming in low-level shear around 10 m/s. The threat seems to be a bit too low at the moment, but the area needs to be monitored.