Storm Forecast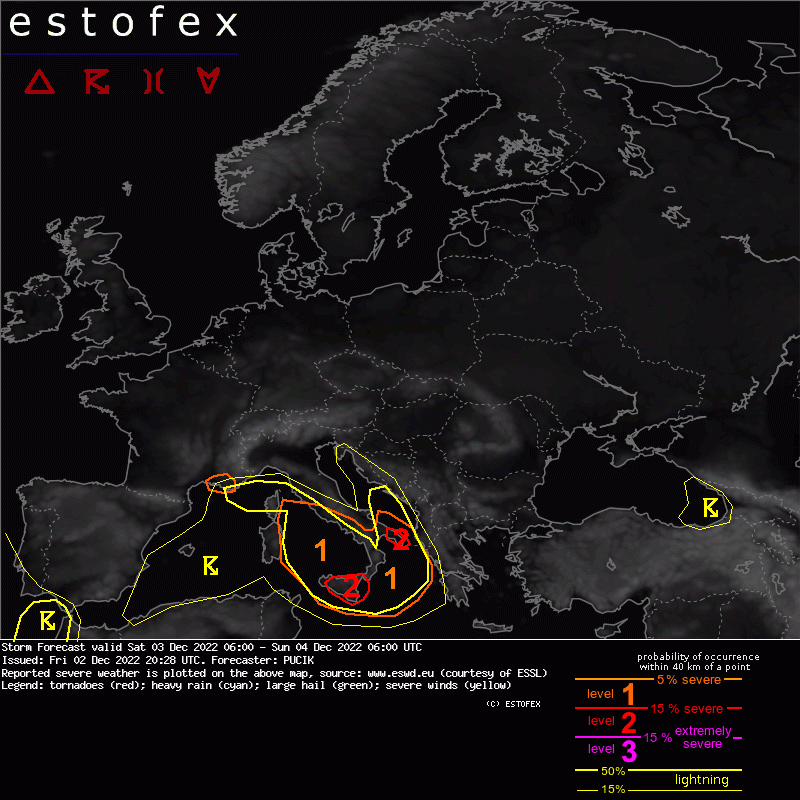 Storm Forecast
Valid: Sat 03 Dec 2022 06:00 to Sun 04 Dec 2022 06:00 UTC
Issued: Fri 02 Dec 2022 20:28
Forecaster: PUCIK
A level 2 was issued across Sicily and Apulia mainly for tornadoes and heavy rainfall.

A level 1 was issued across E coastline of Corsica and Sardegna for heavy rainfall.

A level 1 was issued across W, SW and S Italy mainly for heavy rainfall and tornadoes.

A level 1 was issued across S France mainly for heavy rainfall.


SYNOPSIS and DISCUSSION

While much of Europe remains under the influence of an extensive high-pressure system over Russia and Scandinavia, a more active weather pattern is forecast across the Mediterranean. A short-wave trough is forecast to lift from northern Africa towards Sicily and S Italy during the day. A combination of the left-exit region of a strong jet streak and warm air advection regime in the lower troposphere will yield pronounced synoptic-scale motion. At the same time, SW-ly flow will advect steeper lapse rates from Africa, increasing CAPE across the region.

... Sicily ...
The most volatile situation is forecast across Sicily, where models agree on the presence of CAPE, 0-6 km bulk shear > 20 m/s, and also strongly curved hodographs with almost purely streamwise vorticity in the low-level inflow (bottom 1 km) for the right-moving supercells. 0-1 km SRH will exceed 200 m2/s2. This suggests the threat of tornadoes, including strong ones. The limiting factor may be a stable layer near the 850 hPa and low magnitudes of CAPE in the 0-3 km layer. Furthermore, CAPE will decrease inland where the hodographs will be most conducive for tornadoes. Besides tornadoes, heavy rainfall and marginally large hail may occur as well. The highest threat will be confined to the 12 - 18 UTC period.

... Rest of Italy ...

Apulia and W coastline of Italy will see the highest severe weather threat risk later than Sicily, increasing in the evening hours of Saturday. The conditions will be less conducive to severe weather than over Sicily, but tornado and heavy rainfall risk will remain with moist low-levels and strong low-level shear. The highest rainfall risk is forecast in Apulia where continuous SE-ly moist low-level onshore flow may result in numerous rounds of storms overnight.

... S France ...

A marginal level 1 is issued for heavy rainfall with moist onshore flow developing during the day and low-end CAPE in the warm cloud layer.