Mesoscale Discussion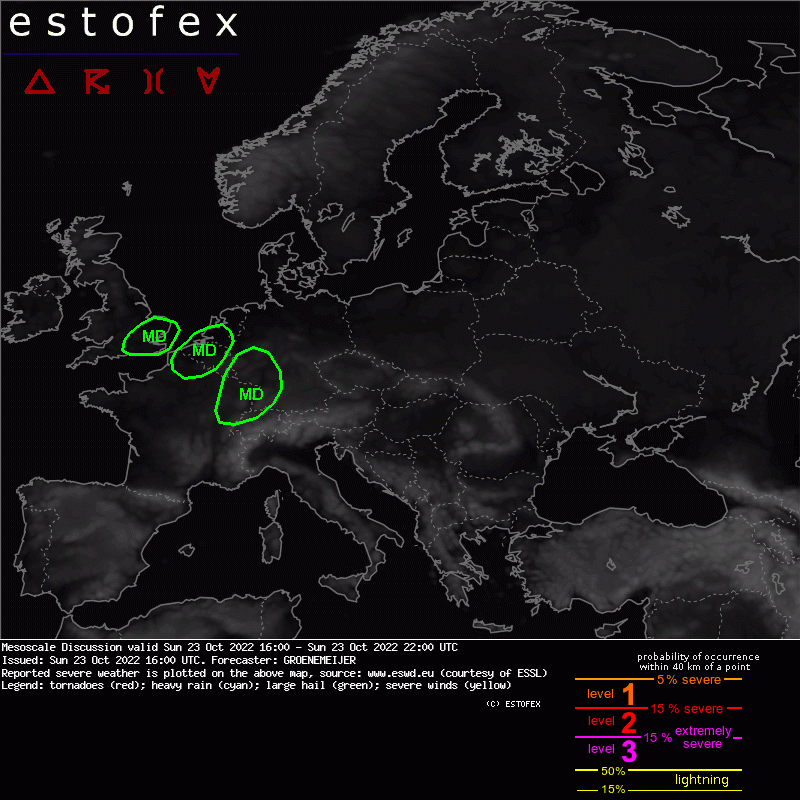 Mesoscale Discussion
Valid: Sun 23 Oct 2022 16:00 to Sun 23 Oct 2022 22:00 UTC
Issued: Sun 23 Oct 2022 16:00
Forecaster: GROENEMEIJER
MESOSCALE DISCUSSION

N France, Benelux ...

A cluster of storms including supercells is entering the Hauts-de-France region as it moves northeastward at 20-25 m/s. A particularly severe long-lived supercell near Amiens has a history of producing large hail of around 5 cm. Potentially tornadic damage has been reported near the mouth of the Seine.

The cluster of storms should continue to move Northeast into Belgium and Netherlands during the coming hours. As it does so, it should encounter an air mass with long curved hodographs with about 300 m2/s2 SRH01 per ICON-D2/ICON-RUC. This suggests that strong tornadoes could form.

By mid-evening, the risk of tornadoes should gradually become somewhat lower in response to boundary layer stabilization. The risk for severe wind gusts will persist longer.

Eastern area...

Across Luxembourg and central parts of the regions Grand-Est and northern Burgundy, linearly organized storms have developed in a regime of low to moderate instability and very strong shear. These storms will rapidly move northeastward into the Rhineland, Saarland, Alsace, and Baden-Wuerttemberg with a considerable risk of severe wind gusts. In addition, some large hail is possible with any embedded supercells. A low, but non-zero, risk of tornadoes is also present as low-level shear is very strong, however with less hodograph curvature and less supportive convective mode than the storms across NW France.

Southern England

Convective storms have formed across Southern England. With weak instability, but considerable low-level wind shear, a risk of rotating updrafts and a localized tornado exists, along with severe wind gusts. Given the weak instability, the risk of large hail is rather low.