Storm Forecast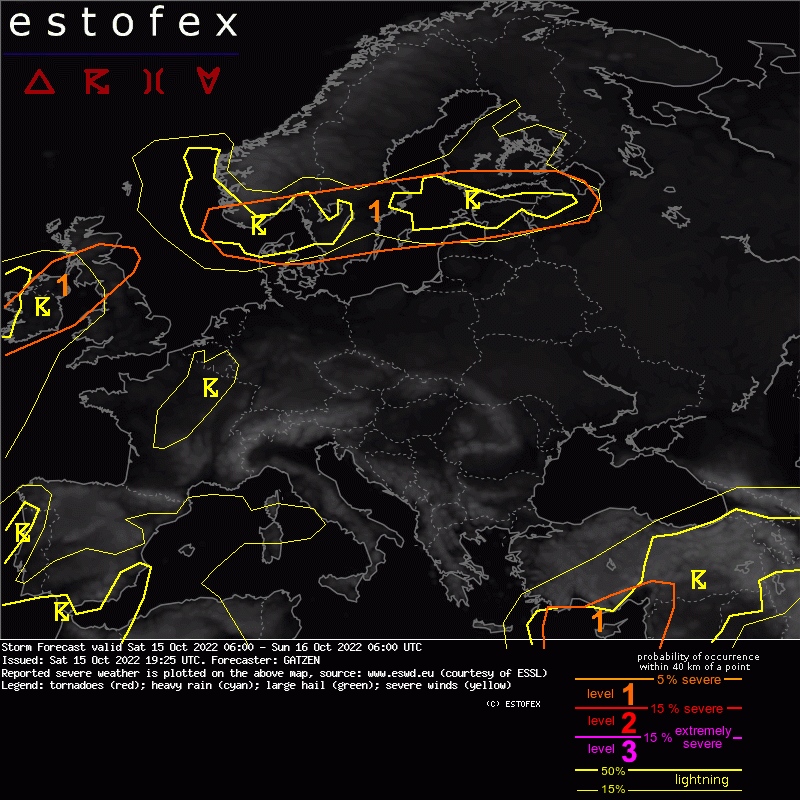 Storm Forecast
Valid: Sat 15 Oct 2022 06:00 to Sun 16 Oct 2022 06:00 UTC
Issued: Sat 15 Oct 2022 19:25
Forecaster: GATZEN
A level 1 was issued across the east MEditerranean for extreme rainfall, severe wind gusts, and large hail.

A level 1 was issued across the north-western British Isles and southern Scandinavia towards the Baltics for severe wind gusts and tornadoes.

SYNOPSIS

Subtropic high ridges into eastern Europe, supporting a quasi-staionary trough across south-eastern Europe. A strong south-westerly jet stream extends from the Bay of Biscay to the Baltics, with two main vort-maxima affecting southern Scandinavia and the British Isles on Sunday. To the south, a broad warm air advection regime is located over Iberia and France.

DISCUSSION

Eastern Mediterranean

The denter of a cut-off trough will be located south of western Turkey. Steep low-level lapse rates and weak vertical wind shear create a favorable environment for waterspouts along the land-breeze convergence over the sea. Additionally, heavy precipitation is not ruled out near the shores with stationary storms.

To the east, increasing vertical wind shear is expected due to strong south-westerly mid-level winds ahead of the cut-off. With the south-westerly flow, steep lapse rates are advected into the east Mediterranean, where they overlap with a moist low-level air mass. CAPE of 1000+ J/kg and 0-6 km shear of 20+ m/s are forecast, and supercells are forecast. Main convective mode, however, will be clusters of storms that can also include some bowing elements due to strong 0-3 km vertical wind shear. Storms will move northward and affect the coasts with strong to severe wind gusts, extreme rain, and also large hail.

British Isles, Scandinavia, Baltics

Two vort-maxima will be of main interest in the strong south-westerly flow, one moving across Scandinavia at noon that reaches the Baltics late in the period, and another upstream that affects the British Isles in the evening and night. With both troughs, thunderstorm activity is expected as low-level stretching overlaps with moisture across the North and Baltic Seas as well as the Atlantic.

In a high-shear, low-CAPE environment, these storms will likely organize along frontal boundaries as narrow cold-frontal rainbands. Severe wind gusts are forecasts as well as some tornadoes.

Iberia and France

Withing warm air advection, steep lapse rates spread north-east ontop of modest low-level moisture. Overall lift will be quite limited, and best potential for storms exists in the evening and night with elevated convection. However, storms across France and especially western Iberia can be surface-based at times. Strong vertical wind shear is present and a few better organized multicells or transient mesocyclones are not ruled out. Overall severe potential is limited due to marginal CAPE.