Storm Forecast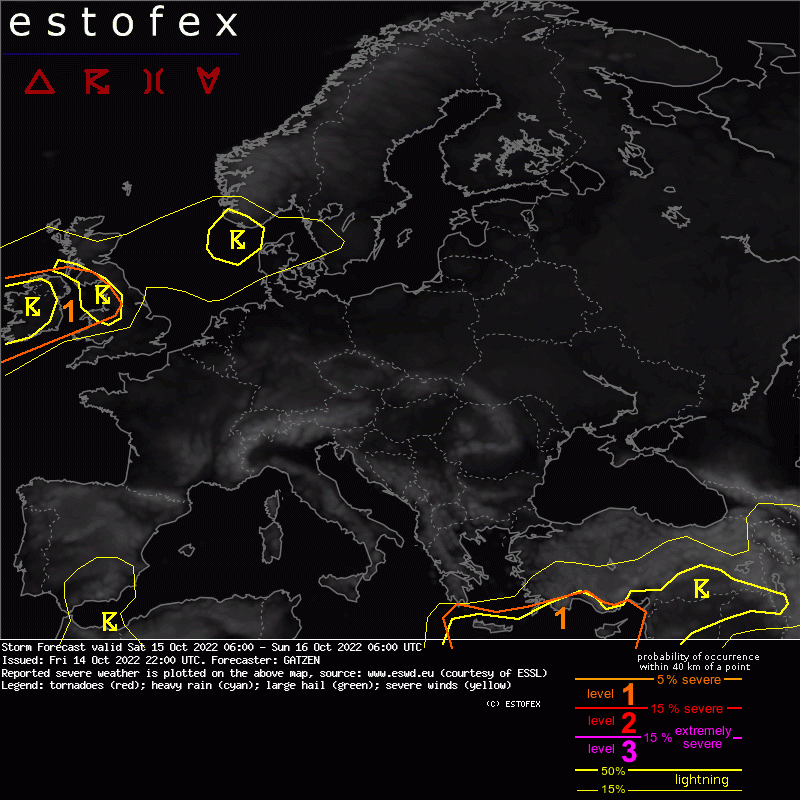 Storm Forecast
Valid: Sat 15 Oct 2022 06:00 to Sun 16 Oct 2022 06:00 UTC
Issued: Fri 14 Oct 2022 22:00
Forecaster: GATZEN
A level 1 was issued across the western British Isles for wind gusts and additionally a marginal tornado threat.

A level 1 was issued across the east Mediterranean for extreme rainfall.

SYNOPSIS

A strong Atlantic jet makes its way into central Europe. Embedded short-wave troughs travel north-eastwards over the British Isles and the North Sea towards Scandinavia. Another short-wave trough progresses along the southern edge of the mid-level jet and crosses Iberia.

The delta of the jet moves into eastern Europe, with a ridge across the central Mediterranean extending towards the Baltic Sea. An amplified trough is located over the Black Sea and Aegean and will start of form a closed low over Turkey.

DISCUSSION

British Isles, North Sea

WIthin the strong westerly flow, several vort-maxima affect a well-mixed and moist maritime air mass. In a high-shear, low-CAPE environment, scattered thunderstorms are forecast over Ireland and western England and Wales. These are likely associated with strong and locally severe wind gusts. A tornado or two is not ruled out due to the strong low-level vertical wind shear that can support a few low-level mesocyclones.

Farther west, weaker shear will limit severe potential and given marginal CAPE, no level was introduced.

East Mediterranean

Within the base of the east European trough, a moist air mass over warm sea waters will be associated with CAPE of several 100s J/kg. Slow-moving storms will locally result in heavy rain. East of the trough center, higher CAPE and also strong vertical wind shear of 15 m/s in the lowest 6 km and about 10 m/s in the lowest 3 km will support some cold-pool driven multicells. These will again support a rain threat mostly but locally, severe wind gusts and large hail are not ruled out.