Storm Forecast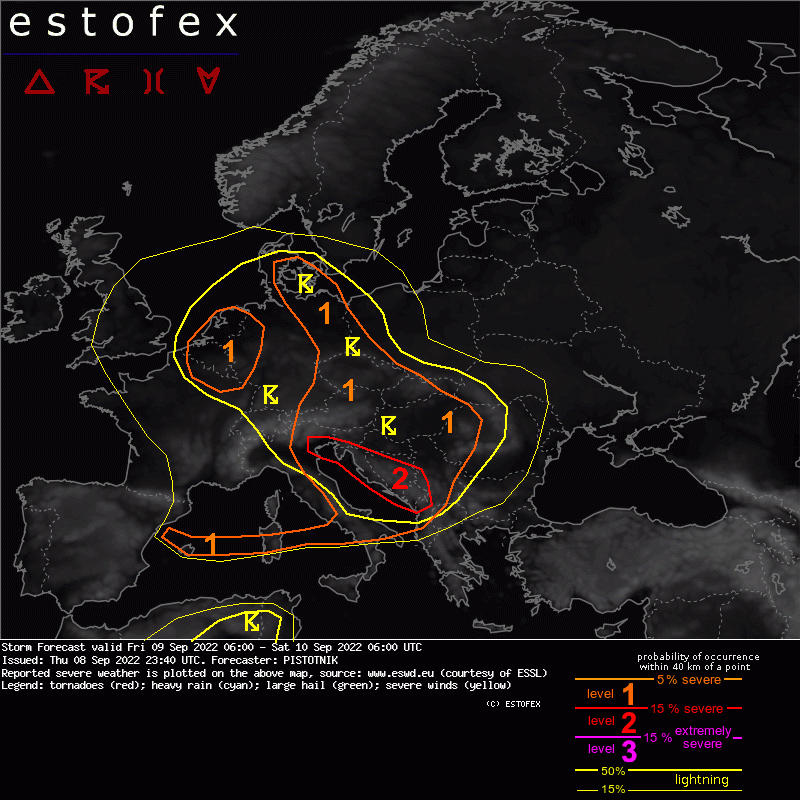 Storm Forecast
Valid: Fri 09 Sep 2022 06:00 to Sat 10 Sep 2022 06:00 UTC
Issued: Thu 08 Sep 2022 23:40
Forecaster: PISTOTNIK
A level 2 is issued from NE Italy to Montenegro for excessive convective precipitation, large hail, severe convective wind gusts and (in coastal areas) for tornadoes.

A level 1 is issued for the rest of the Balkans, Hungary and W Romania excessive convective precipitation and large hail.

A level 1 is issued from Denmark to Austria and Slovakia mainly for excessive convective precipitation.

A level 1 is issued for BeNeLux, N France and NW Germany mainly for excessive convective precipitation, to a lesser degree also for severe convective wind gusts and tornadoes.

A level 1 is issued from the Balearic Sea to central Italy for large hail and severe convective wind gusts.

SYNOPSIS

The formerly dominant features, the long-lived British cyclone and a mid-level ridge from the Black Sea to Scandinavia, finally slowly move eastward and start to weaken. As a result, the mid-level jet zonalizes and an associated main frontal zone establishes near 45N from the Bay of Biscay across the Alpine region to Romania and the Black Sea.
The Mediterranean region is still under very warm to hot air and rather quiescent synoptic conditions.

DISCUSSION

... Central Europe from BeNeLux and Germany to Serbia and Romania ...

Strong synoptic lift ahead of the British cyclone overspreads moist and slightly to moderately unstable airmasses both on the warm side and on the cool side of the ill-defined frontal zone, that acts as a slowly SE-ward advancing cold front. CAPE reaches some hundred J/kg across wide areas with regional maxima up to 1000 J/kg in zones of enhanced low-level moisture and/or sufficient insolation.
Supported by plentiful large- and mesoscale lift, scattered to widespread thunderstorms are expected. The activity will peak in the afternoon to evening, though the strong forcing can keep some storms active also off the diurnal cycle.
In the prefrontal airmass from the Balkans to E Hungary and Romania, deep-layer shear between 15-20 m/s allows multi- to isolated supercellular organization. The main hazards are large hail and excessive rain, while weak shear across lower levels and rather moist air should keep the wind hazard subordinate.
The cooler the airmass turns towards the NW, the weaker vertical wind shear in general gets, but the more it is also concentrated across lower levels. From central France to the greater Alpine region, 0-3 km bulk shear is the relatively strongest shear measure with values between 10 and 15 m/s. From N France to BeNeLux and NW Germany, around 10 m/s bulk shear are mostly concentrated across the 0-1 km layer, but it barely increases across deeper layers anymore. In general, the main hazard is localized excessive rain, though the mentioned spectrum of moderate shear can also allow some multicellular organization with strong to isolated severe wind gusts. In the NW-ern regime with the strongest 0-1 km shear and low cloud bases, one or two short-lived tornadoes are not excluded, either.

... W and central Mediterranean region ...

Cooler Mistral and Tramontana winds gradually push the rich low-level moisture souteastward, but residual areas of trapped or otherwise enhanced moisture should still allow CAPE between a few hundred to more than 2000 J/kg CAPE, generally rising towards the SE. This CAPE reservoir is overspread by enhanced deep-layer shear between 10 and 20 m/s.
In the wake of the Alps, moisture dilution or expulsion are delayed in N Italy, the Adriatic Sea and the W Balkans. These regions also receive a broadside of synoptic lift, hence multiple rounds of storms are expected throughout the forecast period, whose bulk slowly works its way SE-ward. An organization into multicells, some supercells and/or several large clusters is likely, and large hail and severe wind gusts as well as excessive rain may occur. Nocturnal land breezes, outflow boundaries and numerous other convergence over sea waters could also spawn some tornadoes over the Adriatic Sea, a few of which might also move onshore.
Further south and west, synoptic lift is weak to absent and convective initiation will be isolated at best. However, if persistent storms yet manage to form, the CAPE-and-shear space would allow some hail and wind events, especially towards the south. This conditional scenario is reflected by an elongated low-end level 1.