Storm Forecast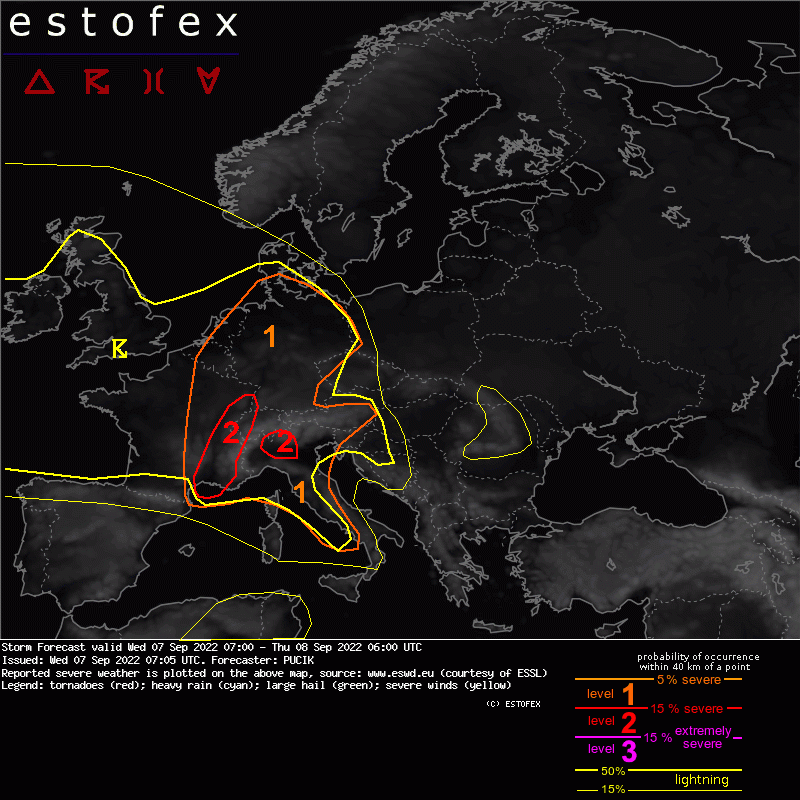 Storm Forecast
Valid: Wed 07 Sep 2022 07:00 to Thu 08 Sep 2022 06:00 UTC
Issued: Wed 07 Sep 2022 07:05
Forecaster: PUCIK
A level 2 was issued across E France mainly for large to very large hail, excessive rainfall, and severe wind gusts.

A level 2 was issued across parts of N Italy mainly for large hail, excessive rainfall, and to a lesser degree for tornadoes.

A level 1 was issued across NE France, W, and N Germany mainly for large hail, excessive rainfall, and to a lesser degree for severe wind gusts.

A level 1 was issued for the W Italy coastline mainly for excessive rainfall and large hail.

DISCUSSION

In the mid-troposphere, a deep low resides SW of Ireland. At its S flank, a short-wave trough will move from NW Iberia towards France and BENELUX. Closer to the surface, a cold front is forecast to cross France and W Germany by Thursday morning. A warm front will stretch from NE Germany through W and S Poland.

A large area of scattered to widespread thunderstorms is forecast across W and central Europe. Several areas will also see a higher potential for severe weather:

... SE France ...

Numerous rounds of storms are forecast from the morning to overnight hours. As of 06 UTC, a quasistationary storm with intense lightning and strong updrafts was observed W of Marseille. This storm has died since.

As the trough and cold front approach the region, storms will become more abundant with a maximum in the late afternoon to early night hours. 0-6 km bulk shear is forecast to reach 20 m/s with hodograph curvature in the lower troposphere, sustaining well-organized storms, including supercells. Supercellular convective mode is also simulated by convection-allowing models. Large to very large hail and severe wind gusts are forecast with these storms. Along the coastlines, southerly low-level flow combined with low LFCs will promote easy initiation by the upslope flow and will likely result in one or more quasistationary convective systems with the threat of very heavy rainfall given abundant moisture and MLCAPE values > 2000 J/kg.

... N Italy ...

A small Lvl 2 is introduced for an area where convection-allowing models suggest the possibility of several supercells with large hail in the afternoon. Further storms are forecast overnight as the southerly low-level flow increases and numerous rounds of storms will form over the mountains with the threat of heavy rainfall. Curved hodographs with about 10 m/s bulk shear in the 0-1 km layer are forecast on the southern edge of Lvl 2, suggestive of a potential tornado threat if isolated supercells can develop at that time.

... E France into Switzerland and W Germany ...

In this region, storms are anticipated mostly in the late evening/overnight hours and will be associated with the arrival of the cold front. 0-6 km bulk shear between 15 and 20 m/s along with curved hodograph suggest a risk of supercells. That said, storms will likely be widespread with a convective system forming as the cells merge together. Severe wind gusts, large hail, and also excessive precipitation are possible with the storms.

... N Germany ...

Initiation is forecast along the mountains and the warm front. Moderate bulk shear will allow for decent storm organization into multicells or even marginal supercells. The storms will spread towards NE Germany during the day, posing a risk of heavy rainfall or large hail.

...  W Italy coastline ...

High CAPE is simulated by the models along the coastline with around 15 m/s of 0-6 km bulk shear. The shear is forecast to further increase towards the night. While the main lift mechanisms remain well to the W and N of the area, models simulate clusters of storms developing along the coastlines mainly after Thursday 00 UTC. Expect heavy rainfall and/or large hail with these storms. Across Liguria, storms are expected earlier and the first lightning has been observed over the bay as of 07 UTC.