Storm Forecast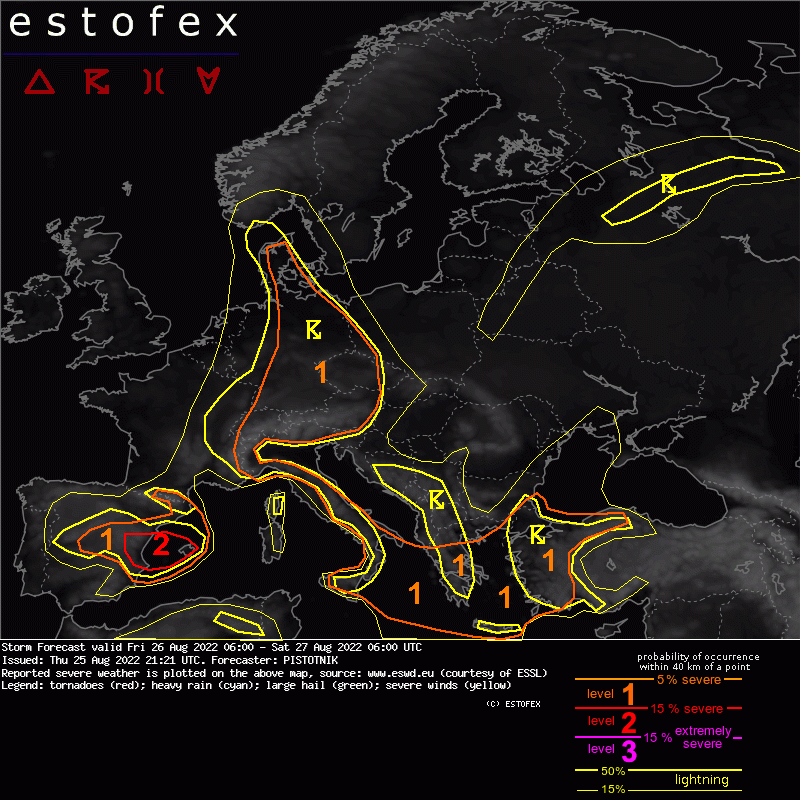 Storm Forecast
Valid: Fri 26 Aug 2022 06:00 to Sat 27 Aug 2022 06:00 UTC
Issued: Thu 25 Aug 2022 21:21
Forecaster: PISTOTNIK
A level 1 and level 2 are issued for parts of Spain and the Balearic Sea for excessive convective precipitation, large hail, severe convective wind gusts and to a lesser extent for tornadoes.

A level 1 is issued for Denmark, Germany, Switzerland, the French Alps, Italy, Austria and the Czech Republic as well as for Greece and W Turkey mainly for excessive convective precipitation.

A level 1 is issued for the Aegean Sea, the Ionian Sea and the coastlines of W Turkey, Greece and S Italy for tornadoes.


SYNOPSIS

A late summer pattern has established with calm and very warm to still hot conditions across most of Europe. At the northern flank of a slowly filling mid-level low over SE Europe, weak but persistent warm air advection from easterly direction covers most of the continent. The polar front is displaced to the far north and only grazes Scotland and Scandinavia.

DISCUSSION

... Spain, Balearic Sea and Islands ...

Weak westerly background flow advects steep lapse rates from inland areas on top of abundant maritime moisture with dewpoints well above 20C in coastal and offshore areas. Thursday's Barcelona and Palma soundings showed CAPE in excess of 3000 J/kg, and a similar magnitude is possible on Friday. In inland areas, low-level moisture is much lower, but still sufficient for some hundred J/kg CAPE.
Scattered storms are expected to form from noon onwards, first over the mountains and later also along outflow boundaries that push towards the coast. Vertical wind shear is generally weak, but may locally be enhanced to 10-15 m/s in the sea breeze regimes, just enough for multicellular organization. Together with steep lapse rates aloft, this may promote the storms to produce some large hail and severe downbursts next to an enhanced hazard of excessive rain. While convection in inland areas should decay after sunset, there is considerable consensus among the forecast models that a large MCS shall move into the abundant offshore CAPE in the evening and overnight with a somewhat erratic, outflow-driven, but in general easterly track that could bring it even to the Balearic Islands until Saturday morning. The severe weather hazard remains enhanced all night long and later also includes a possibility of a few non-mesoscyclonc tornadoes over the warm water.

... central Europe, W Balkans, Italian and Greek mainland, Crete, W Turkey ...

A large plume of hot continental air with steep lapse rates spreads westward across central Europe and the Balkans and eventually also approaches Italy, Greece and W Turkey. The trapping of low-level moisture sustains 2m dewpoints often in the upper tens and locally even around 20C, allowing CAPE between 500 and 1500 J/kg to form after some daytime heating.
Scattered, mostly daytime-driven storms are expected over mountains and generally in the convergent wind field over central Europe. Weak vertical wind shear keeps convection disorganized and the main hazard confined to excessive rain, though isolated hail and wind events are not ruled out in maturing stages of the strongest pules storms.
Upscale growth into several large clusters is possible towards evening esepcially in Germany and Bohemia, where a level 2 was considered. However, storm coverage remained much lower than expected in Thursday despite already plentiful CAPE and only weak capping evident in the soundings. A lack of synoptic lift (despite the background of warm air advection) could keep convective initiation again rather sluggish on Friday or even make it regionally fail, which is also reflected by a considerable spread of precipitation signals in the forecast models. Therefore, a broad level was kept for now, but it is worth mentioning that level 2 conditions could yet arise in some regions, especially if gust fronts become strong enough to initiate a "snowball effect" of numerous secondary storms.

... Aegean and Ionian Sea, including coastlines of W Turkey, Greece and S Italy ...

Mid-levels may be just cool enough to allow also some coastal and offshore storms, under plentiful CAPE and weak vertical wind shear, especially in the morning and than again overnight when land breezes form. Thanks to low cloud bases and a weak and cyclonic background wind field, this activity can produce a number of waterspouts.