Mesoscale Discussion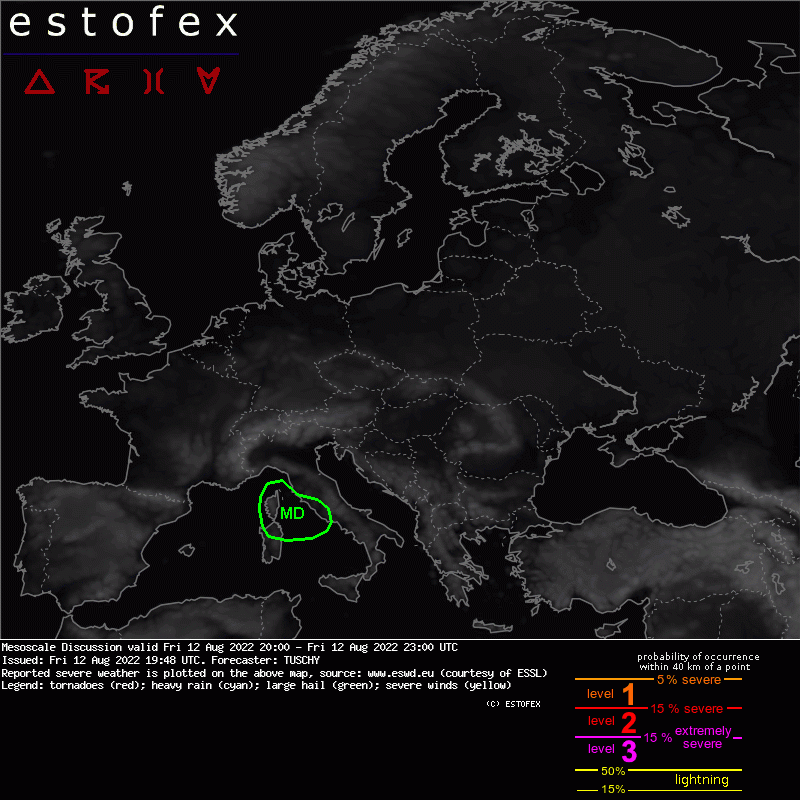 Mesoscale Discussion
Valid: Fri 12 Aug 2022 20:00 to Fri 12 Aug 2022 23:00 UTC
Issued: Fri 12 Aug 2022 19:48
Forecaster: TUSCHY
This MESOSCALE DISCUSSION was issued to highlight the risk of numerous severe thunderstorms between the Ligurian Sea and the Tyrrhenian Sea including the Tuscan Archipelago and Corse/N Sardegna.

12Z sounding from Ajaccio was already rather impressive with MUCAPE aoa 3000 J/kg and 20 m/s DLS. Since then, ALC profile of Bastia indicates a full erosion of the LL cap and deep mixing to near 2500 m AGL.

Latest data of HVIS during the evening hours showed clear conditions in most of the MD area with bands of capped Cu/TCus approaching from the W and a pronounced convergence zone, which runs from Cannes to the E and then arches S towards Bastia.
Latest WV loop places the core of the cold-core low over the W Alps with an incipient touch more to the SW. A tightening thermal gradient to its SW enhances the gradient wind especially from mid to upper levels with DLS increasing from 15 to 25 m/s and from 10 to 20 m/s at 0-3 km respectively from E to W.

Gradually lowering MSLP around Corse (Bastia by 2 hPa) should act to increase a NE-erly BL flow event, which would help to advect slightly drier air towards Corse, which lowers BL moisture/CAPE but acts to increase LL convergence.

To summarize: As the upper cut-off approaches from the N during the night with strong Q vector convergence atop numerous LL convergence zones with roughly 2000 J/kg MUCAPE and abundant shear, scattered CI is forecast during the overnight hours with upscale growing convection into well organized clusters /a few more discrete supercells. All kind of severe is possible including a few extreme events (very large hail, excessive rain and destructive gusts). With 20-30 kn SE-erly inflow at lower levels and potential for deviating storm motion, a tornado risk is also evident with rather low LCLs forecast (despite more stable BL conditions in the western part of the MD).