Storm Forecast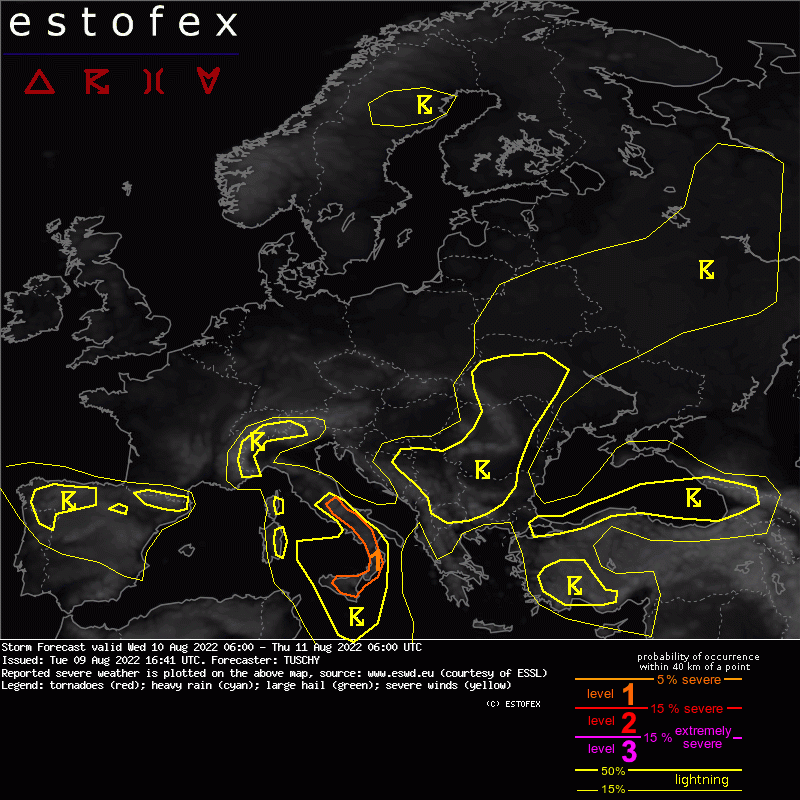 Storm Forecast
Valid: Wed 10 Aug 2022 06:00 to Thu 11 Aug 2022 06:00 UTC
Issued: Tue 09 Aug 2022 16:41
Forecaster: TUSCHY
A level 1 was issued for parts of Italy mainly for heavy rain.

SYNOPSIS

Persistent and zonally aligned ridging covers most of Scandinavia with lower thickness over SE Europe and the Mediterranean, where numerous upper level troughs reside with embedded vortices (one over the W-Ukraine, another one over the Black Sea and dissolving vortices between Sicily and S Turkey). Another cut-off is present W of Portugal which advects another round of hot/dry African air far N towards SW France.

A wavy and weakening synoptic-scale front is present over E into SE-Europe with otherwise no recognizable boundaries.

DISCUSSION

There will be numerous regions with enhanced but mostly sub-severe convection. We focus on the most active areas.

Over Sicily and S Italy a S to SE-ward moving mid-level vortex weakens but remains intact so another round of diurnal driven sea breeze initiation along the orography mixed with weak low tropospheric synoptic-driven flow from the NE is forecast. Past days sounding reports continue to support up to 1500-2500 J/kg MUCAPE along the coasts as a marine air mass with 2m dewpoints in the low to mid twenties advects ashore and warms up. DLS is very weak to non-existent. Local flash flooding and hail is the main hazard mainly along the orography during the mature phase of activity. Storms decay until 00Z. This is worth a level 1. The lightning areas were broadened due to CI along offshore rushing outflow boundaries from onshore convection and due to some mid-level cooling beneath the upper vortex.

The mid-level vortex over the W Ukraine pushes a weak surface reflection (LL depression) over Romania to the SE. The air mass is already worked over at many places with rather weak mid-level lapse rates, but rich BL moisture still supports 500-1000 J/kg MLCAPE in a weakly sheared environment. Slow moving and gradually clustering storms evolve along the S-Carpathian Mountains and shift S with heavy rain and gusty winds before weakening beyond sunset.