Storm Forecast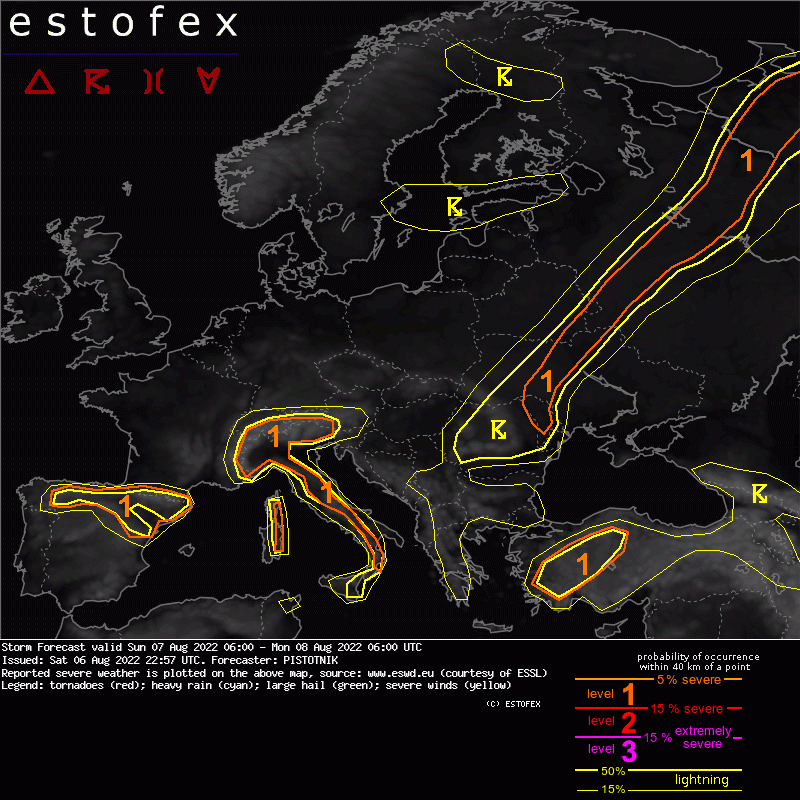 Storm Forecast
Valid: Sun 07 Aug 2022 06:00 to Mon 08 Aug 2022 06:00 UTC
Issued: Sat 06 Aug 2022 22:57
Forecaster: PISTOTNIK
A level 1 is issued for parts of NW Russia mainly for severe convective wind gusts and to a lesser degree for tornadoes, large hail and excessive convective precipitation.

A level 1 is issued for far-SE Belarus, the W Ukraine and Moldova mainly for excessive convective precipitation and large hail.

A level 1 is issued for Italy, the Swiss and French Alps and for Corsica mainly for excessive convective precipitation and to a lesser degree for severe convective wind gusts and large hail.

A level 1 is issued for N Spain and for parts of Turkey mainly for excessive convective precipitation and severe convective wind gusts and to a lesser degree for large hail.

SYNOPSIS

A meandering zonal flow covers the areas north of 50N. A leading embedded short-wave crosses NW Russia, another one the southern parts of Scandinavia and the Baltic Sea. Geopotential gradients are weak everywhere further south.
At the surface, the main frontal zone is displaced more southward and runs from the Ukraine across Hungary and the Alpine region to S France, but is barely active anymore due to the influence of an extensive surface anticyclone that spreads from the central North Atlantic into much of continental Europe. Very hot air is in place to the south of the inactive frontal zone, temperate air to its north.

DISCUSSION

... NW Russia, far-SE Belarus, W Ukraine, Moldova ...

Ahead of the cold front, warm air with rich low-level moisture is advected far northward. Moderately steep lapse rates on top of rich low-level moisture (predicted 2m dewpoints mostly in the 16-19C range) allow CAPE up to 1000 J/kg. Thunderstorm activity will be widely scattered, elevated and non-severe in the morning, but widespread thunderstorms are again expected to fire up from noon onwards in the range of the cold front.
The northwestern rim of the CAPE reservoir overlaps with the mid-level jet, which creates a narrow belt of 0-6 km shear up to 20 m/s and 0-1 km shear up to 10 m/s, though the overlap looks more fragile than over Finland on Saturday. Furthermore, forecast soundings suggest that much of the vertical wind shear boost could be connected to a sudden wind shift near the surface that brings a first rush of colder air, thus stabilizing the boundary layer and leaving only elevated CAPE. Under optimum conditions, another round of organized storms is well possible, including bow echoes with a distinct wind hazard or supercells with a possibility of one or two tornadoes and (marginally) large hail, but the failure mode precludes a level 2 this time.
Further ahead of the cold front and further south over far-SE Belarus, the W Ukraine and (later) Moldova, much of the CAPE is under weak vertical wind shear. Storms will rather be single- to multicellular, and excessive rain is the main hazard, followed by hail and wind.
Convection will gradually turn elevated, weaken and decay around and after sunset.

... other thunderstorm areas from Romania, the Alps and the Pyrenees southward ...

The hot airmass features pretty steep lapse rates, but low-level moisture is often limited in inland areas due to intense vertical mixing and a lack of evaporation associated with the widespread drought conditions. CAPE is therefore quite variable and probably confined to patches with maxima around 500 J/kg in inland areas, whereas robust CAPE locally up to 3000 J/kg is in place where sea breezes feed enough moisture into upslope circulations of coastal mountains (see the Sat 12 UTC Ajaccio sounding).
In the absence of synoptic lift and under weak vertical wind shear, scattered afternoon and evening thunderstorms are mostly confined to mountains and stay poorly organized. The main hazards are localized excessive convective precipitation (maximized over N and central Italy, where the highest storm coverage is expected) and severe, evaporation-driven downbursts (maximized in inland areas of Spain and Turkey, where deep "inverted-V" temperature profiles are in place and cloud bases are very high). In addition, the strongest pulse storms could also produce marginally large hail or large amounts of small hail.

... central and S Baltic Sea ...

Scattered shower activity gradually develops when the second short-wave trough crosses the relatively warm sea waters, which creates a marginally unstable stratification under weak vertical wind shear. A few waterspouts could spin up out late in the forecast period along land breezes or other distinct convergence zones, but the hazard is too diffuse for a level 1. Weak lightning activity will likely be confined to the northern areas, where mid-levels cool down more when the trough passes.