Storm Forecast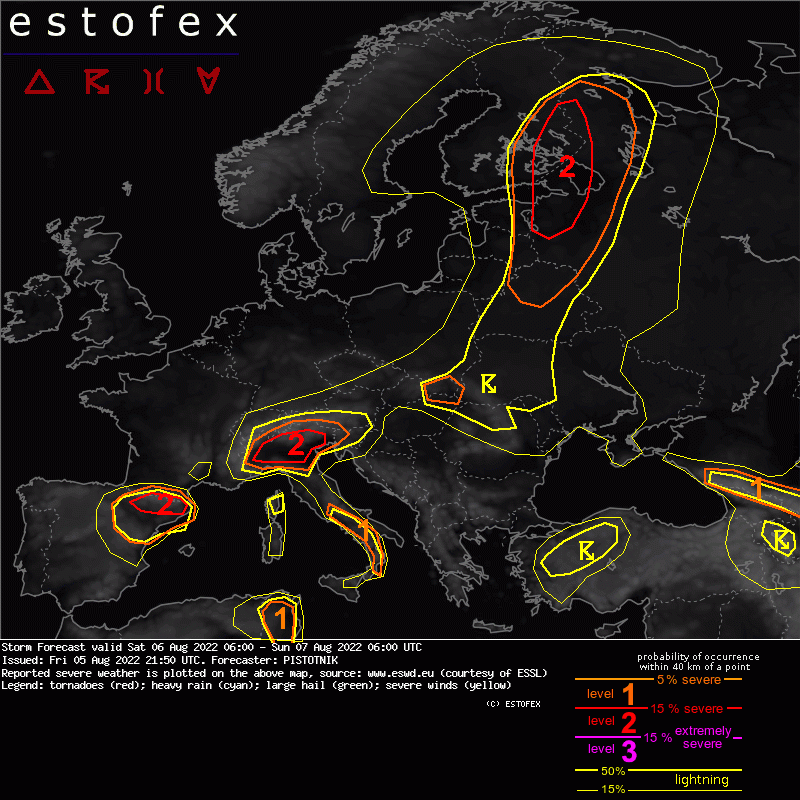 Storm Forecast
Valid: Sat 06 Aug 2022 06:00 to Sun 07 Aug 2022 06:00 UTC
Issued: Fri 05 Aug 2022 21:50
Forecaster: PISTOTNIK
A level 1 and level 2 are issued for SE Finland, W Estonia, W Latvia, NW Russia and parts of Belarus for severe convective wind gusts and tornadoes (mainly towards the NW) as well as for large hail and excessive convective precipitation (mainly towards the SE).

Level 1 and level 2 areas are issued for NE Spain, N Italy, south-central Italy, E Slovakia and Tunisia mainly for excessive convective precipitation and severe convective wind gusts, to a lesser degree also for large hail.

A level 1 is issued for the Georgian and Russian Caucasus region for large hail, severe convective wind gusts and excessive convective precipitation.

SYNOPSIS

A pronounced mid-level trough and an associated surface cold front move eastward from Sweden and the Baltic Sea across Finland and the Baltic States. Cool maritime air has also invaded the British Isles and central Europe in its wake, but dries and warms up again under a return of anticyclonic influence.
Otherwise, very warm to hot air remains in place under quiescent synoptic conditions.

DISCUSSION

... SE Finland, E Estonia, E Latvia, NW Russia, Belarus ...

Ahead of the cold front, warm air with rich low-level moisture is advected far northward, which allows CAPE up to 1000 J/kg. After a temporary lull of convective activity in the morning, scattered to widespread thunderstorms are expected to fire up from noon onwards along the cold front and perhaps also ahead of it. The northwestern half of the CAPE reservoir is overspread by strong vertical wind shear with values around 20 m/s across the 0-6 km layer and 10-15 m/s across the 0-1 km layer, therefore especially storms near the northern segment of the cold front can organize very well into bowing line segments and/or supercells with a remarkably enhanced hazard of severe downbursts and perhaps a few tornadoes. Further southeast, somewhat weaker forcing and vertical wind shear could keep storms more discrete and mainly multicellular, hence the main hazards shift to large hail and excessive rain. The severe weather threat is highest in the 12-18 UTC time frame, before convection gradually turns elevated and weakens while it spreads further NE-ward into Russia.

... belt from the W Ukraine to NE Spain, plus Corsica, Italy and Tunisia ...

The very warm to hot airmass features pretty steep lapse rates, but low-level moisture is often limited in inland areas due to intense vertical mixing and a lack of evaporation associated with the widespread drought conditions. Some low-level moisture is accumulated along the tail of the cold front, which stretches from the W Ukraine to the S Alpine region and NE Spain and slowly inches further southward. Otherwise, sea breezes are needed to feed some moisture into upslope circulations of nearby mountains.
The environment is therefore characterized by highly variable CAPE between a few hundred and up to 2000 J/kg, a distinct capping inversion, little to no synoptic lift and mostly weak vertical wind shear. Primary convective initiation is often delayed to the late afternoon and strictly tied to high mountains, before secondary storms can form at gust fronts and propagate some distance away from them in the evening. The main hazards are localized heavy rain with a possibility of flash floods and mudslides as well as strong to severe, evaporation-driven downbursts. The strongest pulse storms could also produce marginally large hail or large amounts of small hail.
The highest storm coverage is expected in N Italy and in Catalonia, where the "backdoor cold front" with NE-erly surface wind reinforces the sea breezes and advects plentiful low-level moisture from the Adriatic Sea into the Po Valley and from the Lion Gulf into the Ebro valley, respectively. These regions are therefore upgraded to a level 2 mainly due to a possibility of several prolonged rounds of storms that further enhance the heavy rain hazard. The moisture supply may be persistent enough to extend the thunderstorm activity into the first half of the night, in N Italy possibly even into Sunday morning.

... Turkey to Georgia, Armenia and the Russian Caucasus region ...

Conditions are similar to the other areas discussed above, but stronger W-erly mid-level winds allow deep-layer shear up to 20 m/s. Storms could therefore organize better and the main hazards shift more towards hail and wind. The air in the lowlands and coastal belts which feature the highest CAPE and the strongest vertical wind shear will likely remain untouched, though, and current thinking is that the high-based storms over the mountains cannot fully benefit from the good kinematic conditions. The deep and dry subcloud layers could also limit a part of the activity to elevated Altocumulus convection, further limiting its severe weather hazard.