Storm Forecast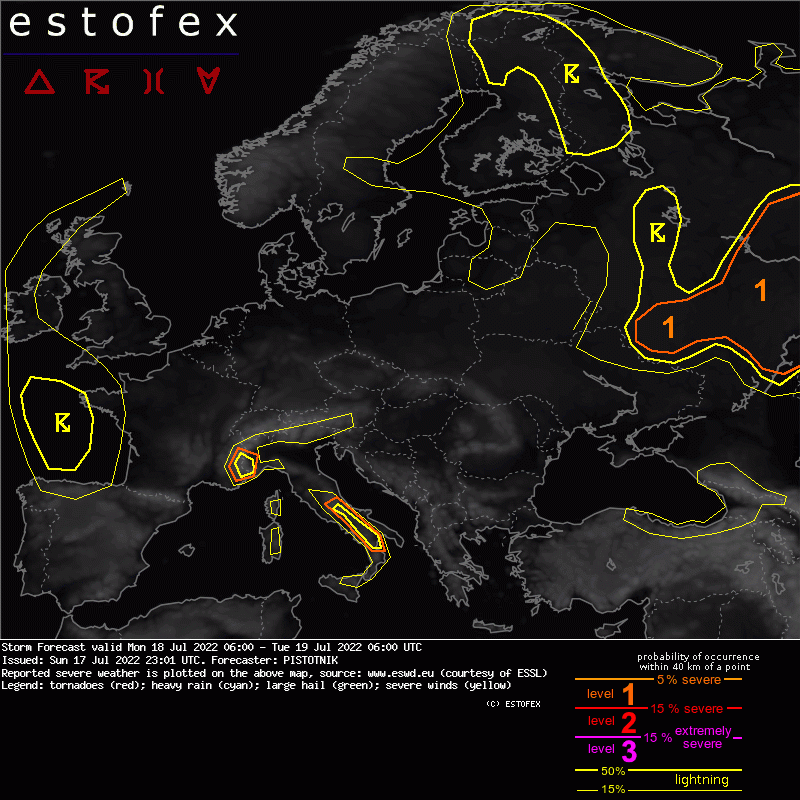 Storm Forecast
Valid: Mon 18 Jul 2022 06:00 to Tue 19 Jul 2022 06:00 UTC
Issued: Sun 17 Jul 2022 23:01
Forecaster: PISTOTNIK
A level 1 is issued for W Russia for excessive convective precipitation, to the SE also for large hail and severe convective wind gusts.

A level 1 is issued for the French Alps and for a part of the Italian Appennines mainly for excessive convective precipitation and to a lesser degree also for severe convective wind gusts and large hail.

SYNOPSIS

A mid-level long-wave ridge over W Europe is the dominant feature on the weather maps. It is surrounded by a chain of mid-level lows from west of Portugal to Iceland, N Scandinavia and W Russia. All features move eastward only very slowly. Pressure gradients at the surface are generally weak with the highest pressure over east-central Europe. While moderately warm air covers the eastern half of Europe, a "Spanish plume" of extremely hot air is advected into France, England, BeNeLux and W Germany ahead of the Portuguese cut-off low.
Convection-wise, a rather quiet day is in store.

DISCUSSION

... W Russia ...

Ahead of the easternmost mid-level low, a diffuse cold front slowly translates eastward and a new surface cyclone gradually deepens while moving northward. Though neither low-level moisture nor the vertical temperature gradient are overly impressive, CAPE on the order of a few hundred to around 1000 J/kg CAPE is present across wide areas. Daytime heating plus the multitude of synoptic- to mesoscale lift mechanisms will likely support scattered to widespread thunderstorms mostly in the afternoon and evening, but some may occur throughout the forecast period.
The main hazard is excessive rain, especially towards the north and west, where vertical wind shear is weak. Further southeast, the unstable airmass is overspread by a mid-level jet that provides enhanced vertical wind shear with 0-3 (0-6) km bulk values up to 15 (25) m/s. Especially those storms that form early and/or well ahead of the frontal zone can therefore organize into multicells and possibly some supercells with additional hazards of large hail and severe wind gusts.
Convection will gradually cluster and become embedded into a rain band that wraps around the deepening cyclone center overnight, still posing a hazard of heavy and partly convective rain.

... Spain, France, Italy and around ...

Some CAPE develops where the hot "Spanish plume" is undercut by less hot but moister low-level air, notably by sea breezes and upvalley circulation. In coastal areas of Italy and around the southern and western Alps, it may locally reach up to 1500 J/kg. The strong cap and the lack of synoptic lift will keep convective initiation quite isolated and strictly tied to high mountains in the afternoon. The relatively highest storm coverage is foreseen over the French Alps and the southern Appennines in Italy. The main hazard is excessive rain which can trigger flash floods and debris flows, especially in the high terrain of the French Alps that does not often experience such vigorous convection. The steep lapse rates aloft could also support a few severe wind and hail events even in the absence of vertical wind shear.
In the evening and overnight, some elevated and non-severe storms are also expected along the western fringe of the hot airmass between N Spain and Scotland, as synoptic lift increases.