Storm Forecast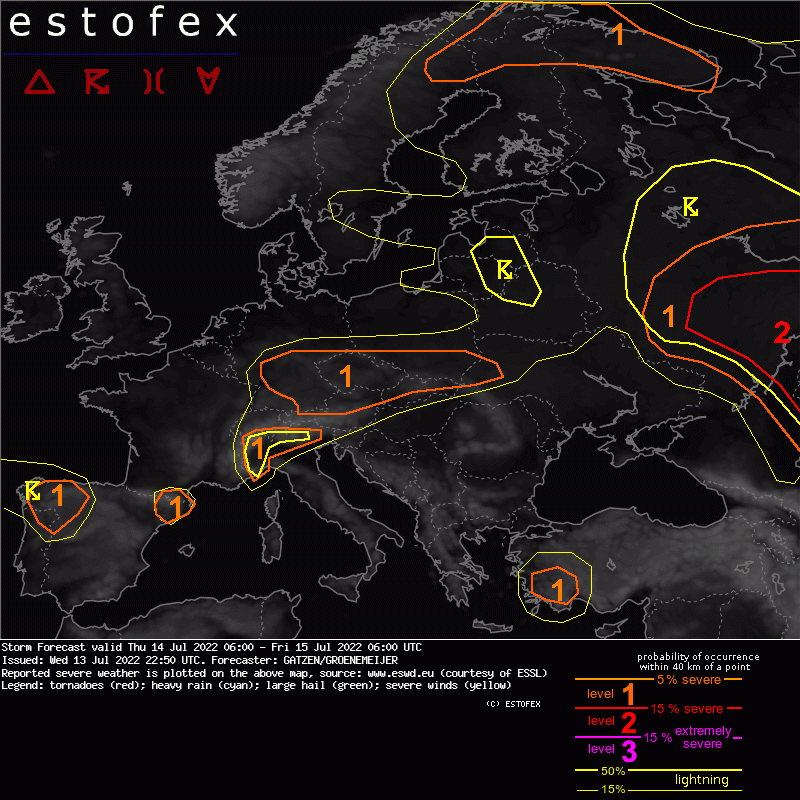 Storm Forecast
Valid: Thu 14 Jul 2022 06:00 to Fri 15 Jul 2022 06:00 UTC
Issued: Wed 13 Jul 2022 22:50
Forecaster: GATZEN/GROENEMEIJER
A level 2 was issued across southern Russia for large hail, severe wind gusts, tornadoes and heavy rain.

A level 1 was issued across south-east Germany, Czechia, northern Austria, southern Poland, northern Slovakia for severe wind gusts and large hail.

A level 1 was issued across northern Finland, northern Sweden, north-western Russia for heavy rain.

A level 1 was issued across north-western Spain, north-eastern Spain, south-eastern France, north-western Italy, south-western Turkey for severe wind gusts.

SYNOPSIS

A closed mid-level trough across eastern Europe merges to low geopotential across Scandinavia and lifts towards southern Russia. A strong mid-level flow stretches along the southern periphery of these two features, with an embedded short-wave trough progressing over Benelux towards northern Germany and Poland. Southern Europe is affected by a subtropical ridge framed by two cut-off troughs across Crete and west of Iberia.

A low levels, a cold front moves south over northern France, central Germany, and central Poland. Southern Russia is affected by cyclogenesis along a frontal wave. A lifting front will be present over northern Scandinavia.

DISCUSSION

South-western Russia

Ahead of the negatively tilted, lifting short-wave trough, strong synoptic scale forcing will affect a frontal wave and cyclogenesis is expected. A moist air mass is present in the warm sector that becomes unstable due to the advection of steep lapse rates ahead of the cold front. MLCAPE of 1000 J/kg overlap with a strong south-westerly jet curving around the lifting trough axis, with deep-layer shear exceeding 20 m/s.

Frontal lift will allow for convection initiation early in the day with storms moving north-east rather quickly. Straight hodographs promote storm splitting with right moving storms moving east-northeast that stay ahead of the progressing cold front for some time. Large hail and severe wind gusts are forecast with these storms. Late in the day, low-level stabilization is associated with increasing low-level shear, and tornadoes are forecast in the northern part of the level 2 where cloud bases are low and low-level hodographs are most favorable.

In the northern and western part of the highlighted area, storm clustering is forecast with a heavy rain threat that will persist overnight due to ongoing occlusion of the deepening cyclone.

Germany to Poland inclusing Czechia, Austria, Slovakia and western Ukraine

A cold front will slowly move south across the area. In a stringly-sheared, well-mixed boundary layer within the frontal zone, low-level moisture is expected to be sufficient for weak MLCAPE.

Main uncertainty is the coverage of convection initiation, with entrainment the main limiting factor. Expect rather isolated storms to develop in the afternoon and evening that will gradually cluster as they travel east within the frontal zone. Due to string deep layer shear, some splitting storms are forecast with a threat of large hail. Main risk, however, is severe wind gusts due to deep boundary layer mixing along the strong shear. If storm coverage increases and organizes, also widespread wind gusts are possible, and a level 2 may be required.

Northern Scandinavia

A lifting frontal boundary with humid air will be affected by strong large-scale forcing ahead of the approaching mid-level trough. Cyclogenesis is forecast over northern Scandinavia with the moist air wrapping around is. In a skinny CAPE environment embedded storms are forecast to travel parallel to the occluding warm sector and upslope across northern Sweden. Heavy rain is expected with the main potential spreading from east to west during the day.

Level 1 areas across southern Europe

In well-mixed boundary layers, some isolated storms are forecast to develop. Due to marginal CAPE, severe potential is limited, except for wind gusts.