Storm Forecast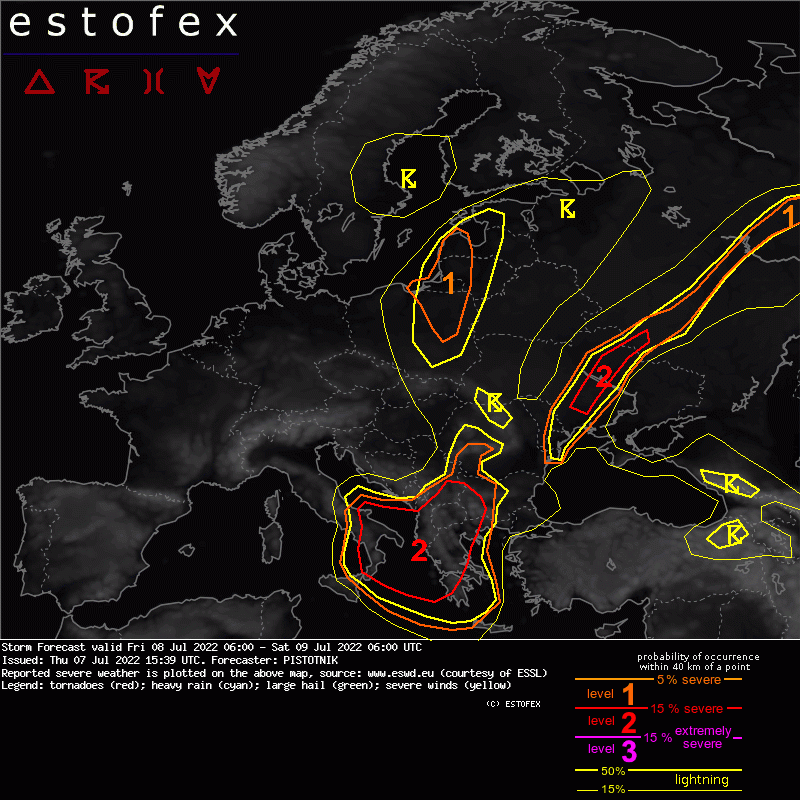 Storm Forecast
Valid: Fri 08 Jul 2022 06:00 to Sat 09 Jul 2022 06:00 UTC
Issued: Thu 07 Jul 2022 15:39
Forecaster: PISTOTNIK
A level 1 and level 2 are issued for S Italy, the central Mediterranean region, Greece and the S Balkan states for excessive convective precipitation and - especially towards the south - large hail and severe convective wind gusts, as well as for tornadoes in coastal and offshore areas.

A level 1 and level 2 are issued for a belt for far-east Romania and Moldova to the central Ukraine to W Russia mainly for excessive convective precipitation and to a lesser degree for large hail and severe convective wind gusts.

A level 1 is issued for parts of Lithuania, Latvia, the Russian exclave of Kaliningrad and Poland for excessive convective precipitation plus for non-mesocyclonic tornadoes (waterspouts) in coastal areas.

SYNOPSIS

A long-wave trough at 500 hPa stretches from Scandinavia to the Balkans. Several vorticity maxima round the back side of the trough and move from Italy to Greece, from the Baltic Sea to Poland, Slovakia and Hungary, and from the Norwegian Sea to S Scandinavia, respectively, thereby reinforcing the main trough. In its range, maritime polar air has invaded central Europe and in modified form even the central Mediterranean region and creates a period of rather cool and unsettled weather.
In contrast, a hot subtropic airmass remains in place under a mid-level ridge in SW Europe.

DISCUSSION

... central and S Italy plus surrounding sea waters, Greece and S Balkans ...

Prior to the coming airmass exchange, Thursday's observational data indicate a very moist maritime boundary layer over the Tyhrrenian, S Adriatic and Ionian Sea with 2m dewpoints often between 20-27C, fairly steep lapse rates above the inversion on top of this boundary layer and hence CAPE values at least regionally in excess of 3000 J/kg, as indicated by the 12 UTC Pratica di Mare and Trapani soundings. Under offshore winds and generally in inland areas, less moisture supported CAPE only on the order of some hundred J/kg. The 12 UTC Brindisi sounding sampled the other end of the spectrum with only 160 J/kg CAPE based on a 2m dewpoint of 12C.
A similarly high variability of thermodynamic conditions is also expected on Friday, while the CAPE reservoir will gradually be pushed southeastward. At the same time, strong lift ahead of a pronounced short-wave trough, at a cold front and/or various outflow boundaries cross the region from NW to SE, setting the stage for a remarkable mid-summer outbreak of severe thunderstorms. Roughly speaking, the affected region can be divided into three different regimes:
(1) Ahead of the short-wave trough, the southern part of the CAPE reservoir is overspread by a westerly mid-level jet which creates deep-layer shear between 15 and 25 m/s. 0-3 km shear is somewhat lower but still enhanced. In this regime, organized storms - multicells, supercells and perhaps a few large MCSs - are expected throughout the forecast period and pose a hazard of all kinds of severe weather: large to very large hail, excessive rain, severe downbursts and tornadoes, the latter especially if pockets of enhanced 0-1 km shear can be maintained in the moist boundary layer. It is somewhat unclear how quickly the remaining cap can be eroded and the low-level moisture is depleted, hence thunderstorm coverage could be scattered rather than widespread. However, the high conditional hazard of severe to extreme weather with every storm that manages to form nonetheless warrants a level 2. This regime covers especially the Ionian Sea and the Greek west coast, to a lesser degree also the Tyrrhenian Sea, Sicily, the S Adriatic Sea and the Albanian coast, where the short-wave trough passes earlier and both the lift support and vertical wind shear fade more quickly.
(2) Beneath the short-wave trough, vertical wind shear quickly relaxes and leaves the remaining CAPE between a few hundred and around 1000 J/kg under weak winds. Capping is not an issue anymore, and scattered to widespread, disorganized convection is expected. The main hazards are excessive rain with a possibility of flash floods, as well as non-mesoscyclonic tornadoes over water that might move onshore. In addition, fairly steep lapse rates could still promote a few marginally severe hail and wind events despite the lack of noteworthy shear. Convection will likely occur throughout the forecast period in offshore and coastal areas, whereas it is subject to a strong diurnal cycle further inland.
(3) On the back side of a surface cyclone that is expected to form over the S Adriatic Sea, moist air with some hundred J/kg CAPE is advected from easterly directions against the Dinaric mountains in Serbia, North Macedonia and bordering regions of Montenegro and Albania, in the second half of the forecast period also in W Bulgaria and NE Greece. Heavy rain with embedded thunderstorms poses an increasing hazard of flash floods also in these regions that extends well into the night.

... E Romania, Moldova, Ukraine into W Russia ...

Along an almost stationary frontal zone that separates cool air to the NW from very warm air to the SE, converging winds create a remarkable moisture maximum that, in conjunction with daytime heating, allows the build-up of up to 2000 J/kg CAPE. Supported by subtle synoptic lift, scattered to widespread afternoon storms are expected. Under 5-15 m/s deep-layer shear, single cells, multicells and loosely organized clusters are the expected storm modes. The main hazard is excessive rain. In addition, a few hail and wind events are possible with the strongest storms, especially over the central Ukraine where lapse rates are steepest. Convection will gradually weaken but not totally decay after sunset.

... SE Baltic Sea, Baltic States, Poland, Slovakia ...

A slightly unstable, maritime air along with lift ahead of the second vorticity maximum allow scattered, rather low-topped thundery showers. This activity affects coastal areas in the morning and moves inland afterwards, peaking in the afternoon. Localized heavy rain is possible and a few brief waterspouts may spin up. Otherwise, low CAPE and weak vertical wind shear keep severe weather unlikely.