Mesoscale Discussion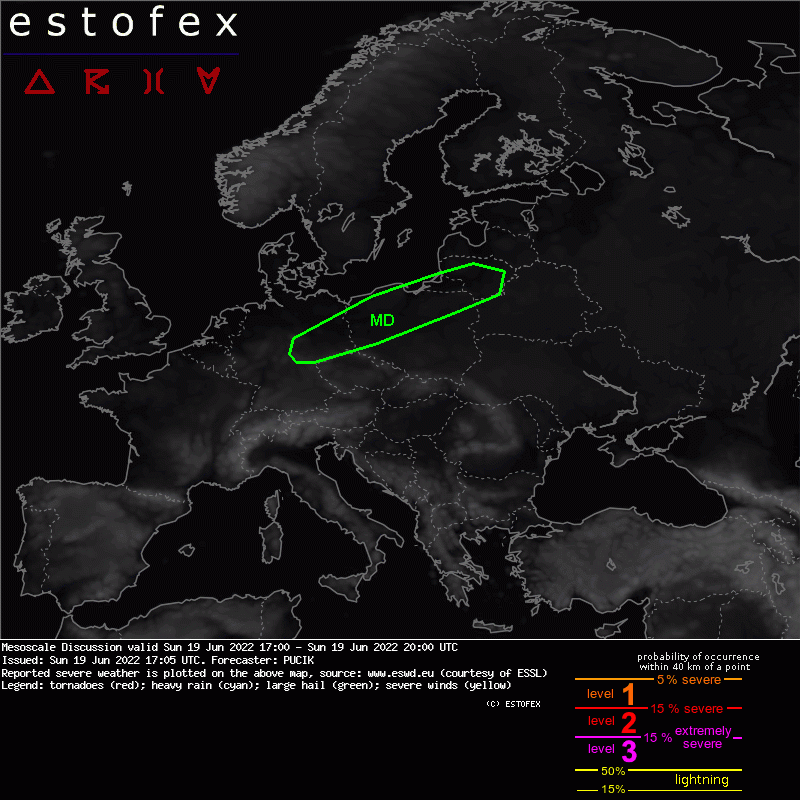 Mesoscale Discussion
Valid: Sun 19 Jun 2022 17:00 to Sun 19 Jun 2022 20:00 UTC
Issued: Sun 19 Jun 2022 17:05
Forecaster: PUCIK
*** Severe weather threat increasing over the area ***

Satellite and lightning data confirm increasing number and intensity of storms over the highlighted area in the past hour. This is caused by an increase in warm air advection over the frontal zone, which is characterized by strong temperature gradient and very strong flow at the mid to upper troposphere. Both Greifswald and Leba 12 UTC soundings show presence of abundant MUCAPE with strong shear even above the stable layer. 12 UTC Lindenberg sounding shows rather dry environment along with strong mean flow of 20 m/s. Dewpoints between 16 and 21 deg C are observed along the front and this is where the MLCAPE values are maximized.

So far the strongest storms are observed over Kaliningrad area and these are forecast to move into Lithuania with threat of large hail and possibly also severe wind gusts. Of even bigger concern may be the storms over W Poland, which are moving into the environment of higher low-level moisture and airmass containing substantial MLCAPE. If the storms manage to become surface-based, severe wind gust threat may rapidly increase and this possiblity needs to be monitored closely.