Storm Forecast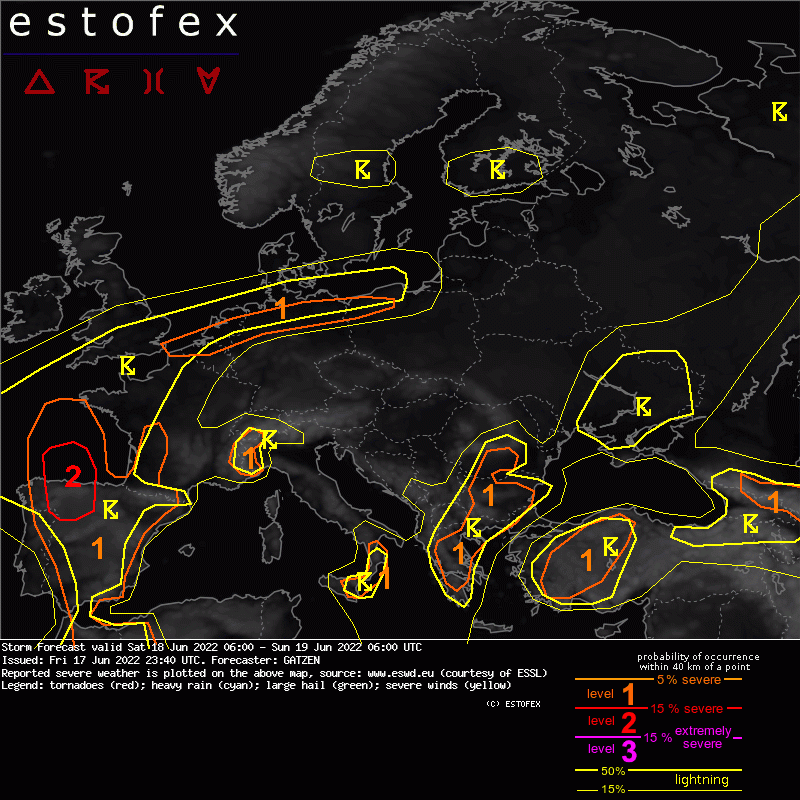 Storm Forecast
Valid: Sat 18 Jun 2022 06:00 to Sun 19 Jun 2022 06:00 UTC
Issued: Fri 17 Jun 2022 23:40
Forecaster: GATZEN
A level 2 was issued across north-western Spain for large hail and wind gusts.

A level 1 was issued across Spain, south-western France and northern Portugal for large hail and wind gusts.

A level 1 was issued for south-eastern France and north-western Italy for heavy rain.

A level 1 was issued for southern Italy and Greece for large hail.

A level 1 was issued for southern Romania and Bulgaria for large hail.

A level 1 was issued for western Turkey for large hail.

A level 1 was issued for the Caucasus region for heavy rain.

A level 1 was issued for the Channel, northern Netherlands, northern Germany, north-western Poland for large hail and severe wind gusts.

SYNOPSIS

Mid-level flow features a west-European ridge flanked by a broad trough across eastern Europe and cut-off trough west of Iberia. This blocking has reached its maximum intensity as a north-east-Atlantic trough moves towards Scandinavia and leads to a temporary more progressive mid-level flow. At low levels, hot air across Spain and France will advect east into central Europe, framed by an intense frontal zone that slowly advances east and south.

DISCUSSION

Iberian Peninsula and south-western France

A cot-off trough placed west of Iberia will interact with the approachung north-Atlantic trough, resulting in some north-eastward progress. Strong DCVA will affect western Iberia with a cold front advancing east. Subsidence in the wake of the cold front will lead to stable conditions in the western parts. East of the front, a hot air mass with steep lapse rates and deep inverted-v profiles will become unstabkle during the day. High-based storms are forecast that pose a risk of severe downbursts.

Deep-layer shear increases towards the north, thanks to a strong southerly mid-level jet streak that intensifies along the edge of the cut-off trough. Storms that form will rapidly organize and risk of large hail increases towards the north, while the severe wind threat continues.

Late in the period, ongoing frontal forcing will lead to increasing initiation above the slowly stabilizing boundary layer, with widespread storms expected over north-western Iberia that could merge to a cluster or bow echo in response to very strong mid-level shear. Severe wind gusts will become a rather likely threat. A bow echo is forecast to move offshore while gradually becoming elevated, therefore slowly loosing its severe potential during the night.

South-eastern England, northern France, northern Netherlands, northern Germany, north-western Poland

Along the frontal boundary across the southern North Sea and Baltic Sea, storm development is loimited initially in a dry and strongly sheared environment. However, with increasing mid-level vorticity advection ahead of a vort-max ejecting from the Atlantic trough, a frontal wave is expected with warm air advection spreading east. Elevated storms are forecast to spread east during the night. Despite strongy capped low-level air, strong vertical wind hsear also above the boundary layer will support well-organized storms capable of producing large hail and severe wind gusts. The lack of moisture will limit a larger system at this time.

Western Alps

Well-mixed, hot air mass will be rather dry over most placed. Over the western Als, upslope flow and convergence is expected to enable convection initiation over the mountains. Slow moving storms in weak shear will promote a threat of excessive precip locally.

Southern Italy

In a north-westerly flow, rich low-level moisture will be slowly replaced across the central Mediterranean. Diurnal convection will therefore slowly decay. However, in strong deep-layer shear at the flank of the south-east European trough with a north-easterly mid-level jet, these storms can organize into supercells. Large hail and severe wind gusts are forecast.

Romania to Greece

Remaining moisture overalps with low-level steep lapse rates, and storms are forecast. Weak shear across Greece poses a threat of slow-moving storms will high rain and local hail. Farther north, across Romania, strong deep-layer shear resuls in fast moving, but also better organized storms, capable of large hail. Given low-topped instability, risk across Romania is marginal, though.

Turkey and Caucasus

Ahead of the east-European trough, a strong south-westerly flow affects Turkey. rich low-level moisture and diurnal heating are expected to cause sufficient CAPE for widespread storms. These storms can organize in response to augmented deep-layer shear, with a potential of large hail.

Over the Caucasus, a moist air mass will become unstable in response to daytime heating. Topographic lift leads to storms in a moist environment that can cause local flash floods. Severe wind gusts and large hail are nort ruled out. Limited CAPE will also limit potential for severe.