Storm Forecast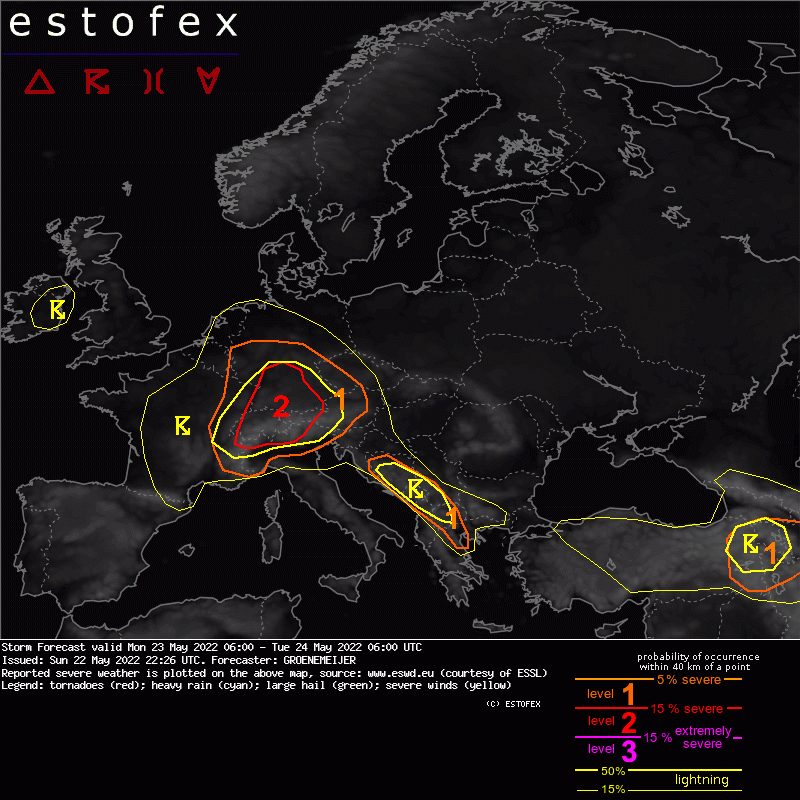 Storm Forecast
Valid: Mon 23 May 2022 06:00 to Tue 24 May 2022 06:00 UTC
Issued: Sun 22 May 2022 22:26
Forecaster: GROENEMEIJER
A level 2 was issued across the Western Alps, parts of the Central Alps and the northern Alpine forelands, East France, and South Germany mainly for large hail and severe wind gusts, and to a lesser extent for very heavy rainfall.

A level 1 was issued across areas surrounding the level 2 for a lower risk of hail and severe winds, and, in particular across Germany and the Benelux areas included, a low risk of tornadoes and heavy rainfall.

A level 1 was issued for the western Balkans mainly for large hail and severe wind gusts.

A level 1 was issued for eastern Turkey, northern Iraq, extreme western Iran, and Armenia for severe wind gusts and large hail.

SYNOPSIS

Upstream of a north-south oriented ridge initially with an axis over Germany, the Alps, and Italy is followed by a subtle shortwave that moves northeastward from Southwest France while losing importance. It is followed by a larger shortwave trough approaching from the west. Low-level lapse rates in an elevated mixed layer that was across South France on Sunday will weaken a bit as a result of cold air advection around 1-2 km altitude. This, in combination with heating also effectively removes CIN so that convective development should become widespread during the day.

Downstream of the ridge, across the Western Balkans, lapse rates are steep and moisture abundant enough to allow convergence across the Dinaric Alps to trigger storms.

Further downstream across Southeast Anatolia a mid-/upper-level low moves northeastward, lifting unstable air from the desert across the highlands, which sets the scene for high-based storms.

DISCUSSION

The Alps, East France, Southern Germany...

While some convective activity is probably ongoing in the morning, surface-based storms are expected to form during the early afternoon. About 1000-2000 J/kg MLCAPE should be typical across Switzerland and Southern Germany. In combination with about 20 m/s of 0-6 km bulk shear, some storms will likely become supercells and have a risk of large hail and severe wind gusts. Possibly, some very large hail may occur, most likely across the Alpine forelands.

Given the weak capping, the storms will likely gradually cluster as one or more organized convective systems during the late afternoon and evening. North of the Alps the activity will move eastward, and gradually weaken during the evening as the instability will diminish when the steep lapse rates are depleted.

Central Germany, East Benelux, Northeast France...

The lapse rates are considerably weaker further north, but wind shear is still supportive of severe weather with 15-20 m/s of deep-layer shear across the area. As a result, some supercells are possible in this region as well with a risk of some large hail. Given the relatively high shear in the lowest 3 km, severe wind gusts are likely too, in particular with any bowing linear convective segments. An isolated short-lived tornado cannot be ruled out either, despite the lack of much low-level hodograph curvature.

Western Balkans

Diurnally-driven convection will develop across the Dinaric Alps and the mountains of northern Greece. The 15-20 m/s deep-layer shear suggests that the convection may take the form of well-organized multicells and even a few short-lived supercells. An attendant chance of large hail will exist, and a few severe wind gusts and heavy rainfall events are possible as well.

Eastern Turkey, North Iraq, West Iran, Armenia...

Ahead of the mid-/upper-low, a surface cyclone tracks eastward. With a strengthening southerly flow, an air mass with steep lapse rates is advected upslope from the desert.
Across the higher terrain, very modest amounts of low-level moisture are sufficient to create about 500 J/kg of MLCAPE. Given that curved hodographs with 25 m/s of deep-layer shear are forecast, a few high-based supercells may occur with a risk of large hail and severe downburst winds.