Storm Forecast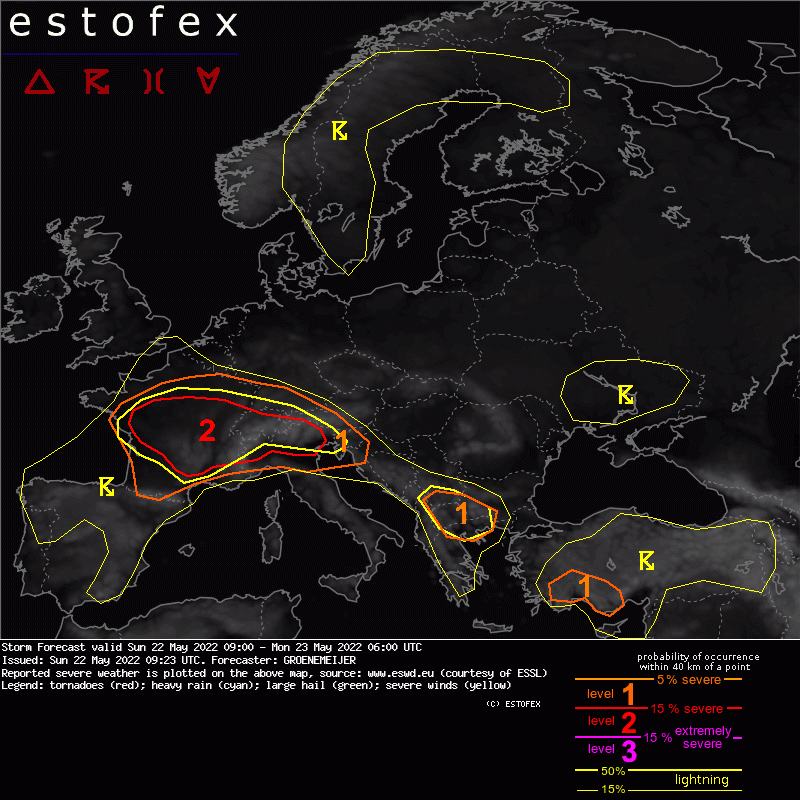 Storm Forecast
Valid: Sun 22 May 2022 09:00 to Mon 23 May 2022 06:00 UTC
Issued: Sun 22 May 2022 09:23
Forecaster: GROENEMEIJER
A level 2 was issued across parts of Central and Southern France mainly for (very) large hail and severe wind gusts, and to a lesser extent for very heavy rainfall.

A level 1 was issued across a large part of France for severe wind gusts and very heavy rainfall, and across parts of Germany, Switzerland, Italy, Austria, and Slovenia mainly for severe wind gusts and large hail.

SYNOPSIS

A slack mid/upper-level ridge is located from the North Sea to the Balearic Sea. An upstream cut-off low across northern Portugal is forecast to lift to the Bay of Biscay. A well-pronounced elevated mixed layer is being advected northward ahead of this system. In combination with increasing low-level humidity during the last days, this provides ample potential energy for severe convection to develop during the late afternoon and evening after a rather strong capping layer has been eroded.

DISCUSSION

Level 2 and 1 areas...

South of a warm front, initially stretching from Bordeaux eastward, increasing moistening is predicted below the aforementioned elevated mixed layer, which is initially responsible for a large amount of convective inhibition.

The front is forecast to lift to 100-200 km south of the Loire river by early evening. By the end of the afternoon, the majority of NWP models break out convection near the warm front in response to a combination of heating, moistening of the airmass, and slight large-scale upward motion as a result of continuous warm air advection.

Convection north of the front will be elevated, but isolated intense storms near the front should be surface-based.
Precipitation signals further south are more scattered, but storm development is possible there as well in particular near higher terrain of the Massif Central.

High CAPE is expected across the warm sector with 2000-3000 J/kg in place in many areas, suggesting that convective development will be explosive once it initiates. Wind shear should be strong with around 20 m/s in the 0-3 km layer. This suggests that storms will quickly become supercells, despite only modest hodograph curvature. Courtesy of the steep lapse rates and strong storm-relative low-level inflow, a high risk of very large hail with diameters in excess of 5 cm exists. Furthermore, damaging wind gusts are likely with these storms.

Some convection-allowing models project that a bow-echo may develop, which would quickly translate eastward along the warm front, affecting East-Central France, Switzerland, southern Germany and possibly northern Italy and western Austria overnight.

Across the Pays-de-la-Loire and adjacent parts of neighboring regions, very high rainfall accumulations pose a prominent risk, as elevated storms will be slow-moving there.

Alps and North Italy...

Much like further west, ample instability and strong shear in the lowest 3 km are present across the Alps and North Italy and fair confidence exists that a larger convective cluster may develop across the western Alps and/or the central Alps. The strong winds and large instability suggest that a high risk of severe wind gusts will also exist with these storms. Moreover, large or even very large hail may occur.

Southern Balkans, western Turkey...

Diurnally driven convection is expected to form across the southern Balkans and western Turkey. As a result of moderate deep-layer shear, storms may become somewhat organized. As a result of the shear and the presence of rather deep, dry boundary layers, a fairly high risk of winds will be present. Additionally, some large hail may occur.