Mesoscale Discussion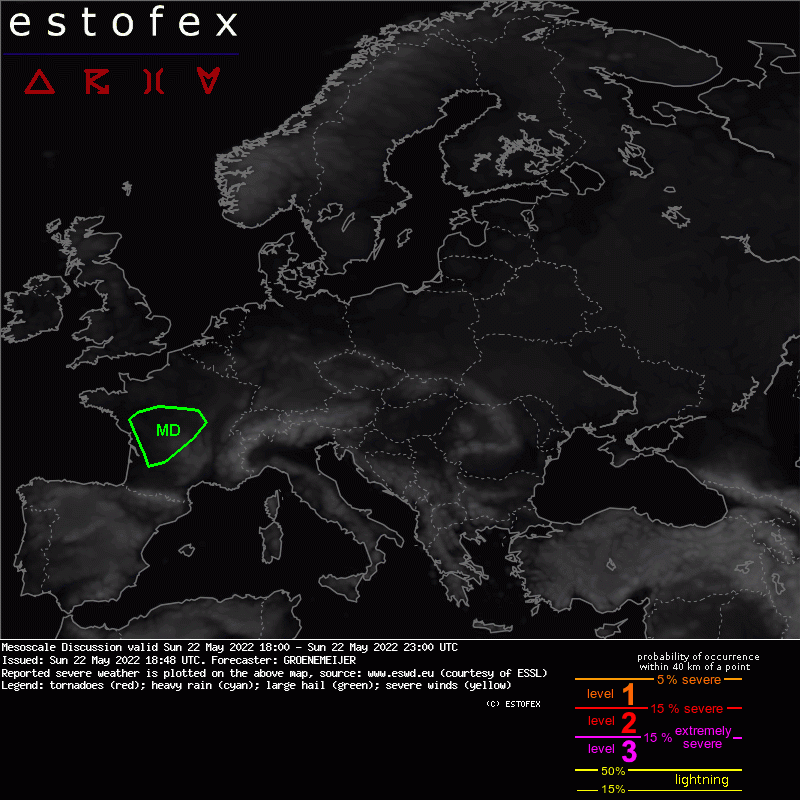 Mesoscale Discussion
Valid: Sun 22 May 2022 18:00 to Sun 22 May 2022 23:00 UTC
Issued: Sun 22 May 2022 18:48
Forecaster: GROENEMEIJER
DISCUSSION

Powerful storms have initiated across the northwestern Nouvelle Aquitaine and southwestern Pays de la Loire regions. In an environment with 3000 J/kg MLCAPE supercells with very strong updrafts are occurring as evidenced, e.g., by reports of 7 to 8 cm large hail in Niort. Additional strong storms are expected to form in the next hours bearing a risk of very large hail and damaging winds.

As strong 0-3 shear favours east-northeastward propagation, the development of a bowing system appears possible, that could quickly move east-northeastward producing a swath of damaging gusts. As this happens, the hail risk should gradually become smaller.

The environment further east is somewhat less unstable and more capped, also because diurnal cooling sets in, so that the intensity of such a system should gradually diminish during the late evening and after midnight.