Storm Forecast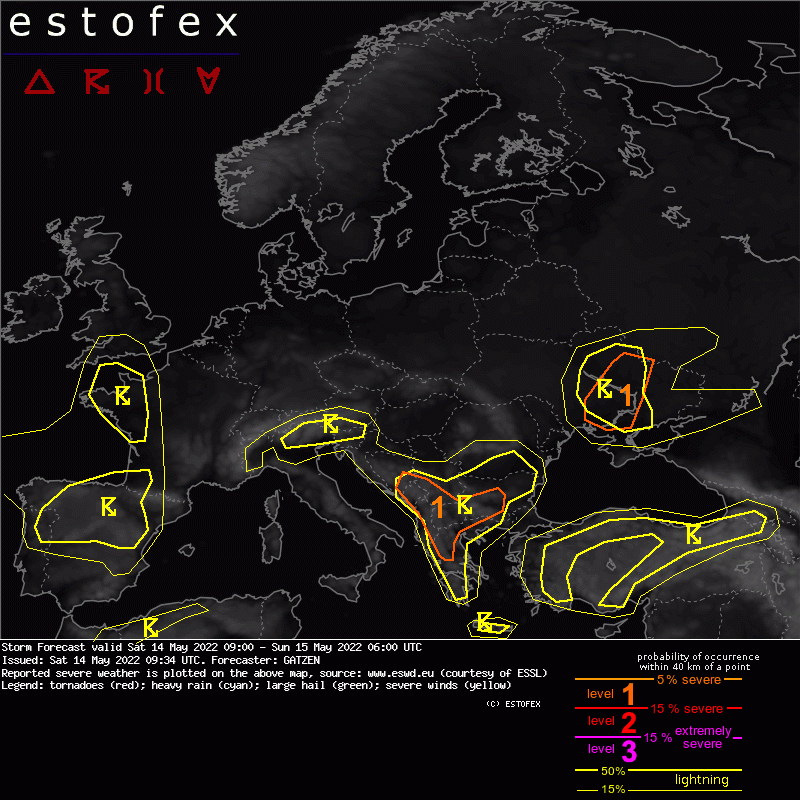 Storm Forecast
Valid: Sat 14 May 2022 09:00 to Sun 15 May 2022 06:00 UTC
Issued: Sat 14 May 2022 09:34
Forecaster: GATZEN
A level 1 was issued for central Ukraine for severe wind gusts.

A level 1 was issued for the southern central Balkans mainly for large hail, heavy rain, and severe wind gusts.

Central Ukraine

A short-wave trough travels east today, providing QG lift. Frontogenesis has set in and a cold front will move east during the afternoon. Ahead of the cold front, a moist and slightly unstable air mass is present and increasing MLCAPE is forecast in response to diurnal heating. Due to linear forcing the cluster of storms recently forming will likely organize into a linear MCS, traveling south-east.

Strong vertical wind shear of 20 m/s in the lowest 6 km and about 10 m/s in the lowest 3 km will support storm organization. Severe wind gusts are forecast with this system. Locally, some large hail is not ruled out. Main limiting factor is the weak instability present today.

Balkans

Mid-level ridging affects the Balkans. A weak frontal boundary is moving south and associated with augmented low-level moisture that overlaps with steep lapse rates. First storms have formed and it is expected that more storms will develop especially where upslope flow occurs.

Weak vertical wind shear and limited CAPE will also limit severe potential. However, a couple of large hail, heavy rain, and severe wind reports are forecast due to the rather large coverage of unorganized storms, and a low-end level 1 is introduced for parts of the area.

Northern Portugal and northern and central Spain, Bay of Biscay, western France, The Channel

Ahead of an approaching deep and intense Atlantic trough, an increasingly string mid-level southerly flow develops across western Europe in the following 24 hours. At the same time, embedded short-wave troughs will provide more QG forcing.
Today, some still relatively weak large-scale lift is forecast due to a mid-level trough that travels across the Bay of Biscay and some warm air advection evolving across western France. Another trough will affect the Bay of Biscay late in the period.

A plume of steep lapse rates currently across Iberia will spread north and overlap with improving low-level moisture left by a weak cold front north of the Pyrenees. Here, diurnal heating is going on and MLCAPE is forecast around 1000 J/kg. However, main forcing stays to the west and south, and latest satellite imaginary indicates a cluster of storms moving across north-western Iberia ahead of the first short-wave trough.

It is expected that this cluster rides the nose of the unstable air towards south-western France, but due to the cold sea surface, storms will likely be elevated for most of the time. Due to weak vertical wind shear, degree of organization is expected to be limited, and severe weather is not likely, with some wind gusts the main threat.

Farther south-east, additional storms are forecast across the Iberian Peninsula in a weakly-sheared, slightly unstable air mass with limited low-level moisture and inverted-v profiles. Over the mountains, scattered storms will locally produce some large hail, and severe wind gusts are also not completely ruled out in particular when stronger downdrafts develop. Overall threat is still too limited to issue a level 1 threat.

In the evening, stronger warm air advection develops at the flank of the unstable air mass, with ongoing or new developing convection across the Bay of Biscay or even over western France. Increasing low-level jet will result in 10 to 15 m/s 0-3 km vertical wind shear, and some bowing segments are forecast. These are capable of severe wind gusts, but with the elevated nature expected for these storms, the overall potential is very limited. Storms will spread north with the warm air advection and reach the southern British Isles later on.

Finally, another round of storms is expected by latest models due to another trough moving north over the Atlantic, and some more storms are forecast west of Iberia late in the period.