Storm Forecast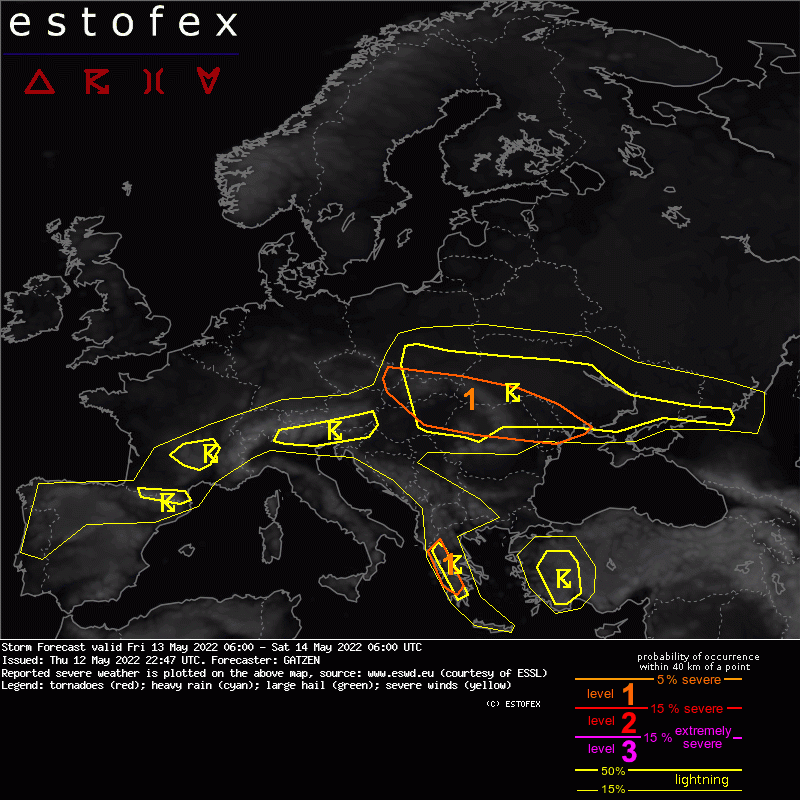 Storm Forecast
Valid: Fri 13 May 2022 06:00 to Sat 14 May 2022 06:00 UTC
Issued: Thu 12 May 2022 22:47
Forecaster: GATZEN
A level 1 was issued across Slovakia, northern Romania, Moldova, and south-west Ukraine for large hail and severe wind gusts.

A level 1 was issued across westerb Greece for large hail.

SYNOPSIS

In the wake of a intense trough, a strong westerly jet extends from the northern British Isles to the Ukraine and southern Russia. Next to some weaker troughs, a quite intense short-wave trough is embedded in this jet that crosses Poland towards the Ukraine during the day. Ridging is going on farther south, except for the Aegean area, where a cut-off trough is located. Another trough enters south-western Europe late in the period.

At lower levels, a frontal boundary stretches from the northern Black Sea are to the northern Balkans, Alps, and southern France. It is associated with rich low-level moisture that overlaps with steeper lapse rates. In response to diurnal heating, weak CAPE is likely to develop.

DISCUSSION

Eastern Czechia, Slovakia, northern Hungary, northern Romania, Moldova, south-western Ukraine

Along this section of the frontal boundary, increased frontogenesis is expected during the day in associated with the advance of a mid-level vort-max. Falling pressure to the west will result in low-level warm air advection and frontal lifting will likely support initiation in a moist and slightly unstable air mass. Scattered to widespread initiation will lead to clusters of storms.

In strong vertical wind shear, with 0-6 km shear around 20 m/s and 0-3 km shear around 15 m/s, well-organized storms are forecast, including supercells and bow echoes. Although instability is rather marginal, large hail and severe wind gusts are forecast, with the potential of some more widespread severe weather if clusters of storms organize into an MCS.

Later in the period, boundary-layer stabilization is expected, but models indicate that strong synoptic frocing and frontal lift will spread east, with elevated CAPE sufficient to support ongoing storms until the next morning. Severe threat will be quite low with these elevated storms due to the cold boundary layer.

Western Greece

Steep lapse rates are forecast at the western flank of the Aegean trough that overlap with rich moisture across the Ionian Sea. Diurnal sea breeze will provide some upslope flow across western Greece, with some storms likely to form over the mountains. With strong easterly flow at mid-levels, about 15 m/s deep-layer vertical wind shear is expected, so that storms will organize to multicells and mesocyclones. Main threat of these storms will be large hail. Main limiting factor is the low CAPE.

Northern Iberia, southern France, Alps

Mostly subsevere storms are forecast along the western portions of the frontal boundary. Locally, some stronger wind gusts are forecast, along with small hail that may reach about 2 cm in diameter. Best storm organization is expected over the northern Alps due to stronger vertical wind shear, but CAPE will be marginal here. Highest CAPE is expected along the southern Alps where vertical wind shear will be pretty weak.