Storm Forecast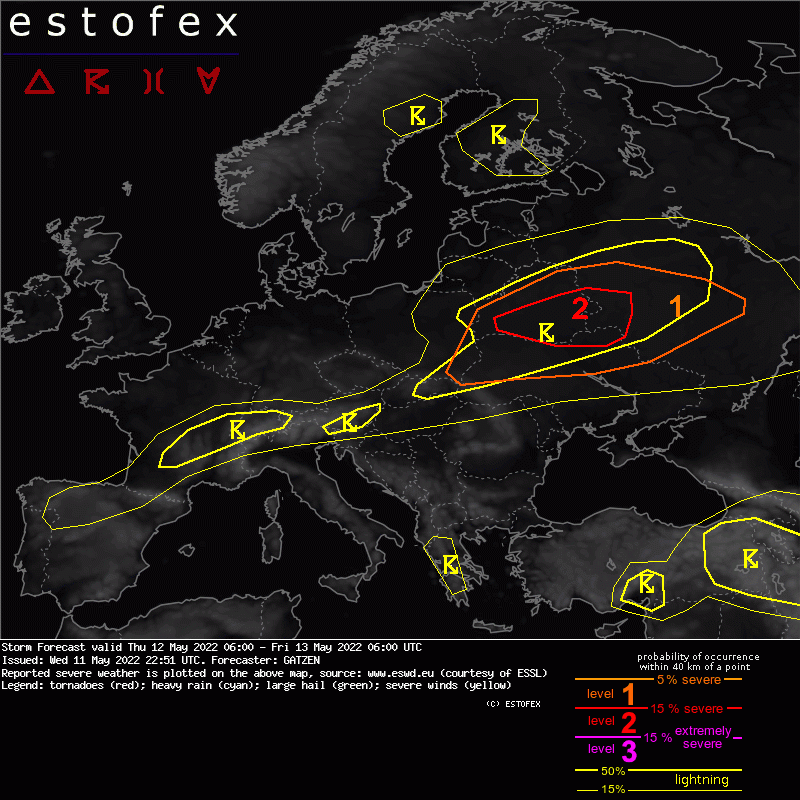 Storm Forecast
Valid: Thu 12 May 2022 06:00 to Fri 13 May 2022 06:00 UTC
Issued: Wed 11 May 2022 22:51
Forecaster: GATZEN
A level 2 was issued across southern Belarus, northern Ukraine, and western Russia mainly for severe wind gusts.

A level 1 was issued across western Russia and northern Belarus for severe wind gusts and tornadoes.

A level 1 was issued across northern Ukraine and western Russia for severe wind gusts.

SYNOPSIS

An intense short-wave trough embedded in a strong westerly jet rapidly progresses across central Europe on Thursday. A cold front extends from the Channel towards Germany, northern Poland to the Baltic States and crosses Belarus and Ukraine towards western Russia. In the western portions, the cold front will become stationary across the Laps and southern France.

Ahead of the cold front, a high-shear, low-CAPE environment is expected across eastern Europe with a potential for severe wind gust producing storms. Farther south, ridging affects most of the Mediterranean except for the east where a mid-level trough is expected.

DISCUSSION

Belarus, northern Ukraine, western Russia, south-east Poland

Current soundings indicate weak CAPE ahead of the progressing cold front across Germany, and convective storms have formed that move into Poland. This instability is the result of a plume of steeper lapse rates that is expected to advect north-east in the next hours, reaching Ukraine and southern Belarus. At the same time, some higher moisture is forecast ahead of the cold front. Chances of storms will weaken overnight, but diurnal heating will result in increasing instability from eastern Poland towards Belarus and Ukraine.

The intense and rapidly approaching short-wave trough will provide strong QG forcing, and models indicate falling heights and surface pressure along an open wave with increasing cyclogenesis. Increasing flow also at low levels result in a high-shear, low-CAPE environment with 0-1 km bulk shear of 10+ m/s. Strong linear frontal forcing will lead to widespread initiation in the late morning that rapidly spreads east.

Main threat is severe wind gusts with a potential derecho possible. In the northern part of the level 1 area, some more isolated storms are forecast that pose a slight chance of tornadoes given low LCL heights, strong low-level vertical wind shear, and also rather high low-level SRH. Farther south, higher cloud bases and locally well mixed boundary layer air limit the tornado threat, whereas the wind threat becomes dominant.

In the afternoon, a convective line is forecast to move south-east, where weaker low-level moisture and also weaker lapse rates are expected. This will be associated with weakening convection although strong QG forcing will spread east. However, strong to severe wind gusts are forecast to go on for quite a while across western Russia until CAPE becomes too low to support convective storms.

Slovakia towards the Alps and further to southern France and northern Spain

Ahead of the cold front, some frontal lift is expected to affect a rather moist and unstable air mass. Thunderstorms are forecast over hilly terrain and ahead of the cold front that move eastward. Vertical wind shear is weak and also CAPE is limited, so that severe storms are not likely. However, some large hail and severe wind reports are not ruled out, especially towards Slovakia. In the western parts, slow-moving storms can produce some local flooding.