Storm Forecast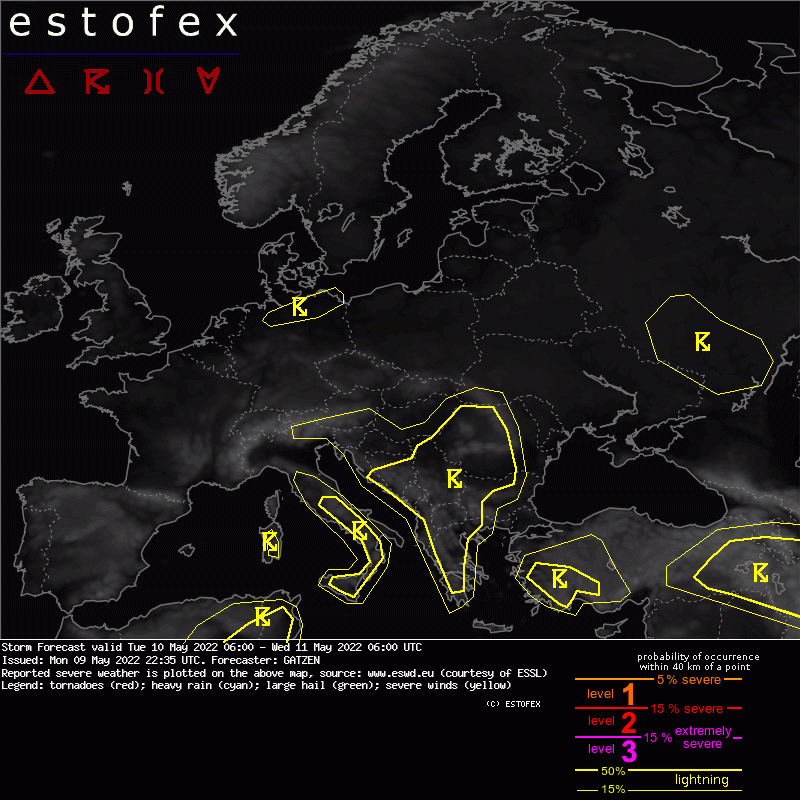 Storm Forecast
Valid: Tue 10 May 2022 06:00 to Wed 11 May 2022 06:00 UTC
Issued: Mon 09 May 2022 22:35
Forecaster: GATZEN
SYNOPSIS

Mid-level ridging affects most of Europe from Iberia towards western Russia, and geopotential rises along the anticyclonically sheared flank of the jet that goes from the northern British Isles to Finnland. South of the ridge, subtle mid-level low geopotential remains across southern Europe. Eastern Europe is affected by a polar trough.

DISCUSSION

Balkans, central and southern Italy, Tunisia and eastern Algeria

The Balkans is affected by subtle mid-level forcing within a weak northern flow. A weak mid-level vort-max spreads across the area downstream of central European ridging. At low-levels, a moist air mass is forecast to remain in place ahead of a weak cold front that enters eastern Romania. This moisture overlaps with relatively steep lapse rates. Initiation is most likely over the mountains with cloud bases around 1500 m across the low lands and 500 to 1000 m over the Carpathians. Moist profiles are expected to support initiation over most places, but some mid-level sinking sets in from the north during the day, likely associated with weakening activity.

Storms will only move slow, and locally, heavy rain and small hail may occur. Due to the high coverage of storms, some flooding events are quite likely. However, overall weak CAPE and weak vertical wind shear limit the potential of severe storms, and a level 1 is not issued.

The mid-level trough also extends into the southern Mediterranean and northern Africa. Again, limited CAPE and vertical wind shear are expected in combination with rather moist profiles, weak CIN, and some mid-level lift. In regions with no sea breeze that cools the boundary layer especially at the eastern regions of Italy, showers and thunderstorms are forecast that can produce locally heavy precipitation, causing local flooding. Some large hail is not ruled out.

South-western Russia and extreme north-east Ukraine

A polar trough digs south across Russia. Lift at the cyclonically-sheared flank of a jet at its periphery has caused steep lapse rates that will increase during the day in response to diurnal heating. In a dry and well-mixed boundary layer, high-based showers that move south are forecast to develop. Given the low wet-bulb freezing level, graupel is likely to reach the ground. Additionally, some lightning is forecast with the stronger showers that easily reach an equilibrium level temperature below -30 degree Celsius.

Finally, due to quite some downdraft CAPE, strong wind gusts that may locally be marginally severe are forecast. Overall threat is too weak for a level 1, though. Convection is expected to decay after sunset.

Turkey, Syria, Iraq

Along the southern flank of the east-European trough, a westerly mid-level flow affects the south-east Mediterranean. Strong QG forcing is not expected, but two mid-level vort-maxima are advected towards western Turkey and across south-eastern Turkey, northern Syria, and northern Iraq, where forecast soundings indicate rather moist profiles. The low-level air mass is well-mixed and allows for weak MLCAPE with cloud bases around 1000 to 1500 m.

Showers and thunderstorms are forecast to develop especially over high terrain that will slowly move east. Given moderate deep-layer shear, some multicells are forecast, capable of marginally large hail and a few strong to severe wind gusts. Overall threat is too low for a level 1 due to the limited CAPE.

Northern Germany

Placed underneath the anticyclonically sheared flank of the north-European jet streak, northern Germany is affected by mid-level sinking, resulting in a mid-level stable profile and dry air. A low levels, a frontal boundary is associated with warm air advection. Moisture increases rapidly along this frontal boundary and overlaps with steep low-level lapse rates during the day.

Low-topped showers are forecast that may be strong due to the combination of modest low-level CAPE and strong low-level vertical wind shear. Mesocyclones are not ruled out given 0-3 km shear around 10 to 15 m/s and curved low-level hodographs. Main potential threat is severe wind gusts due to an environment of rather well-mixed low-levels and high cloud bases and strong low-level shear that can support multicells. Isolated lightning is not ruled out.