Storm Forecast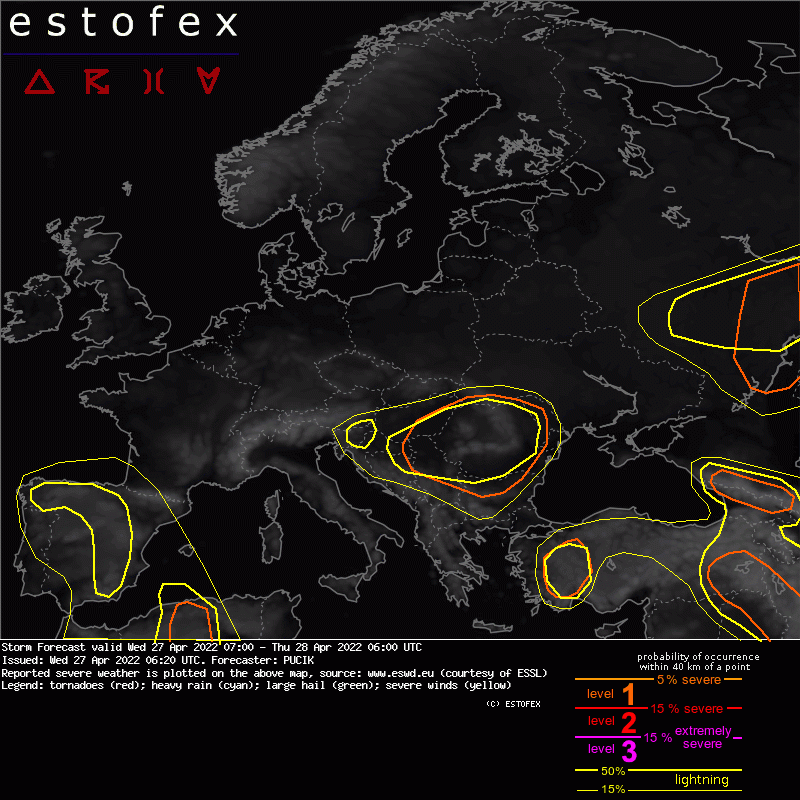 Storm Forecast
Valid: Wed 27 Apr 2022 07:00 to Thu 28 Apr 2022 06:00 UTC
Issued: Wed 27 Apr 2022 06:20
Forecaster: PUCIK
A level 1 was issued across Algeria mainly for excessive rainfall and large hail.

A level 1 was issued for SE Hungary, Serbia, Romania and N Bulgaria mainly for large hail and excessive rainfall.

A level 1 was issued for W Turkey mainly for severe wind gusts and to the lesser degree for large hail.

A level 1 was issued across Russia mainly for large hail and severe wind gusts.

A level 1 was issued for Caucasus and parts of the Middle-East mainly for excessive rainfall.

SYNOPSIS

Satellite imagery reveals numerous vortices in the mid to upper troposphere as of Wednesday morning. The first low is found over the Atlantic, associated with a sharp trough over Iberia and strong mid to upper tropospheric synoptic-scale lift, especially over its central part. The second vortex, found over Austria / S Germany, is forecast to move towards Hungary and Serbia. Associated lift and a weak frontal system will result in widespread storms over the area. The third vortex is currently moving NE across W Russia and the fourth one resides over the Middle East.

DISCUSSION

... Algeria / Iberia ...

While strong deep-layer shear is forecast across Iberia, the rather low-topped nature of the storms, combined with very weak shear in the bottom 3 km will likely limit the severity of the storms across this area. A higher severe threat is anticipated over Algeria with higher CAPE values and also slightly stronger 0-3 km shear. The primary threat will be excessive rainfall with large hail possible in stronger updrafts.

... Hungary to Romania and Bulgaria ...

Pronounced synoptic-scale lift is forecast to overspread the area. With some hours of diurnal heating and mid-tropospheric lapse rates exceeding 6.5 K/km, MLCAPE on the order of hundreds J/kg is forecast to develop over the forecast domain. 0-6 km bulk shear will reach 15 - 20 m/s with mostly straight hodographs, suggestive of multicells or some splitting supercells. Primary threats will be large hail and excessive rainfall. Severe wind gusts will be possible as well in case of storms cluster in larger segments.

... W Turkey ...

Inverted-V profiles with high LCLs and steep lapse rates in the boundary layer suggest a downburst threat with any storm that forms over the area.

... Russia ...

Storms are forecast to develop along the cold front in an environment of moderate to strong vertical wind shear. Straight hodographs suggest splitting supercells or linear segments with primary threats of large hail and severe wind gusts.

... the Caucasus and the Middle-East ...

Scattered to widespread storms will form in an environment of weak vertical wind shear, but abundant CAPE, posing primarily a threat of excessive rainfall.