Storm Forecast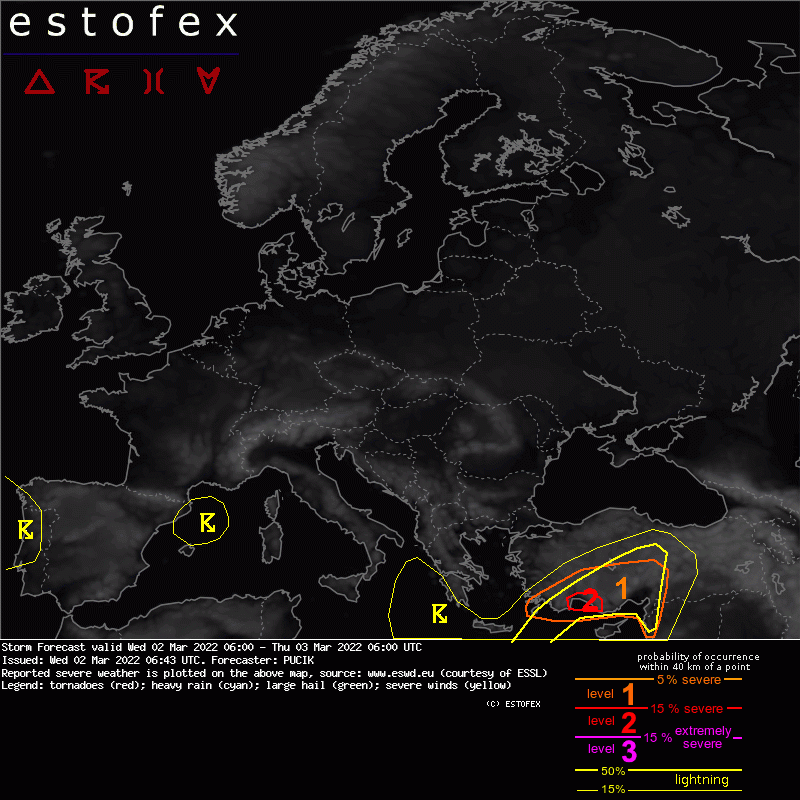 Storm Forecast
Valid: Wed 02 Mar 2022 06:00 to Thu 03 Mar 2022 06:00 UTC
Issued: Wed 02 Mar 2022 06:43
Forecaster: PUCIK
A level 2 was issued for Antalya bay mainly for excessive rainfall, tornadoes and severe wind gusts.

A level 1 was issued across southern Turkey mainly for excessive rainfall and tornadoes.

SYNOPSIS and DISCUSSION

A deep trough at the mid to upper troposphere is moving from the Ionian Sea towards Turkey. At its forward flank, a strong jet streak is simulated with wind speeds up to 50 m/s at 300 hPa. Its left exit region with strong synoptic-scale forcing will cross southern Turkey during the forecast period. In response, surface cyclogenesis is forecast across the Aegean Sea with a warm advection regime strengthening over southern Turkey. Pronounced Q-vector convergence at 850 hPa, implying strong upward motion, is simulated from 12 UTC towards the morning hours over the Antalya region.

A combination of strong forcing yielding steeper lapse rates and advection of moister airmass from the south will result in the evolution of MLCAPE values between 200 and 500 J/kg along the southern coastline of Turkey. Further inland, marginal CAPE will also be present, but of elevated nature. Over the bay of Antalya and surrounding coastlines, multiple rounds of storms are forecast in strong southerly flow, resulting in a large excessive rainfall threat. Overall, well-organized storms are forecast given the 0-3 and 0-6 km bulk shear exceeding 15 and 20 m/s respectively. Furthermore, between 12 - 15 UTC, strongly curved hodographs are simulated in the area along with low LCLs and steep near-surface lapse rates. This will elevate the tornado risk.

The threat of severe storms will be less further east and north, but excessive rainfall and tornado risk will still be an issue. Convective storms will become more elevated in nature from the coastline towards the inland areas of Turkey, reducing the tornado risk with heavy rainfall remaining as the main threat.