Storm Forecast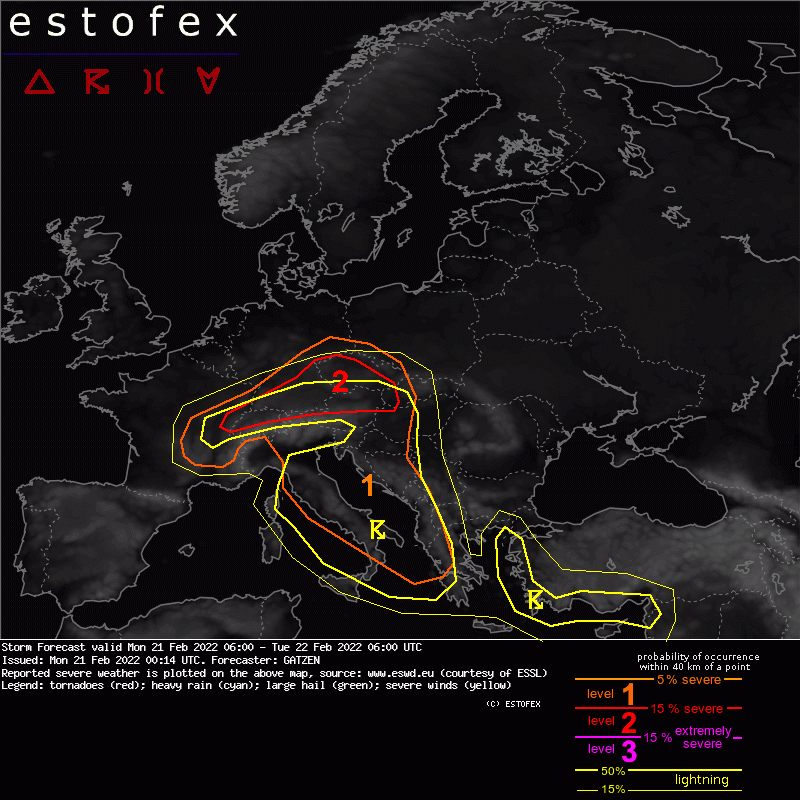 Storm Forecast
Valid: Mon 21 Feb 2022 06:00 to Tue 22 Feb 2022 06:00 UTC
Issued: Mon 21 Feb 2022 00:14
Forecaster: GATZEN
A level 2 was issued across south-eastern Germany, Czechia, northern Austria, northern Switzerland for severe wind gusts and to a lesser extent tornadoes.

A level 1 was issued for eastern France, Alps, Italy, Adriatic, and Balkans for severe wind gusts and isolated tornadoes.

SYNOPSIS

The amplitude of the Rossby-wave across Europe is increasing, with and Atlantic high ridging towards the British Isles and a trough amplifying towards the central Mediterranean. This process is associated with a tropopause fold crossing the Alps and a cold front that enters the Mediterranean in its wake. While some maritime air masses will spread into Central Europe ahead of the cold front, drier air masses advect to Germany, Alps, and central Mediterranean.

The east Mediterranean is affected by a moist and slightly unstable air mass. With south-easterly flow developing and a short-wave trough progressing and causing some QG forcing, potential of thunderstorms increases where upslope flow exists. Due to limited CAPE and vertical wind shear, storms will be rather weak, although an isolated heavy rain event is possible.

DISCUSSION

Northern Alps, southern Germany, northern Austria, southern France

Main convective activity is expected to develop along the surface cold front that will cross the Alps in the morning. Ahead of the cold front, a moist maritime air mass will destabilize in response to frontal lift and further stretching close to the mid-level PV intrusion. Latest models indicate a neutraly stratified, saturated air mass with marginal CAPE, and an equilibrium level of convection lifted by the frontal circulation can reach close to -20 C equilibrium level temperature. Additionally, the development of a deeper cold pool is expected, partly due to high amounts of snow and graupel within the precipitation and associated melting. Current thinking is that across southern Germany, a well-developed convective line moves south.

Vertical wind shear ahead of this line will be impressive with about 25 m/s in the lowest kilometer, meaning that winds at 1 km will be reaching up to 35 m/s. Mesovortices as well as downdrafts will support downward mixing of this high momentum and widespread severe wind gusts are forecast with some extreme wind gusts possible. A tornado is not ruled out in this high-shear, low-CAPE environment.

The convective line is expected to move eastward into Czechia and northern Austria, still producing severe wind gusts. Low-level mixing ahead of the cold front will support some stronger evaporation of downdrafts what can further add to the downdraft strength and associated wind gusts. Since the trough will not move further east, the cold front is expected to outrun the area of strong lift, and weaker convergence will be the consequence. Additionally, low-level moisture will become weaker towards the east. However, a (broken) narrow cold-frontal rain band with severe wind gusts is forecast to move across western Hungary into Croatia during the day, and lightning is expected to go on with this event. Again, tornadoes are not ruled out due to the strong vertical wind shear, especially in areas where cloud bases are low.

At the western flank of the Alps, strong cold air advection is forecast and dry air will rapidly spread south. Due to weaker forcing, the cold front becomes less pronounced, and frontal lift will become weaker. A broken line of showers and thunderstorms is forecast to move south into the Mediterranean, where downslope flow and strong cold air advection will lead to the decay of convection. Nevertheless, strong to severe Mistral winds are likely.

Northern Italy, Adriatic Sea, Balkans

While the trough and mid-level PV intrusion cross the Alps into the Mediterranean, strong QG forcing is expected and cyclogenesis increases over the Gulf of Genova, spreading east into the Adriatic. With easterly to southerly winds ahead of this low pressure system, stronger convergence builds along the frontal boundary across the northern Balkans, and frontogenesis is also expected across northern and central Italy.

Due to moist air ahead of the cold front and increasing mid-level lapse rates, convection initiation is expected in the afternoon across central Italy that moves south with the cold front. Additionally, the convective line across the northern Balkans moves south and can connect with the cold frontal convection to the west. These storms will then spread across the Adriatic in the evening and following night.

With about 15 m/s 0-3 km vertical wind shear, storms that form can be well-organized, including mesocyclones. Main threat will be bowing lines of convection with the potential of severe wind gusts, but also tornadoes are not ruled out. Storms are expected to continue until the end of the period, then affecting the southern Adriatic and north-western Greece.