Storm Forecast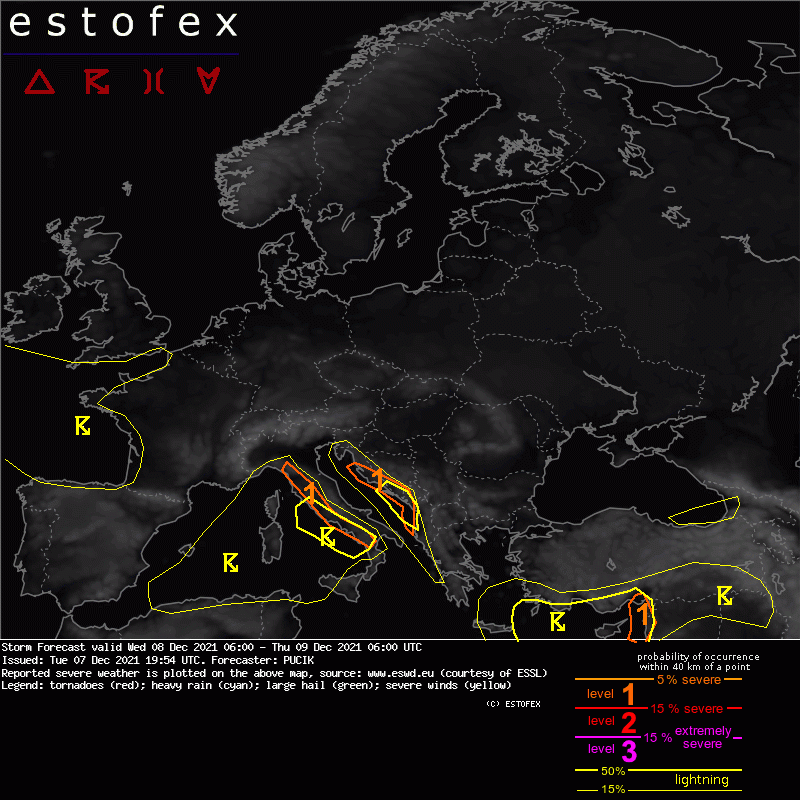 Storm Forecast
Valid: Wed 08 Dec 2021 06:00 to Thu 09 Dec 2021 06:00 UTC
Issued: Tue 07 Dec 2021 19:54
Forecaster: PUCIK
A level 1 was issued across W Italy and E Adriatic Sea coastline mainly for excessive rainfall and to the lesser degree for tornadoes.

A level 1 was issued for the SE Mediterranean coastline mainly for excessive rainfall.

SYNOPSIS and DISCUSSION

An active weather pattern is forecast for much of W and S Europe with a deep cyclone centered over the UK and a trough at the southern flank swinging from Iberia towards Italy during the forecast period. A strong jet-stream surrounds the trough with windspeeds above 50 m/s at 300 hPa level. Strongest synoptic-scale forcing is forecast to shift from S France to N Italy between morning and afternooon hours. Further south, the forcing will diminish, even close to the cold front that will cross the W and Central Mediterranean. Limited moisture and rather modest mid-tropospheric lapse rates will yield marginal and skinny CAPE profiles, with much of the buoyancy concentrated in the lower troposphere. Strong onshore flow will support localized heavy rainfall events. 0-1 km shear will exceed 10 m/s ahead of the cold front with conditional tornado threat given that surface-based storms can occur.

Deep trough is also forecast across the SE Mediterranean with strong synoptic-scale forcing spreading across Cyprus and parts of the Middle-East. A heavy rainfall threat is forecast across the E Mediterranean coastline, where several rounds of storms will be possible.