Storm Forecast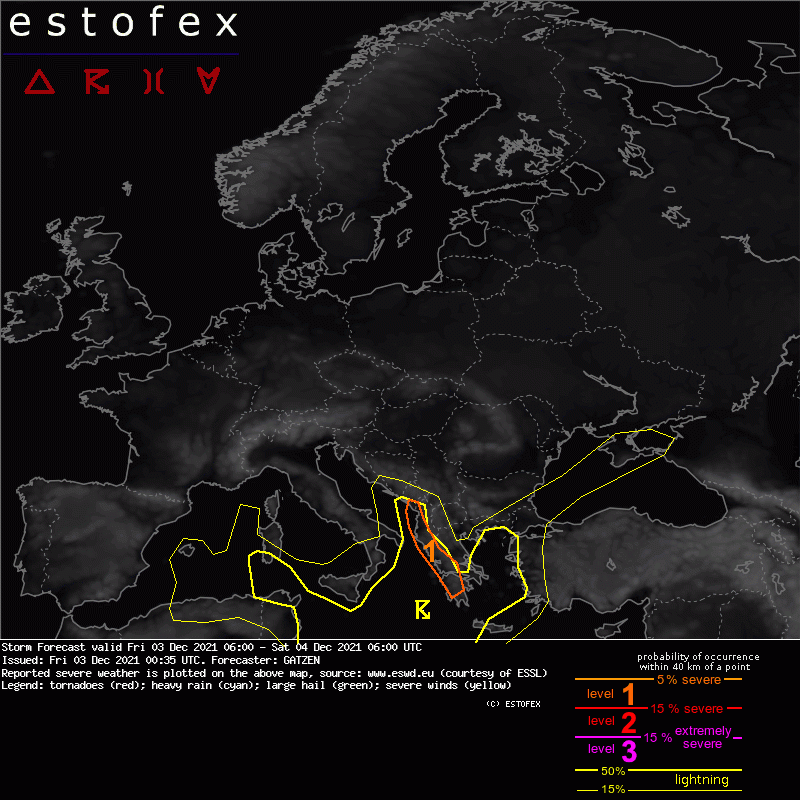 Storm Forecast
Valid: Fri 03 Dec 2021 06:00 to Sat 04 Dec 2021 06:00 UTC
Issued: Fri 03 Dec 2021 00:35
Forecaster: GATZEN
A level 1 was issued across the western shores of Albania and Greece for extreme rainfall.

SYNOPSIS

A trough sweeps across Europe. Its northern part will progress towards western Russia on Friday, whereas its southern flank forms a cut-off trough slowly moving south over the south Mediterranean. Ahead of this cut-off, a moderately strong south-westerly flow points towards the northern Black Sea, with a moist air mass advected ahead of a cold front. In the wake of the cold front, steep lapse rates affect the western and southern Mediterranean.

DISCUSSION

Southern Balkans, Greece, Aegean area towards the western and northern Black Sea

Rather warm and moist air masses spread north-east ahead of a cold front. This air mass is slightly unstable due to rather cold mid-level air close to the jet axis, allowing for weak MLCAPE. Lift will be present along the shores with upslope flow, but additional frontal lift will affect the area from the north later on. Frontal rain with embedded thunderstorms is forecast, capable of producing some flash flood risk where storms are anchored to the terrain. Activity will gradually shift from west to east with some increasing activity across the Aegean late in the period.

West and south Mediterranean

Within the cold air mass, models predict some MLCAPE close to the center of the mid-level cut-off trough. At low levels, an intense low pressure system will move south, providing strong winds and some thunderstorms moving southward. CAPE is rather shallow and overall contribution of convection to the wind gust threat is forecast to be low. Therefore, no risk level was introduced.

Baltic Sea and North Atlantic

Showers with isolated lightning are expected over the southern and eastern Baltic Sea and north-west of the British Isles. Both areas are affected by trough centers providing cold mid-level air masses that spread across rather warm sea surface.