Storm Forecast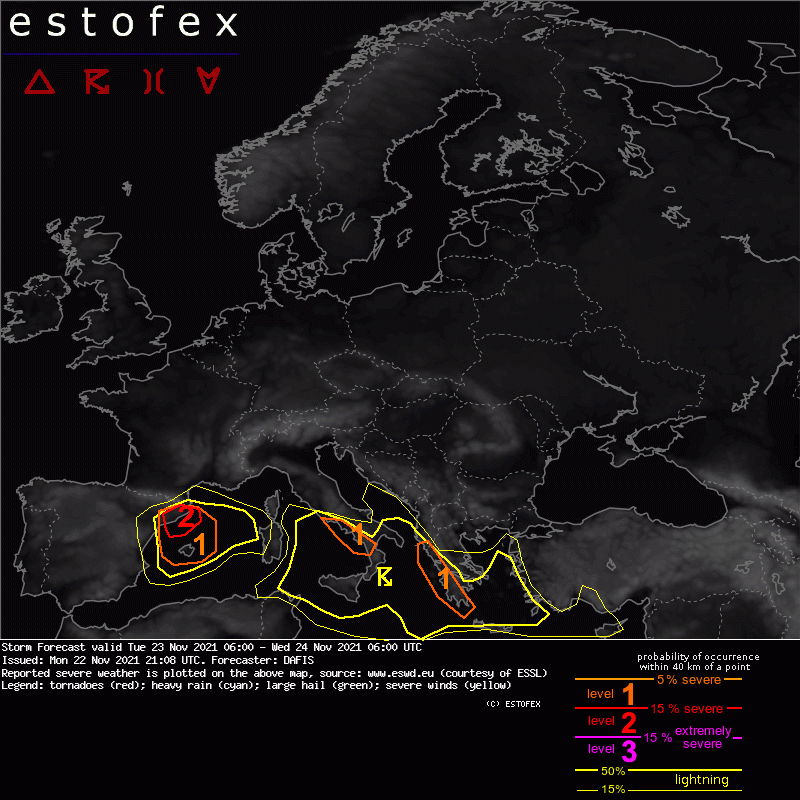 Storm Forecast
Valid: Tue 23 Nov 2021 06:00 to Wed 24 Nov 2021 06:00 UTC
Issued: Mon 22 Nov 2021 21:08
Forecaster: DAFIS
A level 2 was issued for E Spain mainly for excessive convective precipitation, large hail and tornadoes.

A level 1 was issued for parts of Italy for excessive convective precipitation.

A level 1 was issued for W Greece and SW Albania for excessive convective precipitation. In SW Greece large hail is also possible.

SYNOPSIS

An anticyclonic Rossby-wave breaking that took place over western Europe on Monday 22/11 has resulted in the formation of a cut-off low over Iberia. The southerly flow in central/eastern Mediterranean brings unseasonably warm air masses but also plenty of moisture that feeds several storms.

DISCUSSION

.... Spain ....

The south-southeasterly flow in eastern Spain will bring unstable air masses in Catalonia where persistent convective rainfall may result in flooding. Both convection triggered over the sea by convergence zones and orographic lifting, will result in heavy and long-lasting rainfall.
CAPE is not impressive in the latest NWP model runs, but a few hundreds of CAPE will overlap with strong low-level shear and DLS. A few tornadoes cannot be ruled out given the looped low-level hodographs, with veering winds.

.... Italy, Greece and Albania ....

A short-wave trough is about to cross central Mediterranean on Tue 23/11, moving fast towards the Balkans. The advection of high PV will provide lift to unstable air masses and several storms are expected. No clear frontal activity is shown in forecast surface maps. Western parts of Italy and the Balkans will receive high accumulations of rainfall and the flash flood threat is high.
In SW Greece, steep mid-level lapse rates and high CAPE that overlaps with moderate to strong shear may result in a few small/large hail events in the Ionian Islands and western coasts of Greece.