Storm Forecast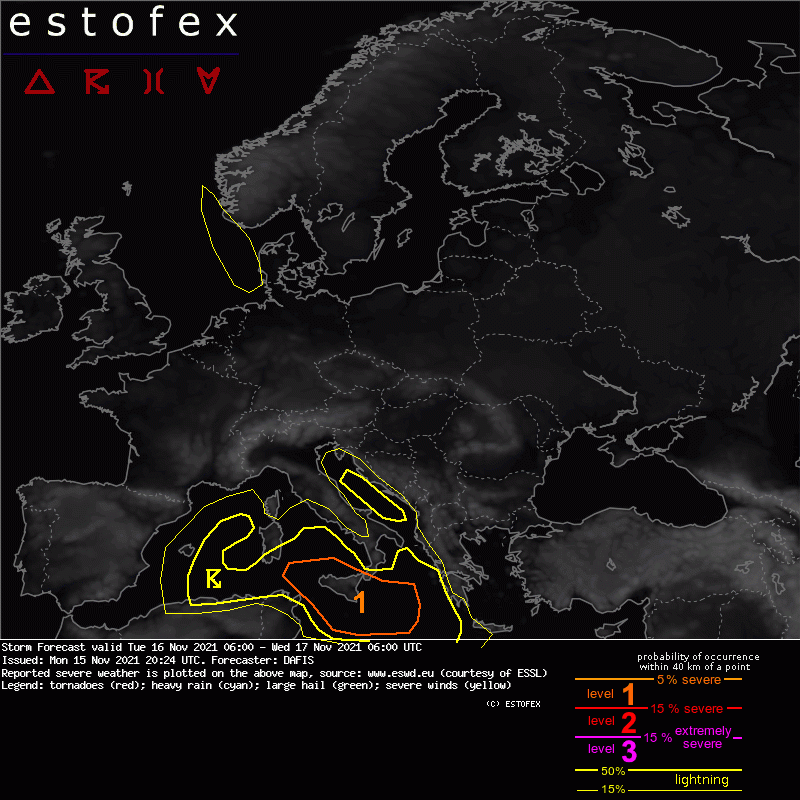 Storm Forecast
Valid: Tue 16 Nov 2021 06:00 to Wed 17 Nov 2021 06:00 UTC
Issued: Mon 15 Nov 2021 20:24
Forecaster: DAFIS
A level 1 was issued for S Italy and Malta mainly for large hail and excessive convective precipitation. A few tornadoes are also possible.

SYNOPSIS

A high-pressure system dominates the weather conditions in central and eastern Europe, while a cut-off low is roaming around in western Mediterranean. Large-scale forcing over areas rich in moisture results in numerous storms which mostly stay offshore. A level-1 has been issued only in central Mediterranean where convection is forecast to be locally severe, but also in NW Europe an approaching trough from the Atlantic may result in severe but non-convective weather events in Ireland, UK and Norway.

DISCUSSION

The slow movement of the cut-off low in western Mediterranean pushes an EML towards S Italy where fat mid-level CAPE profiles are expected. CI is with no doubt certain in numerous areas between the Balearic Isles and the Ionian Sea, with the most active storms in the eastern parts, in S Italy and Malta.
The overlap of high CAPE, steep mid-level lapse rates, high mixing ratios and strong shear increase the threat for some storms to organize into MCSs and a few supercells. Training convection may result in flash floods near the coasts, even though most of the storms will remain offshore. Supercells will be able to produce hail larger than 2-3 cm.

High values of SREH0-1km around Sicily and Malta suggest that a few tornadic waterspouts are expected. The southerly flow may assist these waterspouts to get onshore and can pose a serious threat for the coasts.