Storm Forecast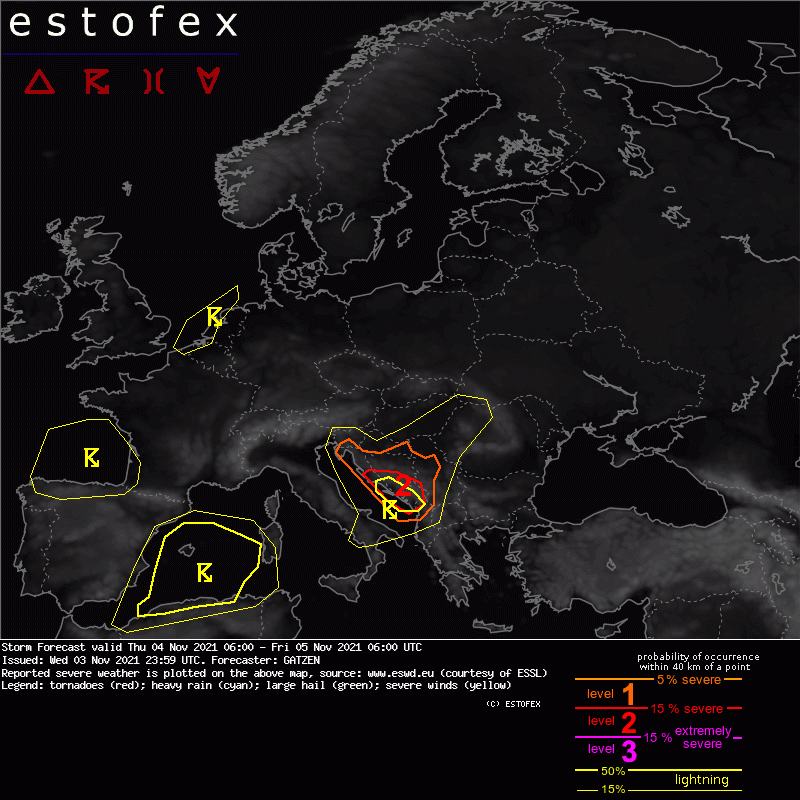 Storm Forecast
Valid: Thu 04 Nov 2021 06:00 to Fri 05 Nov 2021 06:00 UTC
Issued: Wed 03 Nov 2021 23:59
Forecaster: GATZEN
A level 2 was issued across the eastern Adriatic region for extreme rainfall and to a lesser extent tornadoes and severe wind gusts.

A level 1 was issued across the western Balkans for extreme rainfall.

SYNOPSIS

A deep trough across south-western Europe yields a strong south-westerly mid-level flow pointing from northern Africa towards the Balkans. A very warm air mass advects into the southern Balkans and farther into Romania and Ukraine ahead of an intensifying frontal boundary. To the north-west, lifting short-wave troughs are associated with strong synoptic-scale forcing, and cyclogenesis is forecast across Central Europe.

DISCUSSION

Adriatic region and Balkans

A slow-moving, later almost stationary frontal boundary will cause strong frontal lift through-out the period. The affected air mass is rather moist across the Adriatic Sea with more than 10 g/kg mixing ratio. Strong along-line flow at low levels will cause strong moisture advection towards the steep topography of the Adriatic coasts. Lapse rates are expected to improve during the day, with skinny CAPE profiles and low cloud bases. Extreme rainfall is forecast that slowly spreads south. Additionally, some severe wind gusts and tornadoes are expected, given long low-level hodographs and 15 to 20 m/s 0-1 km shear. Weak low-level instability may limit the potential.

Further inland, storms turn elevated due to dry and cool low-level air masses, but the rain threat will spread into the central Balkans.

Along the southern flank of the boundary, a rather dry and very warm air mass spreads north-east. Impressive curved hodographs and a well-developed elevated mixed layer are indicated by latest models, but CAPE will be weak and strongly capped. Some elevated storms are forecast within the warm air advection regime. Best potential for a surface-based storm exists near the frontal boundary across the Adriatic Sea, where an overlap of curved hodographs with low-level CAPE is not ruled out, and tornado potential is enhanced.

West Mediterranean

Within the trough's base, showers and thunderstorms will develop. Weak shear and CAPE will limit any severe potential except for a few waterspouts.