Storm Forecast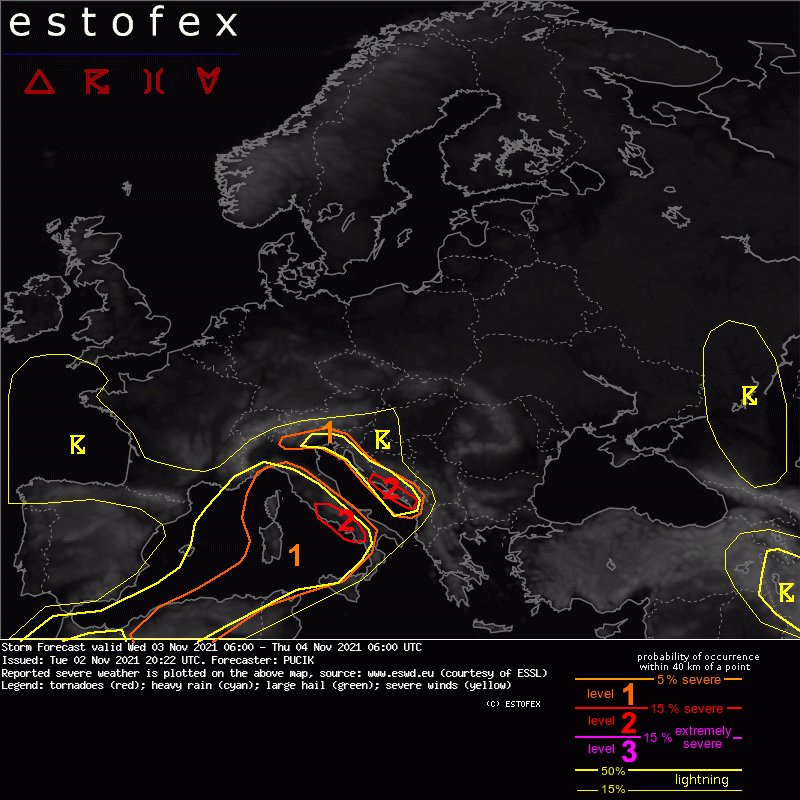 Storm Forecast
Valid: Wed 03 Nov 2021 06:00 to Thu 04 Nov 2021 06:00 UTC
Issued: Tue 02 Nov 2021 20:22
Forecaster: PUCIK
A level 2 was issued across parts of southern Italy and the southeastern Adriatic mainly for excessive rainfall and tornadoes and to the lesser degree for severe wind gusts.

A level 1 was issued across much of south-central Mediterranean mainly for excessive rainfall and to the lesser degree for tornadoes or severe wind gusts.

A level 1 was issued across Algeria mainly for severe wind gusts.

SYNOPSIS and DISCUSSION

An active weather pattern is forecast across the central Mediterranean as a deep trough will move from Iberia towards northern Italy. A strong mid to upper tropospheric jet is forecast to surround the trough with 500 hPa speeds approaching 50 m/s in the jet-streak associated with an embedded short-wave trough. Cyclogenesis is forecast over northwestern Italy and the Ligurian Sea. This will drive enhancement of the southwesterly lower-tropospheric flow that will reach up to 30 m/s at 850 hPa during the overnight hours. A strong warm air advection regime is forecast across Italy and the Adriatic Sea in the afternoon to evening hours, followed by an overnight cold front passage.

Southwestern Italy will likely experience several rounds of storms. The first round is forecast already in the morning hours, associated with the leading edge of the warm air being advected from the southern Mediterranean. These storms will likely be elevated, posing a heavy rainfall threat. Storms will likely persist during the day and the activity may be stronger in the evening to early night hours as low-level wind profiles become more favorable for updraft rotation. While the degree of low-level instability and convective mode remains uncertain, a tornado threat will be present given the large SRH and nonzero SBCAPE along the coastline.

The storm activity will shift northeastwards during the day and in the evening. Across the southeastern Adriatic Sea, the storms will also start as elevated and possibly embedded in the stratiform rain shield. Towards the night, models simulate large and curved hodographs, but also rather stable lapse rates near the ground. While the heavy rainfall threat is clear given strong low-level moisture transport, the tornado threat remains conditional same as over southwestern Italy. Heavy rainfall will persist well into the Thursday forecast period.

Heavy rainfall and some tornado threat are also forecast to the north of the Lvl 2 areas albeit here the overall coverage of severe weather is expected to be lower. A severe convective wind gust risk will be associated with the cold front as it passes Algeria during the forecast period.