Storm Forecast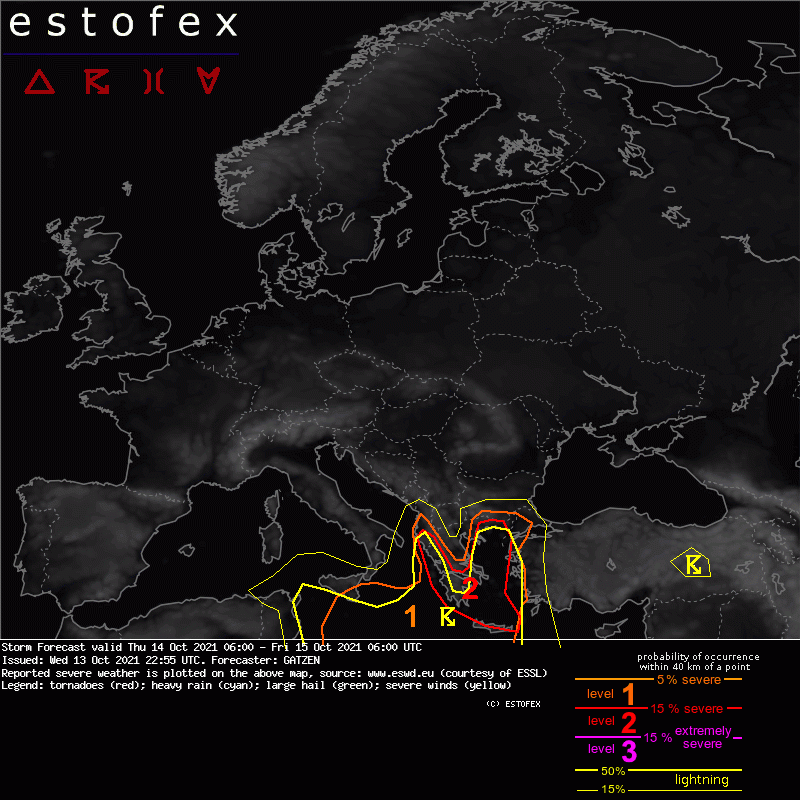 Storm Forecast
Valid: Thu 14 Oct 2021 06:00 to Fri 15 Oct 2021 06:00 UTC
Issued: Wed 13 Oct 2021 22:55
Forecaster: GATZEN
A level 2 was issued across the coastal regions of Greece for extreme rainfall and tornadoes.

A level 1 was issued across the southern Ionian Sea and the Aegean Sea region for extreme rainfall, tornadoes, and severe wind gusts.

SYNOPSIS

Downstream of a west-European ridge, a trough amplifies into the central Mediterranean. It provides QG forcing across the east Mediterranean, where cyclogenesis is forecast. A strong jet stream affects northern Europe, with an intense trough moving into Scandinavia.

DISCUSSION

Ionian and Aegean Seas and surroundings

Ahead of the amplifying trough that cuts off late in the period, cyclogenesis is forecast. A strong southerly flow will advect a plume of African elevated mixed layer atop of humid Mediterranean air masses, and MLCAPE increases during the period with highest values south of the Adriatic Sea, where 2000+ J/kg are expected. Due to very strong vertical wind shear and favorable veering profiles, high degree of storm organization is anticipated, including supercells. In particular within the plume of warm air advected towards western Turkey at the end of the period, conditions become supportive for (strong) tornadoes due to strong low-level shear and moist low-levels.

Additionally, extreme rainfall is the main threat through-out the period due to backbuilding storms in a moist and strongly-sheared environment. The threat shifts gradually from west to east with the progressing cold front. Severe wind gusts are forecast along the gust front of linear organized convective systems.