Storm Forecast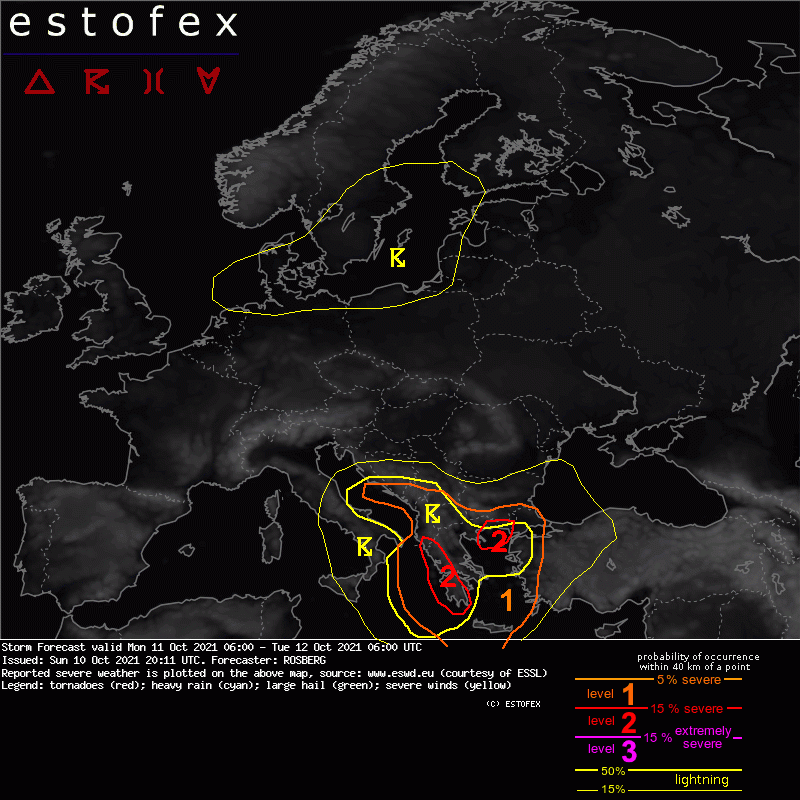 Storm Forecast
Valid: Mon 11 Oct 2021 06:00 to Tue 12 Oct 2021 06:00 UTC
Issued: Sun 10 Oct 2021 20:11
Forecaster: ROSBERG
A level 2 was issued for western Greece and southern Albania for excessive precipitation, severe wind gusts and large hail.

A level 2 was issued for northeastern Greece for large hail, severe wind gusts, excessive precipitation and to a lesser extent tornadoes.

A level 1 was issued surrounding the level 2 areas with the same hazards but to a lower extent.

A level 1 was issued for the Aegean Sea region, Crete and western Turkey for large hail, severe wind gusts and to a lesser extent excessive convective precipitation.

A level 1 was issued for southern Bulgaria, the southern part of the Balkans and the Adriatic Sea region for excessive precipitation and to lesser extent for hail and severe wind gusts.


SYNOPSIS

A mid-level long wave trough over the Norwegian Sea and northwestern Scandinavia is moving south/southeastward and eventually will dig into in the Baltic Sea region, northeastern Germany and northern Poland. This longwave trough is flanked by a large upper level ridge/anticyclone that stretches from just southwest of the British Isles up towards Iceland.
An upper level low and vorticity max over central Italy and the Adriatic Sea region is expected to move southeastward into the southern Balkans and northern Greece.

At the surface an unstable polar maritime airmass will move down and spread out over large parts of the northern and central Europe from the northwest, behind an east- and southeast moving cold front, between a nearly stationary high pressure over the southwestern part of the British Isles and a surface low over northernmost part of Sweden.

A ridge of high pressure will be located over southwestern Europe, and an another ridge will be located over the eastern part of Europe and southwestern Russia. These ridges will keep these areas free from DMC due to large scale sinking with dry mid-level air and weak lapse rates. Plenty of dry low- and midlevel air will also prevent shower and thunderstorm activity across the Middle East and northern Africa.

A broad area of low pressure is located across southeastern Europe with a center located over the Adriatic Sea region. This area of low pressure is expected to move slowly southeastward during the forecast period to the northern part of the Aegean Sea.
Ahead of the low-pressure area, a warm and moist airmass is moving up over Greece, the Aegean Sea region and western Turkey from southwest.
This low-pressure area and its associated frontal boundaries will be the main focus of severe thunderstorms over southeastern Europe and the central part of the Mediterranean.


DISCUSSION


Southern Balkans, the Adriatic Sea region and Albania

Rain, showers and a couple of thunderstorms will be ongoing along an occlusion that is located around the surface low over the Adriatic Sea, stretching from northern Greece across the Balkans into northeastern and central Italy.
Further north and northeast into the northern Adriatic region and the northern Balkans the mid-level lapse rates are too weak to support any convective activity.
Showers and storms will be triggered by the frontal lift, and will be supported by the upper level forcing and cold temperatures aloft in connection with the upper level low laying overhead.
At first convection will be elevated over land areas, but during Monday afternoon solar heating could also contribute to convective development across the interior sections over southern Balkans and over southern Italy.

Despite the quite cool airmass, the combination of the warm sea temperatures and solar heating over land with the cold air aloft will create an environment of a couple of hundreds J/kg MLCAPE. Just east and south of the upper level low over the southern Balkans, Albania, southeastern Italy and surrounding waters the DLS is strong, 15-25 m/s, locally higher. Thus, here storms could organize into multicells and low topped supercells with a threat of severe winds and hail. There is also a risk of flash flooding as training cells might move ashore, especially in the southwesterly flow along the southern part of the Balkan coast and over Albania.

Right beneath the upper level low as it moves southeastwards over the Adriatic Sea region to Greece later in the day, the deep layer shear will drop off to under 10 m/s. When that happends storms will move more slowly with flooding becoming the main hazard.
In that low shear environment quite low LCLs combined with some low-level CAPE and weak low-level winds near the coasts of southern Balkans indicate a risk of a waterspout or two in areas with surface convergence.

Later in the forecast period the activity will move and spread southeastward into Greece and the Ionian Sea.


Greece, Aegean Sea region, western Turkey and southern Bulgaria

Showers and storms will be ongoing early Monday across large parts of Greece. The highest coverage of storms is expected along a warm front over northeastern Greece/northwestern Turkey and over western Greece along a cold front. These fronts are associated with the surface low over the Adriatic Sea.
Surface dewpoints of 16-20 degrees Celsius with mid-level lapse rates near 7 K/km will yield 500-1000 J/kg MLCAPE in the vicinity of the frontal zones and in the warm sector, with locally up to 1000-2000 J/kg over the Aegean Sea region and south of Greece.
DLS will be plenty strong, 12-20 m/s, locally higher for organized convection where both supercells and multicells are possible with risk of severe winds and large hail. 0-3km bulk shear could locally exceed 15 m/s across Greece, and thus linear and bowing segments capable of damaging winds will be possible. Initally the wind threat will be confined to the coastal areas due to more stable boundary layer with elevated convection further inland during the morning.

Along the coast of northeastern Greece and over the northern part of the Aegean Sea some enlarged curved hodographs can be found in the vicinity of the warm front. Here east- and southeasterly low-level winds will yiel locally 150-300 m2/s2 of 0-1km SRH, with the highest values depicted by the ECMWF model. Hence, a tornado or two is possible over these areas, and the highest risk will be over water and near the coast since storms will be elevated in the morning over land areas when the highest SRH values will occur. A limiting factor will be the overall lack of significant instability and low-level CAPE where the highest SRH values will occur.
The tornado threat will taper off later in the forecast period as hodographs become straighter.

Quite moist vertical profiles, low LCLs and deep warm cloud layer will create a significant flash flood concern across western Greece, especially in the beginning of the forecast period when clusters of storms and training cells in connection with the cold front will move ashore in the southwesterly flow.

Later in the forecast period as the cold front and the deep convection will move eastward across Greece into the southern part of the Aegean Sea, Crete and western Turkey, some capping and dry mid-level air will decrease shower and storm activity so it becomes more isolated over these areas. However, the DLS will continue to be strong so any storms that manage to form could continue to evolve into supercells and multicells with a hail and wind threat over these areas.
Storms and showers along the warm front will later move into Bulgaria and the western Black Sea where they will gradually weaken and become mostly elevated due to weaker lapse rates and more stable boundary layer.

Behind the cold front the upper low approaches and enters northern Greece from northwest in the evening and overnight hours. The upper low contributes with strengthening upper level forcing over the area combined with cooling temperatures aloft later during Monday. Hence, these conditions will trigger another round of showers and storms in the cooler airmass moving down from the Balkans and Adriatic region affecting the Ionian Sea and Greece later in the forecast period. DLS will be strong enough to support multicells and low topped supercells with risk of hail and strong wind gusts. There will also be a continuous threat of flash flooding as training cells might move ashore repeatedly over the same areas, especially over western Greece.


Scandinavia and the Baltic Sea region

Some low topped convection is expected within the polar maritime airmass across northern and central Europe as rain showers with local graupel. A few lightning strikes cannot be ruled out in this activity, especially across southern Scandinavia and across the Baltic Sea where the steepest lapse rates can be found.
As a surface trough moves eastward across the Baltic Sea during Monday evening and night to Tuesday, a few waterspouts could form in the vicinity of Gotland and up to the southwestern coast of Finland where surface winds will be weak and converge.