Storm Forecast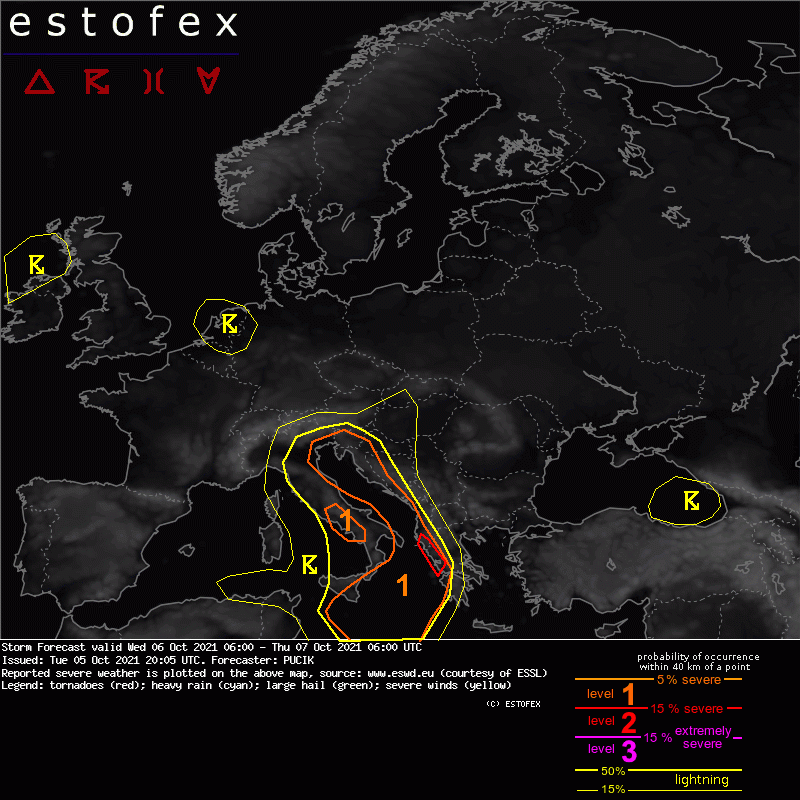 Storm Forecast
Valid: Wed 06 Oct 2021 06:00 to Thu 07 Oct 2021 06:00 UTC
Issued: Tue 05 Oct 2021 20:05
Forecaster: PUCIK
A level 2 was issued across the E Ionian Sea coastline mainly for excessive rainfall and to the lesser degree for severe wind gusts and tornadoes.

A level 1 was issued across the Adriatic and the Ionian Sea mainly for excessive rainfall.

A level 1 was issued for parts of W Italy mainly for excessive rainfall and large hail.

SYNOPSIS and DISCUSSION

At mid to upper troposphere, synoptic-scale situation will be dominated by a deep trough over BENELUX and Germany, its base stretching towards N Italy. The trough is forecast to move E and its base will amplify towards S, creating a low over central Italy. W of the trough a ridge will cover much of Iberia, the UK and will translate towards France and BENELUX. E of the trough a high will cover much Russia, with an exception of its south, where a low remains quasistationary near the Caucasus.

The main focus of thunderstorm activity will be a cold front that will cross the Tyrrhenian Sea, much of Italy and the Adriatic Sea during the forecast period. Cyclogenesis over Italy will promote stronger southerly flow over the Ionian Sea towards the overnight and Thursday morning hours.
Despite relatively modest lapse rates, abundant lower tropospheric moisture will contribute to MLCAPE values ranging from 500 to 1500 J/kg, increasing towards S. At the same time, moderate to strong vertical wind shear is forecast in the CAPE belt.

Thunderstorms will spread S and SE along with the cold front and the mid-tropospheric trough. The strongest frontogenetical forcing is forecast over the N Adriatic and also over the W Greece / Albania coastline. With skinny CAPE profiles and low LCLs, dominant threat will be excessive precipitation. Given stronger shear over the Ionian Sea, tornadoes and severe wind gusts will be possible too. Isolated large hail is also possible over parts of W-Central Italy, where bulk shear will allow for some supercells.