Storm Forecast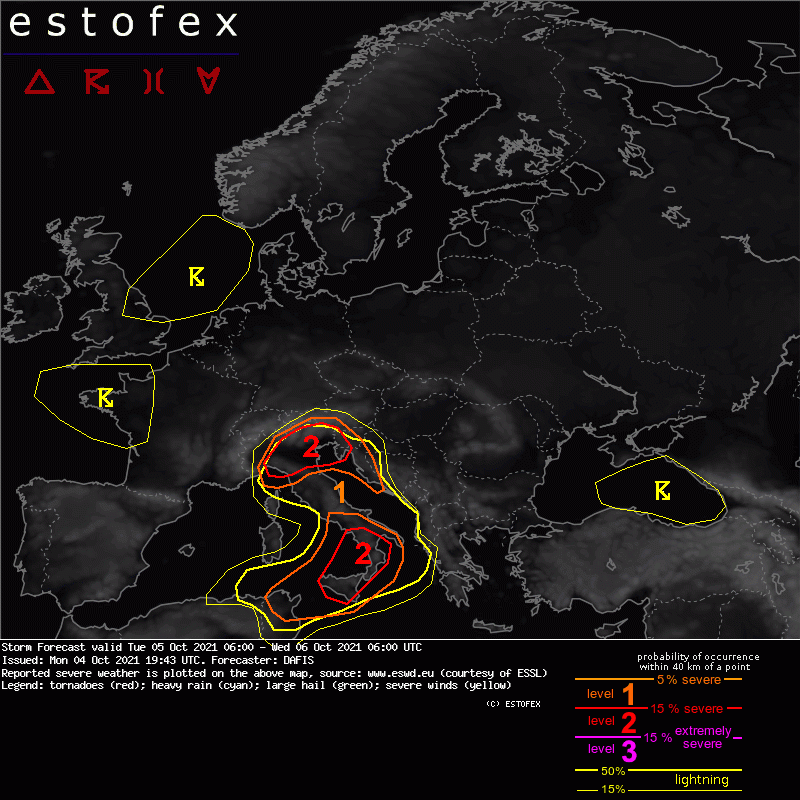 Storm Forecast
Valid: Tue 05 Oct 2021 06:00 to Wed 06 Oct 2021 06:00 UTC
Issued: Mon 04 Oct 2021 19:43
Forecaster: DAFIS
A level 2 was issued for N Italy, Slovenia and N Croatia mainly for extreme convective precipitation and tornadoes.

A level 2 was isssued fo S Italy for large hail, excessive convective precipitation, severe convective wind gusts and tornadoes.

A level 1 was issued for Italy, Slovenia, Croatia, Malta and Tunisia for large hail, excessive convective precipitation, severe convective wind gusts and tornadoes.

SYNOPSIS

A long-wave trough has a neutral tilt with an axis over western Europe, while central Europe is under the influence of a ridge and unseasonably high temperatures. The easterly advection of high PV in western/central Mediterranean, especially within embedded short-wave troughs, will provide lift to unstable maritime air masses. In particular, Italy will experience the most intense and potentially dangerous storms which will result in extreme accumulations of rainfall.
More to the east, a cut-off low over the Black Sea is associated with a low-level warm seclusion, but the limited instability shows a low potential for any diabatic intensification of the cyclone and storms should stay mostly offshore.

DISCUSSION

.... North Italy, Slovenia, Croatia ....

A low-level southerly jet brings warm and moist air masses over Italy and local steep orography along with synoptic lift and convergence zones, create numerous storm cells. An ongoing storm outbreak will continue on Tue 5/10 as long as this southerly flow continues, during the slow easterly movement of the trough, with slow moving/stationary storms producing more than locally more than 300 mm in less than 24 hours upstream. Accumulations are forecast to be lower in Slovenia and Croatia, but flash floods cannot be ruled out.

Flash floods will be the main threat, but also tornadoes can form close to the coasts. Locally strong 0-1km SREH, overlapping with high CAPE and low-level shear, may promote tornadogenesis in the Gulf of Genoa and North Adriatic Sea.

.... South Italy, Malta and Tunisia ....

A pool of very unstable air masses lie in central Mediterranean, and a cold front is about to cross the Tyrrhenian Sea, associated with a lee-cyclogenesis in the Gulf of Genoa. Several storms will form offshore in the early morning on Tue 5/10, which will be able to organize into MCSs and supercells given DLS values of more than 20 m/s, overlapping with up to 2000 J/kg MLCAPE. Large hail and excessive precipitation will be the main threats, with mid-level lapse rates exceeding 7 K/km and IVT-PWAT having extreme values. A few waterspouts cannot be ruled out as well.
In Tunisia, storms are expected to have high bases and apart from large hail, severe convective wind gust threat is also elevated. Convective activity should decline in the afternoon.