Storm Forecast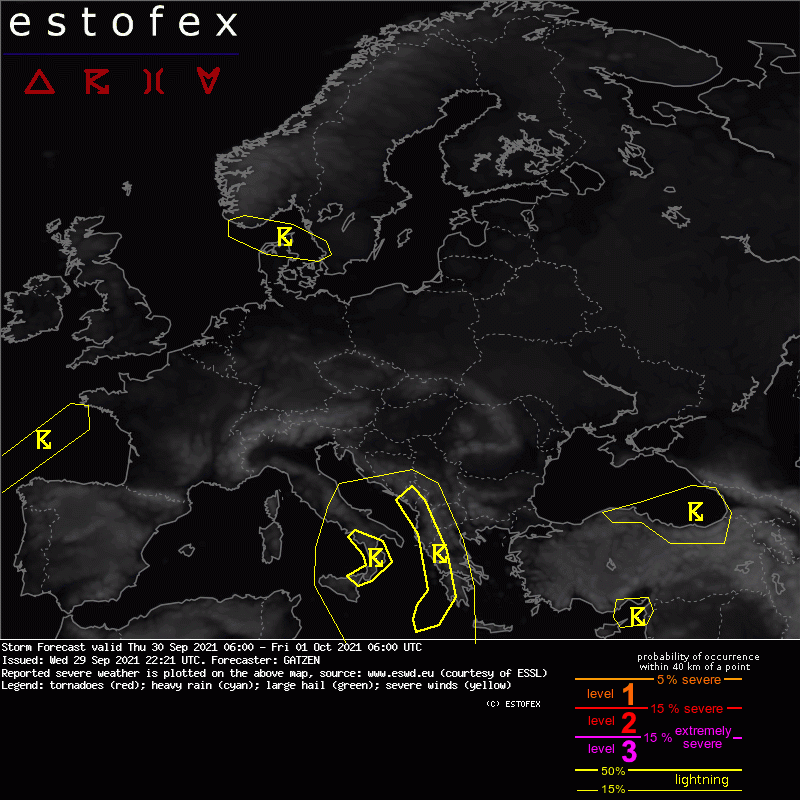 Storm Forecast
Valid: Thu 30 Sep 2021 06:00 to Fri 01 Oct 2021 06:00 UTC
Issued: Wed 29 Sep 2021 22:21
Forecaster: GATZEN
No thread levels have been issued.

SYNOPSIS

A broad ridge is present across eastern Europe, with the Atlantic jet split up into one branch directed southward into the Mediterranean and another forming an intense, lifting trough across central Europe. South-east Europe is affected by another trough. At lower levels, a cold front pushes into central Europe, while also dry and cool air is present farther east. Rich moisture is present across the Mediterranean.

DISCUSSION

Main thunder potential exists across the central Mediterranean with rich low-level moisture and modest lapse rates. CAPE in the order of 1 KJ is expected by latest models along with moist profiles, weak CIN, and weak vertical wind shear. Storms are expected to form along land-sea breeze convergence zones during the day, with the main activity spreading south-east due to an progressing mid-level vortex embedded in the jet. Main thread with these storms is heavy rain due to the thermodynamic profiles supportive to warm rain process, as well as due to slow storm movement. Additionally, waterspouts are expected.

East Mediterranean and Black Sea

Within the south-east European trough, thunderstorms are epxected due to a moist low-level air mass that overlaps with slghtly instable lapse rates. Again, the land-sea-breeze will be a focus of convection initiation. Vertical wind shear is rather weak, with 10 to 15 m/s deep layer shear in the Mediterranean, supportive for some multicells with a low hail and wind gust threat. Heavy rain is expected to be most likely and waterspouts are not ruled out.

Southern Scandinavia

Some thunderstorms are forecast within the trough lifting across central Europe. Best potential is expected across southern Scandinavia. Weak vertical wind shear is present and some waterspouts are forecast.