Storm Forecast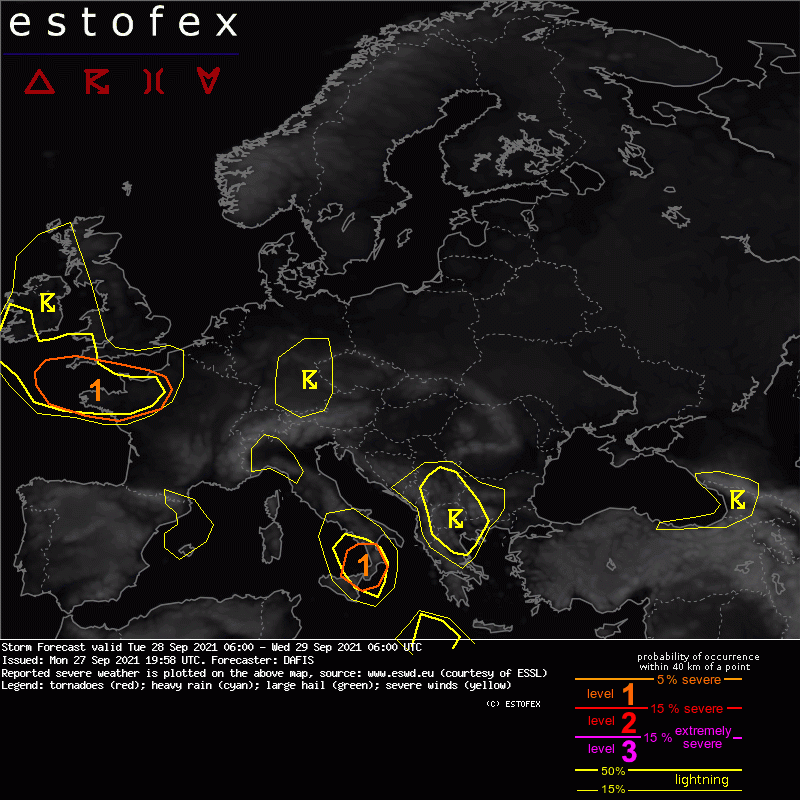 Storm Forecast
Valid: Tue 28 Sep 2021 06:00 to Wed 29 Sep 2021 06:00 UTC
Issued: Mon 27 Sep 2021 19:58
Forecaster: DAFIS
A level 1 was issued for SW United Kingdom and NW France mainly for severe convective wind gusts.

A level 1 was issued for S Italy for large hail, severe convective wind gust, excessive precipitation and tornadoes.

SYNOPSIS

Most of the European domain is covered by high geopotentials under the influence of a large-scale high-pressure system with a center over Scandinavia. In the Atlantic, an approaching trough will promote the advection of positive vorticity and some thunderstorms are expected to develop in SW UK and W France. A few more areas will experience thunderstorms on Tue 28/09, such as C Germany, N Italy, NE Spain, the Balkans and N Turkey, but only in S Italy conditions will be conducive for DMC events. In Germany, convection should be elevated during the night and some heavy rainfall events cannot be ruled out.

DISCUSSION

.... UK and France ....

A vigorous short-wave trough is about to cross NW France, where QG forcing will provide lift to unstable maritime air masses. Near the surface, a cold front is forecast. The strong mid-/low-level flow may be translated to the surface during DMC events and gale-force winds will be the main threat during downpours.

.... South Italy ....

A pool of highly unstable air masses lies in Central Mediterranean, where a short-wave trough is expected to cross S Italy on Tue 28/09. DLS will range between 10-12 m/s and mid-level lapse rates will not exceed 7 K/km, but high MLCAPE suggest that storms may produce large hail (close to 2 cm) and flash floods. LLS and SREH0-1km will be locally enhanced, mainly due to the complex local orography, so a few tornadoes/waterspouts cannot be ruled out.