Storm Forecast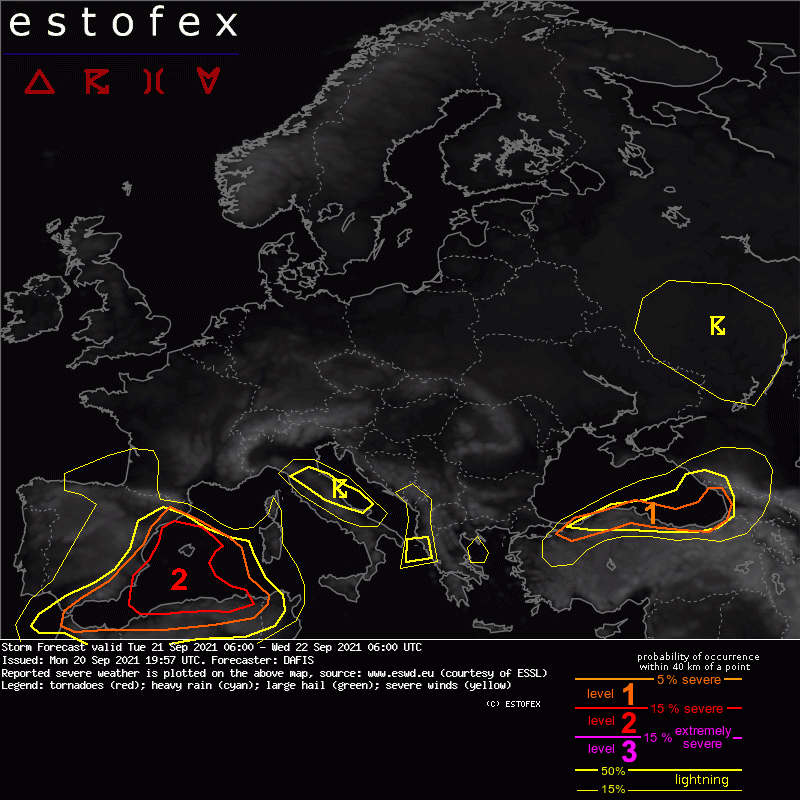 Storm Forecast
Valid: Tue 21 Sep 2021 06:00 to Wed 22 Sep 2021 06:00 UTC
Issued: Mon 20 Sep 2021 19:57
Forecaster: DAFIS
A level 2 was issued for E Spain and N Algeria mainly for excessive convective precipitation, large hail and tornadoes.

A level 1 was issued for parts of Turkey and Georgia mainly for excessive convective precipitation.

SYNOPSIS

A strong ridge is developing in North Atlantic while a deep low over Iceland creates a vigorous WCB towards Scandinavia, where stormy conditions are expected, but instability is limited. More to the south, a cut-off low over the Iberia Peninsula will destabilize the environment of western Mediterranean, where a pool of very moist air masses lies. This part of the continent will be experience the most dangerous DMC events. Another cut-off low can be found in the analysis maps, over eastern Europe and is associated with a surface low pressure system. Its cold front will reach Asia Minor on Tue 21/09 and some DMC events are expected.

DISCUSSION

.... Spain and Algeria ...

A vigorous mid-/upper-level PV anomaly over Iberia will provide lift to unstable air masses in western Mediterranean. The low-level air mass is quickly capped and numerous storm cells close to the coasts are expected. MLCAPE will range between 1500 and 3000 J/kg over the sea and will overlap with more than 20 m/s DLS. In Spain, the main threat will be excessive convective precipitation with locally more than 100 mm per hour during training convection and slow-moving storms.
More to the south, near the coasts of Algeria, an additional threat will be large hail due to the steep mid-level lapse rates and fat CAPE profiles.
Moreover, the complex strong low-level flow creates some looped hodographs with high SREH0-1km near Balearic Isles, where tornado threat is maximized. A few tornadoes can also not be ruled out in the coasts of continental Spain and Algeria.

.... Turkey and Georgia ....

The main threat from DMC events in this area will be excessive convective precipitation. The strong northerly flow of unstable air masses, perpendicular to steep orography, may result in training convection. A few large hail events in the eastern parts of Level-1 area cannot be ruled out due to fat CAPE profiles and strong DLS, where mid-level lapse rates exceed 7 K/km.